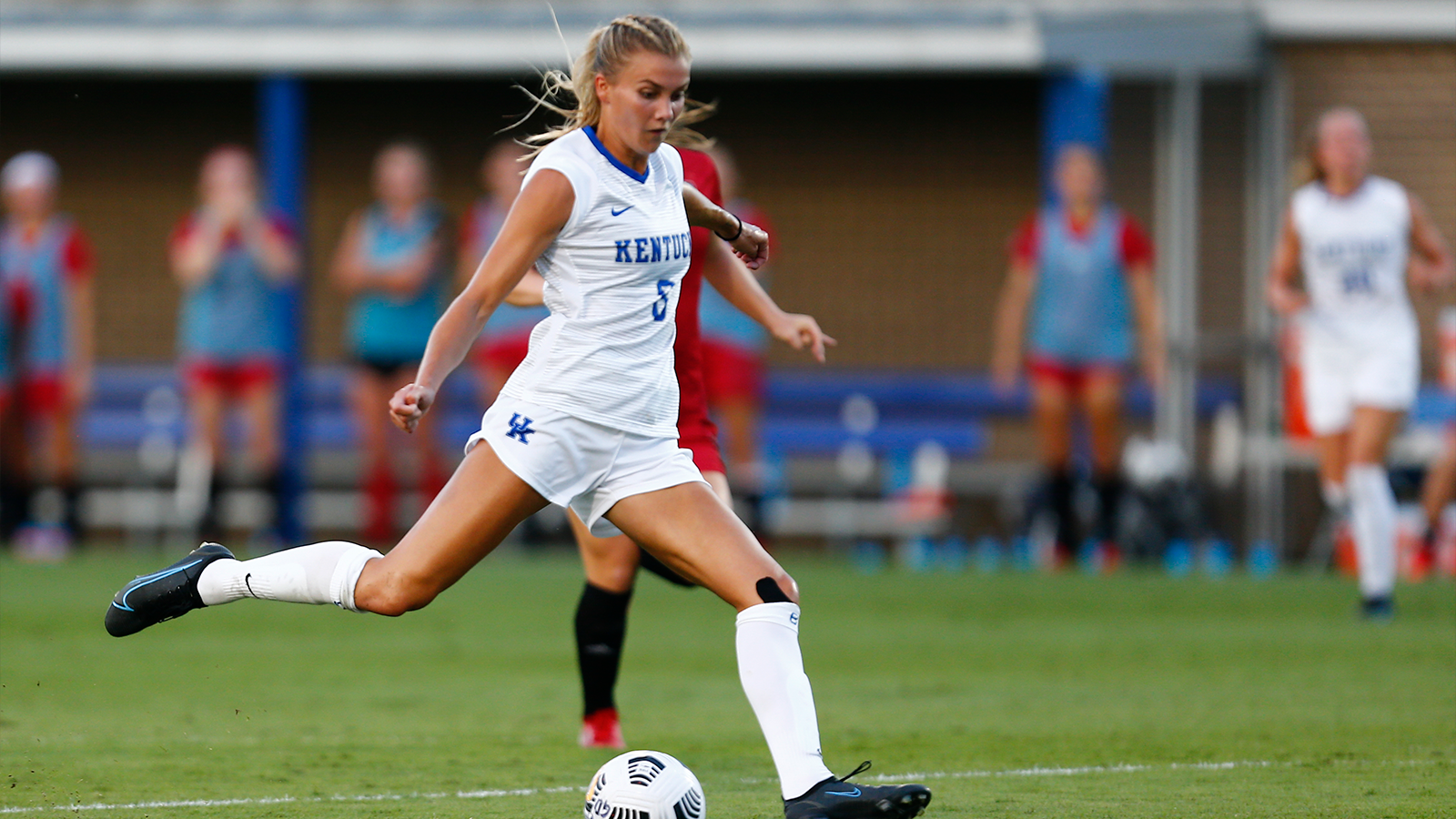 September 2, 2021 - 10:30 PM
Kentucky Plays Dayton to Scoreless Draw
LEXINGTON, Ky. – After battling through two overtime periods, the University of Kentucky women's soccer team played Dayton to a scoreless tie on Thursday night at the Wendell and Vickie Bell Soccer Complex.
Following the 0-0 draw, the Wildcats move to 2-1-2 while the Flyers now have a 3-1-1 record on the season.
Dayton looked to jump out to an early lead in the fourth minute, but its shot to the bottom center was denied by Laura Nielsen. Kentucky was unable to break through Dayton's backline in the first 45 minutes of action, as the Flyers held a 3-0 advantage over the Wildcats in corner kicks and had nine shots to UK's two heading into halftime.  
The Wildcats came out of the break aggressive, with Hannah Richardson firing a shot to the bottom right that was ultimately saved by Dayton goalkeeper Madelyn Dewey. Back-to-back shots from Marissa Bosco and Ulfa Ulfarsdottir gave the Wildcats a few more good looks, but neither attempt reached the back of the net.
Finding rhythm on offense, Kentucky had eight shots in the second frame to Dayton's five and led the Flyers 4-1 on corners. 
Both teams applied pressure in the final overtime period, with UK's best scoring chance coming from Jordyn Rhodes with just over two minutes remaining, but her shot bounced off the crossbar. A pair of last-minute strikes from the Flyers were both stopped by Nielsen as neither team had converted a shot at the final whistle.
Nielsen recorded a career-high 11 saves in net, besting her previous mark of seven set at South Florida on Sunday. Dewey concluded the match with six saves for the Flyers.
The Wildcats return to the Wendell and Vickie Bell Soccer Complex on Sunday, Sept. 5 as they take on Oakland at 4 p.m. ET. 
For the latest on the Kentucky women's soccer program, follow @UKWomensSoccer on Twitter and on Instagram, on Facebook, and on the web at UKathletics.com.