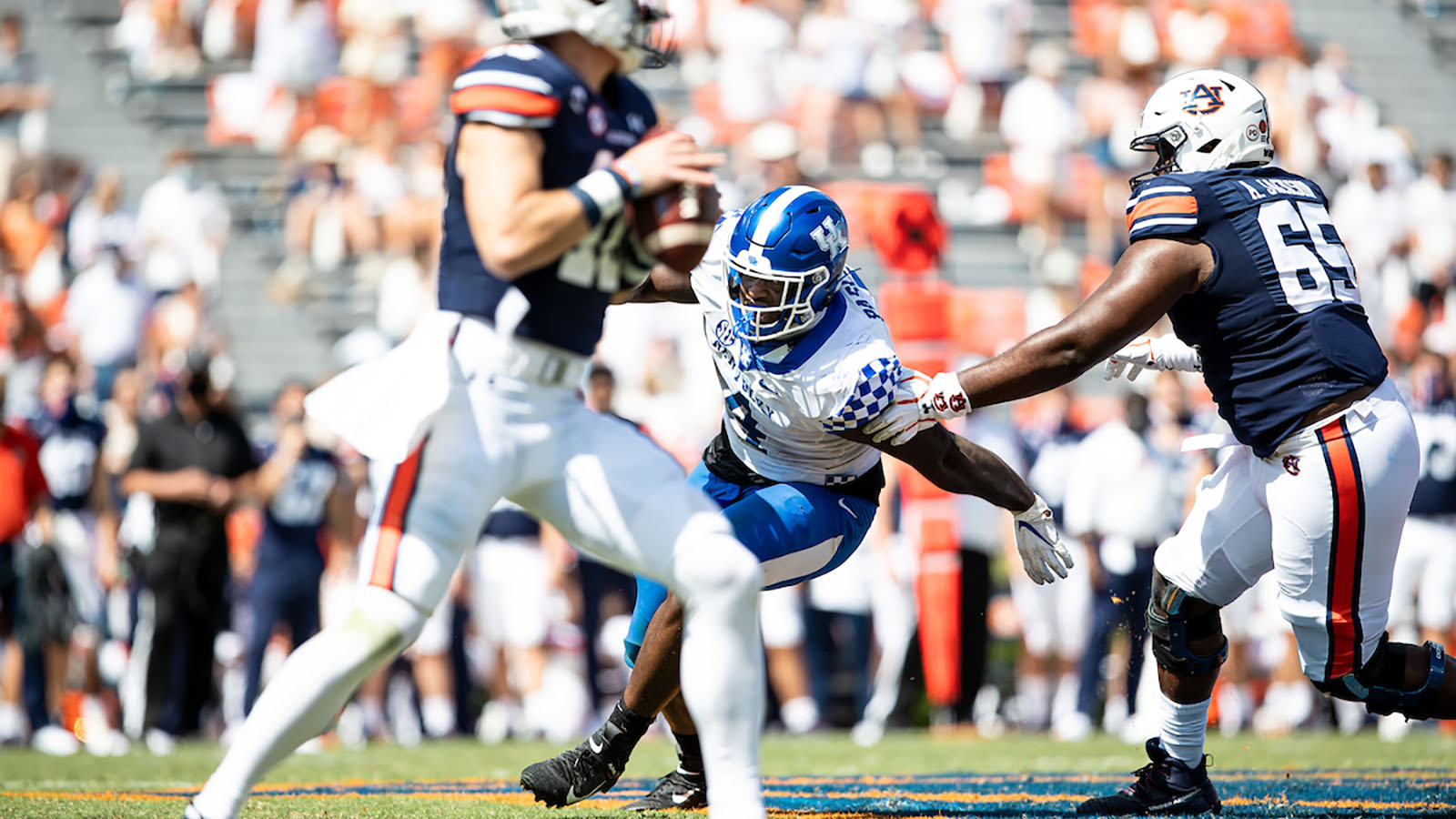 Kentucky lost some very key defensive pieces following last season. So, it would only figure that the Cats would be rebuilding and inexperienced this season, right?
Wrong.
Despite the fact that Kentucky lost Quinton Bohanna (Dallas Cowboys), Jamin Davis (first round pick of the Washington Football Team), Brandin Echols (New York Jets), Phil Hoskins (Carolina Panthers), Kelvin Joseph (Dallas Cowboys) and Boogie Watson (Pittsburgh Steelers), the Cats actually return a ton of experience on defense.
The UK depth chart, which was released on Monday, lists 10 senior starters on the defensive side of the ball. Defensive coordinator Brad White will be counting on the "old guys" as the season gets underway on Saturday.
"What we need to do is play clean, Kentucky football," White said. "Clean defense. Line up, assignment, technique, play physical, tackle."
On Saturday, in particular, having experienced players may be key. ULM has not released a roster, a depth chart or anything about their team, leaving the UK coaching staff to speculate about what, and who, they might be facing.
"It helps to have old guys," White said. "I think the older guys have started to grow in their capacity learning the opposing offenses and what are some tweak adjustments and what in-game adjustments can we play. I think that's where I've seen the most growth."
The old guys include players who have played a lot of snaps for Kentucky through the years. The defensive line includes Abule Abadi-Fitzgerald, Marquan McCall and Josh Paschal, all seniors. The linebacking corps is made up of Jacquez Jones, DeAndre Square and Jordan Wright, also all seniors. In the defensive background, UK will deploy Tyrell Ajian, Yusuf Corker, Cedrick Dort Jr. and Davonte Robinson, all seniors, along with sophomore Carrington Valentine.
The one surprise in the group of starting seniors might be Abadi-Fitzgerald. He played in five games last season without making a tackle. All four of his career tackles came in 2019. But White has been impressed with what he has seen from the fifth-year senior.
"He was the most consistent," White said. "He's done a good job. There are some things he still needs to clean up on but he's been the most consistent and that's why he's earned the job."
Due his lack of experience, Abadi-Fitzgerald knew there was one key thing he needed to work on this fall.
"I knew I needed to work on my confidence, play faster and be more aggressive," Abadi-Fitzgerald said. "My whole plan was to keep playing fast, keep playing aggressive."
Now in his fifth year with the program, Abadi-Fitzgerald  remains motivated by those around him.
"My teammates. They've motivated me a lot," Abadi-Fitzgerald said. "The D-line, we're just motivated to come out and show what we've got. We motivate each other."
As for this weekend's game, Abadi-Fitzgerald and his teammates are working hard to prepare.
"We treat every game the same," Abadi-Fitzgerald said. "We've scouted them for two weeks. We've done everything we can do to win the game."
Having 10 starting seniors on defense will go a long way in helping that cause as well.