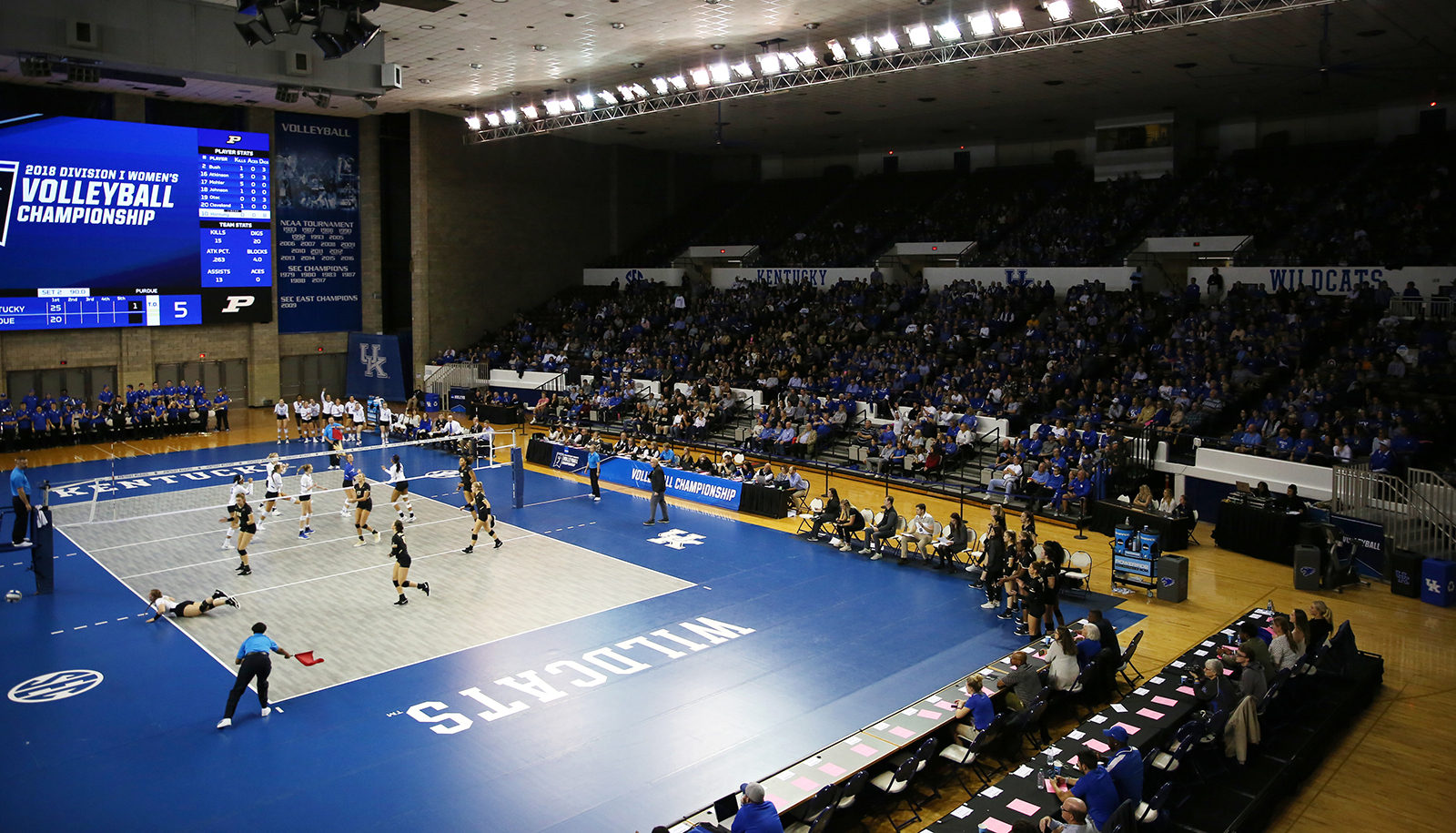 August 31, 2021 - 03:08 PM
2021 Bluegrass Battle Promotions Announced, Mobile Ticketing
LEXINGTON, Ky. – The Kentucky Volleyball team will be hosting the Bluegrass Battle over the weekend with Creighton, Northern Iowa and Southern California paying a visit to Memorial Coliseum for a round-robin tournament.
 
Friday morning, USC will play Northern Iowa at 10:30 p.m. ET and Creighton will play USC at 5 p.m. ET. Both of those matches are free and open to the general public. Tickets are required for the Kentucky match vs. UNI at 7:30 p.m. ET.
 
Big Blue Pantry Canned Food Drive
Kentucky will be hosting a canned food drive Friday, as UK Athletics will partner with the Big Blue Pantry and Kroger on campus to celebrate National Food Bank Day. Fans will be asked to bring in cans of non-perishable foods to Memorial Coliseum with prizes for those who participate. If fans bring 25 cans or more, they will receive a UK Volleyball t-shirt. The fan who brings the most will receive a free signed volleyball from Craig Skinner.
 
Located in the basement of White Hall Classroom Building (room 025) next to the post office, the Big Blue Pantry is open to any University of Kentucky student with a valid UK ID experiencing food insecurity or hunger. 
 
Kentucky Volleyball BINGO
UK Volleyball is bringing back BINGO for its second season Saturday night. Fans will have the chance to participate in Memorial Coliseum and check off events that happen during the match. The fans who achieve BINGO on their card first will get UKVB gifts. All ages are eligible to participate and win.
 
To play, fans will need to enter their preferred e-mail to this link: https://mfbc.us/v/euavkd3. If the email does not show directly in your email, make sure you check your junk inbox.
 
Big Blue Nation can play online in their browser or print the bingo cards. Once BINGO is achieved, Tweet a picture of your completed BINGO card to @KentuckyVB.
 
National Championship Banner Reveal
The 2020 NCAA National Championship banner reveal will take place before the match begins Friday at 7:30 p.m. ET, so fans are encouraged to arrive early and be in their seats by 7:20 p.m. ET to ensure they get the best chance to see the unveiling.
 
Kentucky went 24-1 in 2020-21 and swept through the NCAA Tournament with wins over UNLV, Western Kentucky, Purdue, Washington and Texas to claim the first national title in Southeastern Conference history. The unveiling of the banner will show its permanent spot inside Memorial Coliseum to commemorate its place in history.
 
Mobile Ticketing
UK Athletics is excited to announce mobile ticketing for all UK Volleyball matches in 2021. Fans will be able to avoid will call lines, waiting for tickets to arrive in the mail, enjoy quick and contactless entry into venues and easily access and transfer tickets to friends or family, all from your mobile device.
 
All tickets will be mobile and no physical ticket books will be printed. Season ticket holders and individual game buyers will use the UK Athletics App to access and manage tickets. Football parking passes will also be accessed via mobile delivery. Your phone is now your ticket!
 
More information, including step-by-step instructions, can be found here.
 
2021 Bluegrass Battle Schedule
Friday, Sept. 3
10:30am ET – USC vs. Northern Iowa (ESPN+) *
5pm ET – USC vs. Creighton (ESPN+) *
7:30pm ET – Kentucky vs. Northern Iowa (https://es.pn/3t0ftmS)
 
Saturday, Sept. 4
10:30am ET – Kentucky vs. Creighton (https://es.pn/3yu7jnV) *
5pm ET – Creighton vs. Northern Iowa (ESPN+) *
7:30pm ET – Kentucky vs. USC (https://es.pn/2WD7LTY)
 
*= Free admission, open seating
 
Follow along with the Wildcats on Twitter, Facebook and Instagram, and on the web at UKathletics.com.