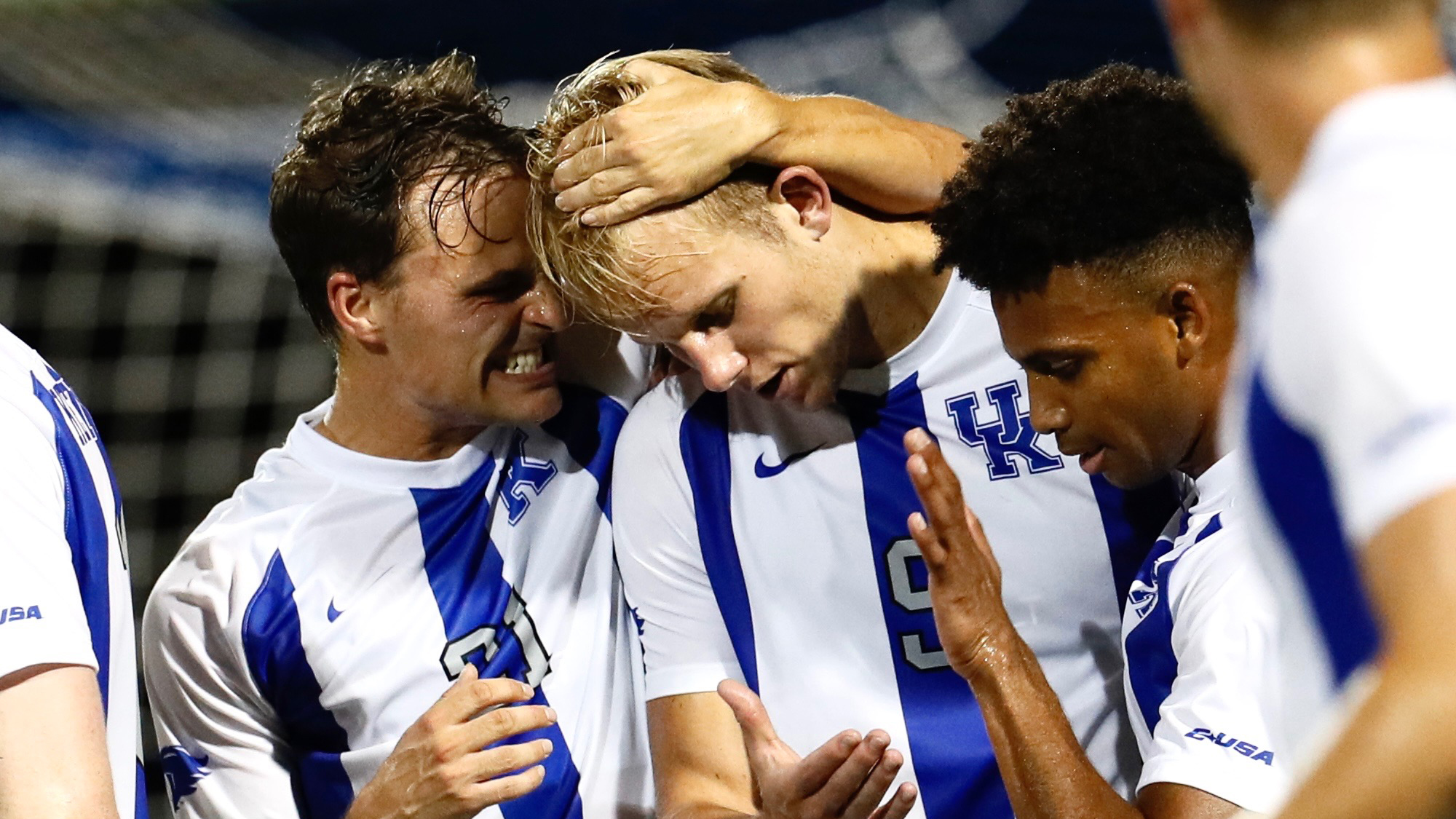 August 30, 2021 - 11:02 PM
Bjorgolfsson Scores Twice, No. 14 UK Defeats Wright State 3-0
LEXINGTON, Ky. — Daniel Evans opened the scoring and Eythor Bjorgolfsson scored two more, leading the No. 14 Kentucky men's soccer team to a 3-0 victory over Wright State on Monday at Wendell & Vickie Bell Soccer Complex.
 
The Wildcats earned their first win of the 2021 season and improved 1-0-1.
 
Evans scored Kentucky's first goal of the season at the 36th minute, receiving an assist from Nick Gutmann via Luis Grassow. The senior forward scored with a left-footed shot, giving UK the advantage just before halftime. Evans scored the 14th goal of his UK career with the effort.
 
Bjorgolfsson doubled Kentucky's lead in the 59th minute. Grassow and Marcel Meinzer combined on the right flank to whip a dangerous ball into the box. The 6-foot-2, 195-pound forward battled through a mass of Wright State defenders and rose to meet the ball and head it home.
 
Three minutes later, Bjorgolfsson earned his brace. Martin Soereide found the Kentucky striker near the edge of the 18-yard box. The Norwegian Icelander shrugged off three Wright State defenders as he dribbled across the face of goal and beat the goalkeeper from the edge of the box.
 
The UK defense did not allow a goal for the second game in a row, starting the season with two consecutive clean sheets. UK's backline three of Robert Screen, Lucca Rodrigues and Grassow was particularly stout as goalkeeper Jan Hoffelner didn't need to make any saves.
 
The Cats will resume non-conference play on Friday versus Notre Dame (1-1) at the Bell. Admission is free to the public.
 
For the latest on the Kentucky men's soccer team, follow @UKMensSoccer on Twitter, Facebook and Instagram, as well as on the web at UKAthletics.com.