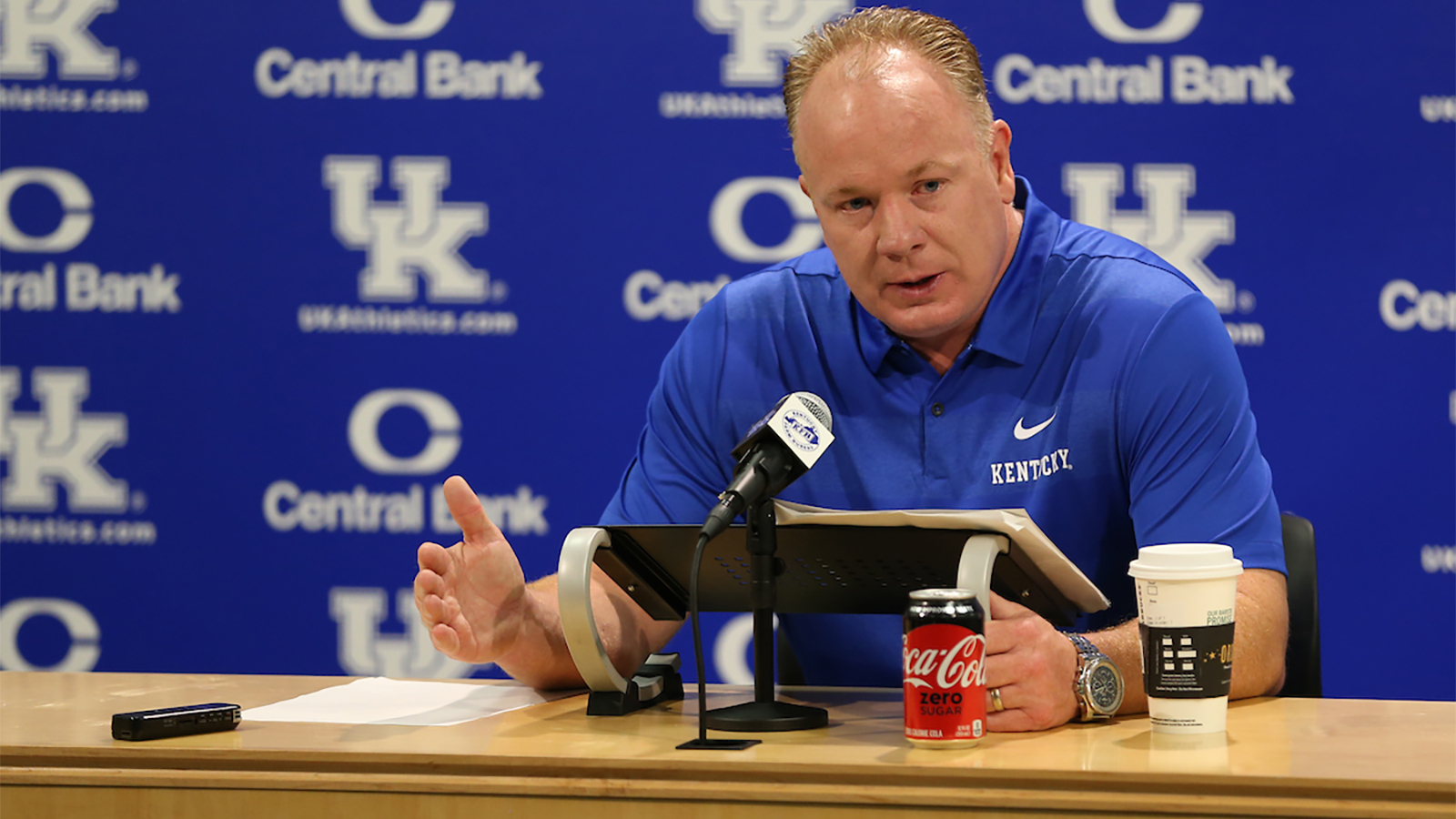 Mark Stoops has been in the football business for over 20 years. Despite that fact, he still gets excited at the beginning of every season. There's nothing like a season opener, according to the UK head coach.
"I think the opener is different because there's a lot of anticipation, there's a long time (off-season)," Stoops said. "Again, you have a good feeling what your team is, you work with them every day and you know them, but until you get out there and do it, then it settles you down and you have a better idea of where do we need to work on, what are we doing good, let's build on the good things and let's improve on the other things."
Stoops and his team will get the 2021 campaign underway on Saturday, hosting Louisiana-Monroe at Kroger Field (Noon ET, SEC Network). And this year will look much different than last year, when Kentucky's regular season consisted of 10 games, all against SEC opponents. Stoops is glad to be back to a regular schedule.
"It was tough. It's a little different opening up on the road at Auburn," Stoops said. "Opening up at home is good with a non-SEC school."
With any season opener, there are a great deal of unknowns. This one, in particular, will have plenty of new parts.
Kentucky will be playing its first game under the direction of offensive coordinator Liam Coen, who came to Lexington from the Los Angeles Rams. Coen will bring his offensive style, which no one has seen from Kentucky, with him.
"New offensive coordinator for us, will be our first, obviously first true test," Stoops said. "We've had some scrimmages but to get out there and play a full game under a new system, it's exciting for all of us."
Kentucky will also have a new starting quarterback. Penn State transfer Will Levis won the job in fall camp and Stoops has been impressed with the junior so far.
"I've just seen a strong leader, a strong presence," Stoops said. "Again, he's very authentic, which you really like about him, and he works at it. A few times this summer when we've had recruits on campus, or he happened to pop in my office, just watching him interact with other people, watching him interact with recruits, parents, anybody—he handles himself like a grown man. You need that out of your quarterback, so he's very strong."
On the other sideline, everything is new for Louisiana-Monroe. After an 0-10 season last year, the Warhawks hired Terry Bowden as their new head coach. Bowden, the son of the late Bobby Bowden, has been a head coach now at five different Division I schools.
Bowden hired Rich Rodriguez, the former head coach at Michigan, Arizona and West Virginia, to be his offensive coordinator. Rodriguez's son, Rhett, is expected to be the starting quarterback for the Warhawks this season.
Stoops doesn't know Terry Bowden well, although he knew the elder Bowden well because of Stoops' time as the defensive coordinator at Florida State. Stoops knows that the younger Bowden will have his team ready to play.
"Looking forward to seeing Terry. He's got a great staff," Stoops said. "Rich Rodriguez being his offensive coordinator, and Zac Alley his defensive coordinator, guys that have been around, very good coordinators."
Unknowns will about on Saturday at Kroger Field. But that's part of what keeps the blood pumping for the UK head coach.
"I'm very excited," Stoops said. "I've said this before, to me, it feels new, it feels like year one."