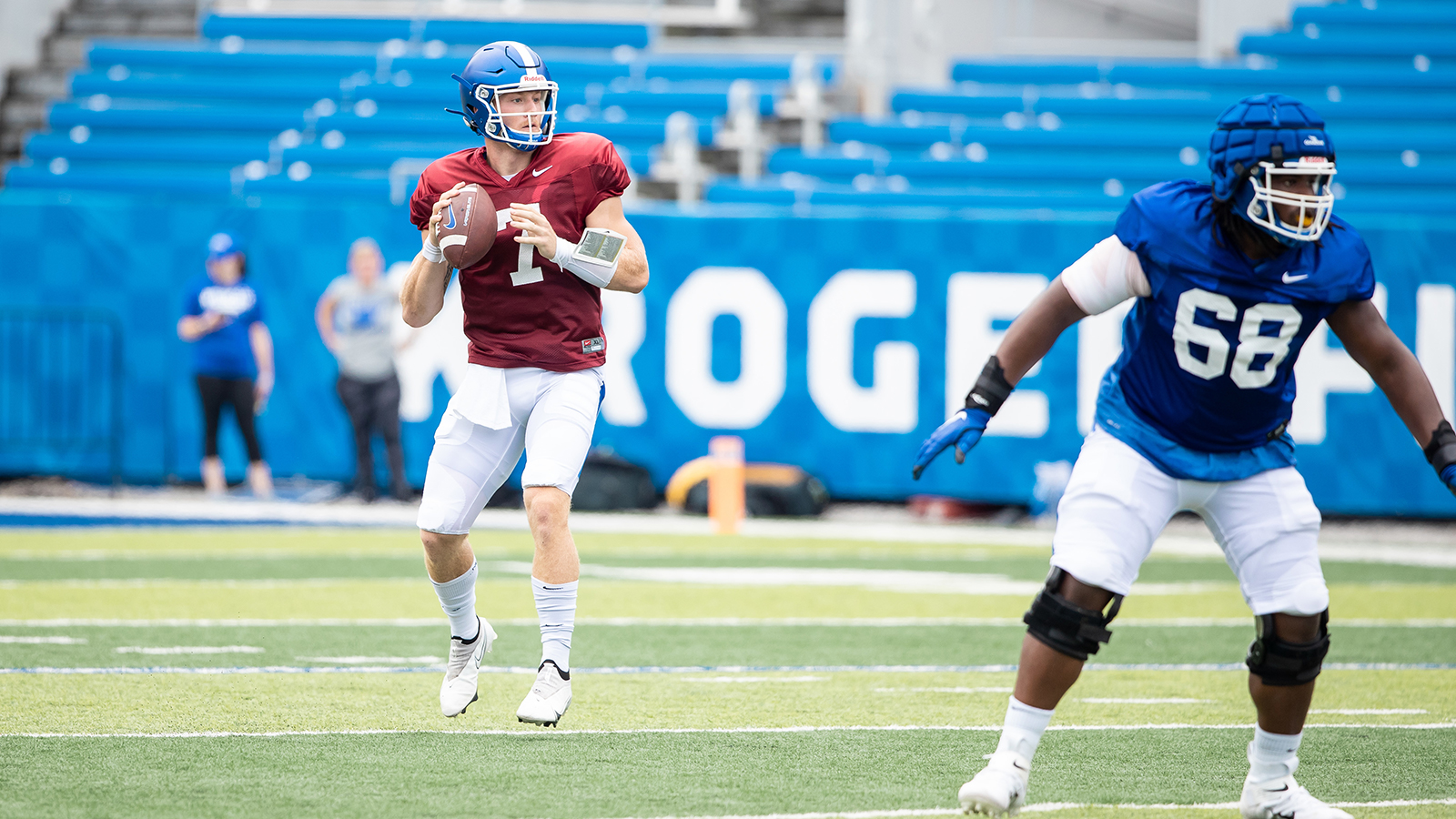 On Sunday afternoon, Kentucky head coach Mark Stoops announced that Will Levis had earned the job as UK's starting quarterback. On Tuesday, following practice, Levis spoke for the first time since being named the starter.
Levis played two years at Penn State before transferring to Kentucky. He came to Lexington hoping to have a chance to win the starting job, and he has now done so. Was he surprised that the decision came so early in fall camp?
"No, I think their reasoning for it made a lot of sense," Levis said. "Whoever the decision was, with the new offense, and the need to get as many reps as possible before the first game. It was time to lock down who's going to be taking those 'ones' through the rest of camp."
Offensive coordinator Liam Coen said there wasn't one particular moment that made Levis the starter. Rather, it was his body of work.
"I think it was a culmination because, if you look at his reps before the scrimmage, he was running with the threes (third string) and the twos (second string)," Coen said. "It wasn't like he was running with the ones (first string) and it just kind of happened. He had to earn it. And he did it every single day."
Coen likes the way Levis is handling the team.
"I think just Will's work ethic and the way he came in and ran the show," Coen said. "His personality is one that guys will naturally follow. We got to see some of the arm strength talent and now, he's got to clean up some of the plays. Right now, he gives us the best chance to win."
For Levis, being named the starter was a big relief.
"Feels great. Big weight off my shoulders," Levis said. "I think just to have the trust of the coaches. It's a great feeling to know that I'm entrusted with the offense."
How did he think he earned the job so quickly?
"I've done really well this camp, I think," Levis said. "I've seen the dividends of the work I've put in this summer. It really has paid off."
Now that he has the job, Levis knows that he is taking on more responsibility with the team.
"Being a leader for the team and learning how to connect with all the guys the best way possible," Levis said of his new role. "Obviously, since I'm new here, I've spent these last few months trying to get to know these guys."
While at Penn State, Levis was known more as a running quarterback than a passer. Some of that was due to his lack of accuracy. He seems to have corrected that during this fall camp.
"I think at the beginning of my career (at Penn State), that was fair," Levis said. "And that's something that I've really worked on these past couple of years. You can ask anyone here in fall camp that I've been accurate and been able to put touch on those balls when needed."
Coen has liked the accuracy that Levis has shown this fall.
"The ball placement down the field and the intermediate game, especially being a guy that has a stronger arm," Coen said. "You would think there would be more inaccuracies than there are."
The additional reps that Levis will get, now that he has been named the starter, will be valuable as the UK offense continues to improve with just 19 days left until the season opens.