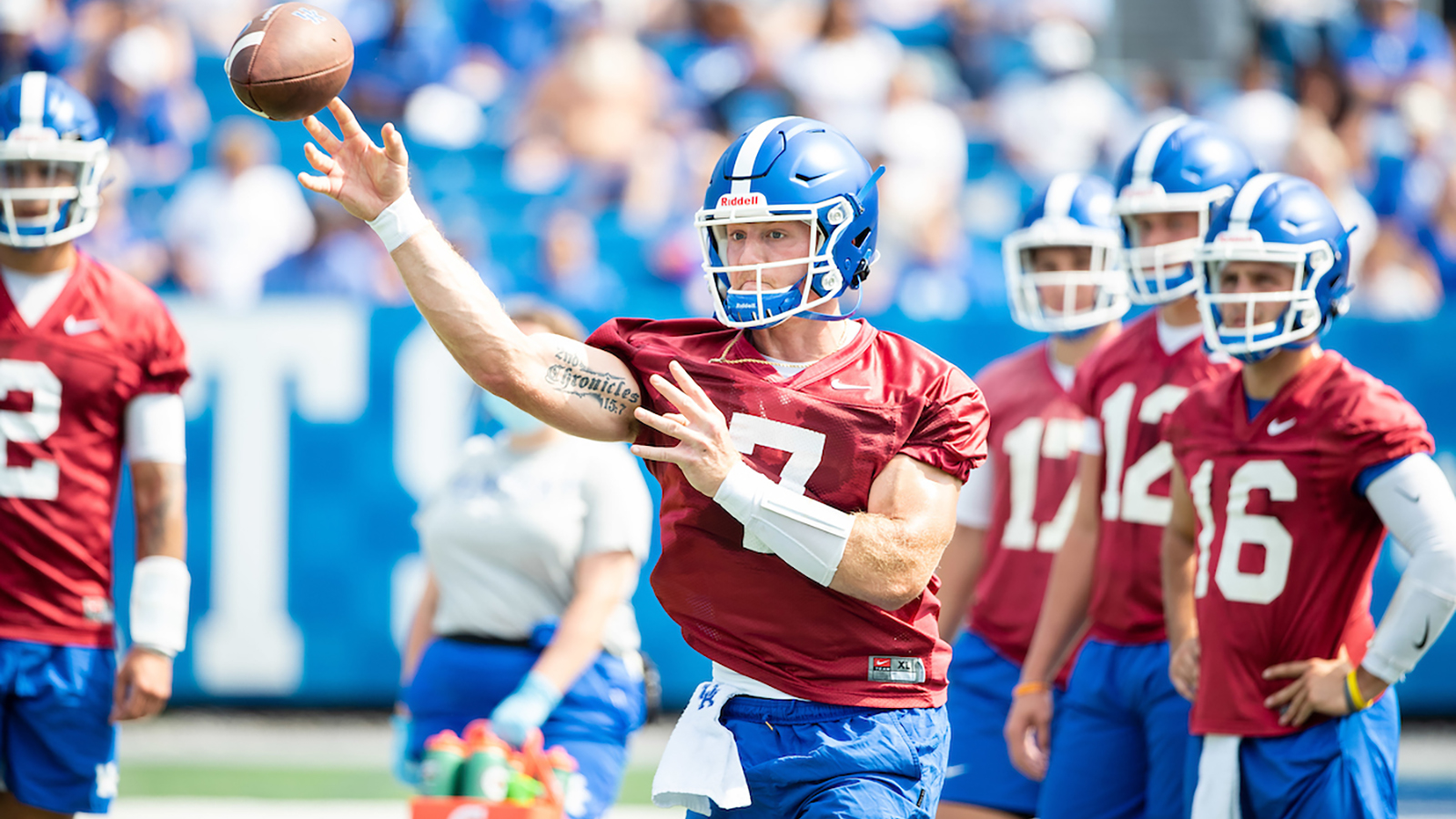 The looming question of Kentucky's fall football camp has been answered. On Sunday, UK head coach Mark Stoops announced that he has named Penn State transfer Will Levis as the starting quarterback for Kentucky's season opener against Louisiana-Monroe.
Levis beat out junior Joey Gatewood and sophomore Beau Allen in the competition that many figured would last throughout fall camp. But Stoops knew that the time to name a starter was now.
"We were ready. It was the right time," Stoops said. "And if this is the decision we were going to make, I wanted to give people like Joey to transfer and go somewhere. If you wait another week, he's trapped here."
After being informed of the staff's decision, Gatewood did tell Stoops that he plans to enter the transfer portal.
As for Levis, what was it that set him apart from his competition?
"He's been extremely efficient at running the offense," Stoops said. "His first throw in the stadium was a 65-yard touchdown strike. He has a lot of talent. He's been doing some things very good. He's been very efficient. He's got unbelievable arm strength and he's a big, strong guy."
Stoops said that it was very simple.
"He won the job," the UK head man said. "This was clear."
It has been mentioned on several occasions that Levis has a presence about him. Stoops agrees with that assessment.
"His presence is felt immediately. His presence is strong," Stoops said. "He's a very mature young man, very intelligent. There's that piece of it. There's command in the huddle. And there's the talent in the arm. It doesn't take long to see the arm talent."
At Penn State last season, Levis played in eight games for the Nittany Lions. Levis connected on 33 of 55 passing for 421 yards and a touchdown with no interceptions. He rushed 82 times for 260 yards and three touchdowns.
His best game last season came in a 30-23 loss at Nebraska. In that game, Levis was 14 of 31 through the air for 219 yards, while rushing 18 times for 61 yards.
In his two years at Penn State, Levis rushed for 473 yards and passed for 644 yards. He accounted for eight touchdowns (six rushing, two passing) in two seasons in Happy Valley.
Stoops knows that making the decision early will help the bond between Levis and his offense.
"It is important. It's important to build that continuity with the offensive players, the receivers, the tight ends and running backs and so on. I would never be pressed into that situation but once we came to that conclusion, we felt there was no reason to delay this decision."
With the quarterback decision out of the way, the Cats can now move forward with continuing to learn, and hopefully perfect, the team's new offense.