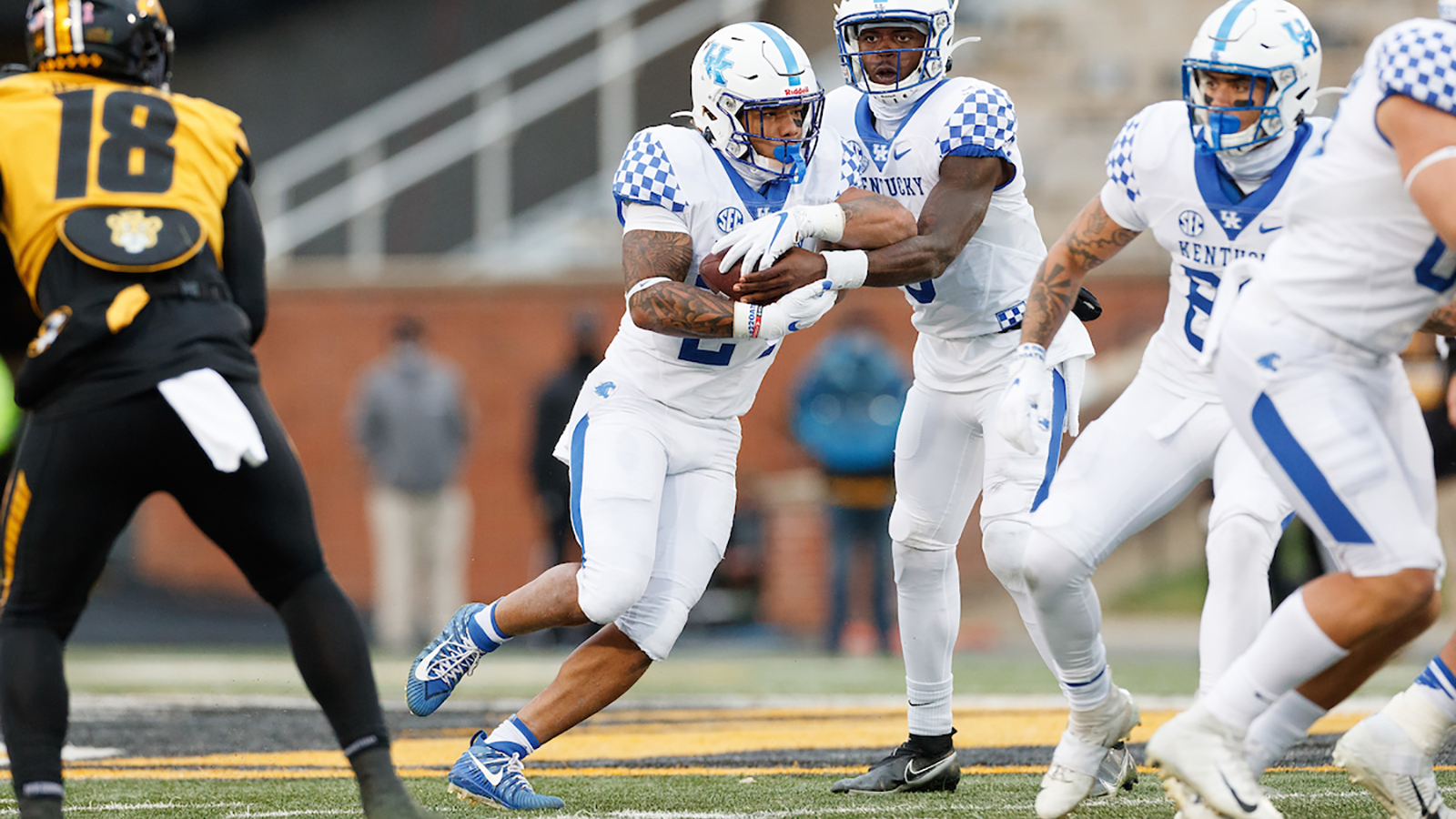 Many times, a new offensive coordinator walks into a football program and finds that the cupboard is bare. Kentucky's new OC Liam Coen does not have that problem.
As Coen evaluates his talent, he sees an All-SEC running back in Chris Rodriguez Jr., along wide receiver Wan'Dale Robinson. He sees returning receiver Josh Ali and talented running back JuTahn McClain. And many others.
The Cats are five practices into the spring and, at least so far, Coen seems pleased with the talent level and the execution that his team has displayed.
"I think that we're getting better every day," Coen said. "It's obviously a process for us. Just the operation has been better. A lot of different things for these guys and I feel like they've done a nice job and definitely deserve a day off."
Coen attributes some of that to the team's leaders, who took it upon themselves to get the team together, on their own, over the summer to work on the new offense.
"Our leadership this summer did such a nice job of getting the guys together and running plays on air," Coen said. "Those guys took it upon themselves, they put the work in and it's starting to show up."
Coen even indicated that he may have to be creative in order to get the ball in the hands of UK's many playmakers, especially the running backs.
"When you get around Chris, (Kavosiey) Smoke, JuTahn (McClain), LaVell (Wright), (Travis) Tisdale, Torrence Davis is coming along. How do you get all of those guys touches?," Coen said. "It's really hard to get all of those guys carries but we can get them touches in different ways and that's something we evolved to."
One way is to utilize pass catching by the backs, either out of the backfield or lined up at receiver.
"Those guys are all such capable catchers out of the backfield and also splitting them out wide," Coen said. "Just trying to be multiple within personnel groupings to get guys touches because we do have some guys in that backfield who are playmakers, difference makers that we need to get the ball to in other ways than just handing them the ball."
As for the receivers themselves, Coen is still developing a comfort level with that particular position. When asked how many of them he feels good about at the moment, he identified a figure.
"Six to seven that I feel good about playing with right now," Coen said. "I do feel good about some of the young guys, we've just got to get them more work with the older guys."
One former receiver who is now a tight end is Izayah Cummings. Both Coen and UK head coach Mark Stoops like how Cummings is adapting to the position.
"Very natural. Surprisingly natural," Stoops said. "Not there yet but he has that understanding and he fits in better than I thought he would, so that's been really good to see."
Coen agreed with the UK head man.
"(Cummings is) such a good kid and we're just trying to find a role for the guy," Coen said.
It's still early and roles are still being identified. But it's so far, so good for the new UK offense.