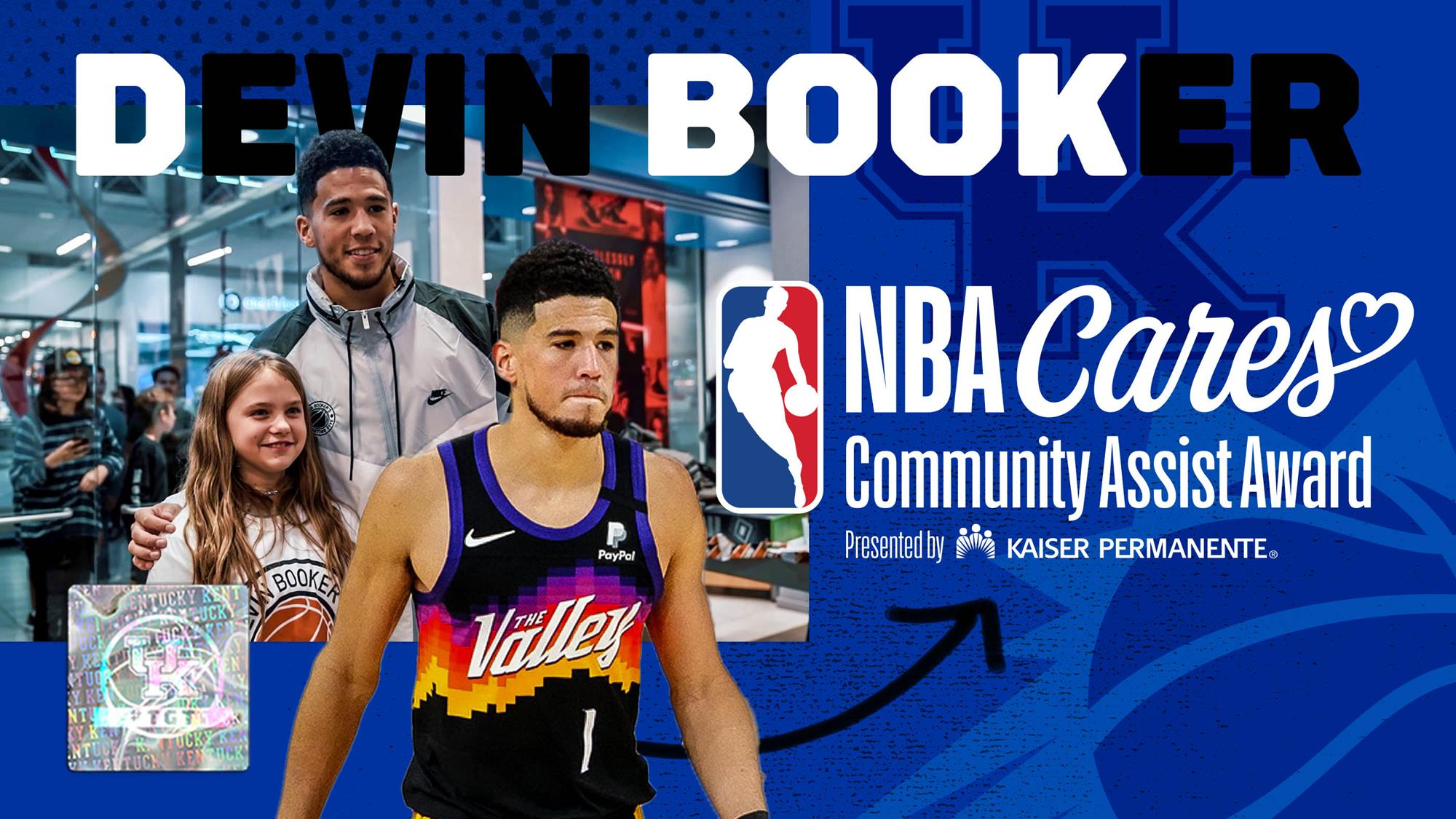 Devin Booker Wins NBA Cares Community Assist Award
NEW YORK – In the midst of his first run to the NBA Finals, former Kentucky men's basketball player Devin Booker was named the recipient of the 2021 Seasonlong NBA Cares Community Assist Award on Wednesday.
 
Booker was selected as this year's winner by fans during a 12-day public voting period as well as by an NBA executive panel for his exceptional community outreach in the greater Phoenix area over the last several months.
 
It is the second time in the last six years a former UK player has won the award. John Wall won in 2015-16. DeMarcus Cousins earned the offseason edition of the award in 2017 and Anthony Davis was honored for the month of January in 2015.
 
The importance of giving back is a pillar in John Calipari's approach with his players during their time at Kentucky. Whether it is the program's frequent work with Samaritan's Feet, annual visits to the Salvation Army at Thanksgiving, providing families with food and gifts during the holiday season, alumni charity events, or even this past June's community service around the state, servant leadership has been a consistent teaching of Calipari's.
 
Booker was a member of the 2014-15 Kentucky team that washed feet and delivered shoes to children in the Bahamas in conjunction with Samaritan's Feet during UK's Big Blue Bahamas exhibition tour in the summer of 2014.
 
"I'm really proud of guys who have been NBA All-Stars, All-NBA, players who have won championships, MVP, Rookie of the Year, etc., but I'm just as proud if not more of our players who have won the NBA Cares Community Assist Award," Calipari said. "It makes me so happy as a coach to see them become servant leaders.
 
"Whether you're talking about Devin Booker winning this year's Community Assist Award, John Wall and DeMarcus Cousins earning it in the past, Anthony Davis winning the monthly award, what Bam Adebayo has done, and all of our other guys, they have given back with both their time and their money.
 
"I couldn't be prouder of Devin. Obviously, what he's doing on the court in the NBA Finals right now makes me smile, but who he has become as a person and as a leader, amazing stuff."
 
Booker's commitment to the Phoenix community recently including donating $500,000 to five Arizona community groups for their respective efforts to improve the lives of local youth and families through his Devin Booker Starting Five Initiative, which has committed a total of $2.5 million over the course of five years – $500,000 annually – to five different youth-serving nonprofits in Arizona. 
 
Known as the second Starting Five class, Arizona Autism United, Central Arizona Shelter Services, YMCA of Southern Arizona, GAP Ministries and Elevate Phoenix each received a $100,000 grant from Booker to help address critical funding needs following the pandemic and support their respective efforts to improve the lives of local youth and families. The first class — Special Olympics Arizona, Leukemia and Lymphoma Society, Southwest Autism Research and Resource Center, UMOM New Day Centers and Ability 360— received their $100,000 grants in late 2019.
 
Booker's work in the community has spanned far beyond this breakthrough on-court season for Phoenix. The leader of the Suns, who are competing for their first NBA title in franchise history, has also provided significant support to youth and families across Phoenix through COVID-19 relief, holiday shopping sprees, serving as a guest coach for wheelchair and youth basketball programs, and making annual visits to Phoenix Children's Hospital.
 
In 2020, Booker was named a Special Olympics Global Ambassador, actively promoting inclusion through sport and continuing to participate in events with Special Olympics Arizona. At the 2016 and 2017 NBA Draft Lottery, he selected deserving young athletes to accompany him as his guest.
 
Booker will be recognized prior to game two of the NBA Finals on Thursday. That game is set for a 9 p.m. ET tip on ABC. As a part of the honor, the Devin Booker Starting Five Initiative through Phoenix Suns Charities will receive a $25,000 contribution from the NBA and Kaiser Permanente.
 
Each month of the regular season, the Community Assist Award recognizes a player who best reflects the passion that the league and NBA players share for supporting their communities. Booker received the monthly nod in May. The season-long award honors one of the monthly winners' continued commitment to positively impacting his community through sustained efforts. 
 
On the court, Booker and the Suns have a 1-0 lead in the NBA Finals, Phoenix's first appearance in the championship series since 1993. Booker, who is averaging 27.0 points, 6.2 rebounds and 48 assists per game in the postseason run, opened the series vs. the Milwaukee Bucks with 27 points, six dimes and three steals.
 
It is third straight season a former Kentucky men's basketball player has appeared in the NBA Finals. Davis, Rajon Rondo and the Los Angeles Lakers defeated Adebayo, Tyler Herro and the Miami Heat in last season's championship series. It was Davis' first title and Rondo's second. Jodie Meeks was with the Toronto Raptors during their 2019 conquest.
 
Booker, a two-time NBA All-Star and one of the game's best scorers since debuting in the 2015-16 season, averaged 25.6 points, 4.2 rebounds and 4.3 assists per game in the regular season. It is the fourth straight year he has averaged at least 24.0 points per game.
 
Booker was named the NBA Western Conference Player of the Month in February and won NBA Western Conference Player of the Week three times in 2020-21.
 
Nearing 10,000 career points and just 24 years old, Booker's current point total is the seventh most ever by a player before turning 25.
 
Booker was the Southeastern Conference Sixth Man of the Year during UK's 38-1 Final Four season in 2014-15. He averaged 10.0 points, 2.0 rebounds and 1.1 assists per game, while also sinking 58 3-pointers. Booker won four straight SEC Freshman of the Week honors and earned a league-high five overall awards. He was drafted 13th overall by the Suns in 2015.
 
After the finals conclude, Booker will immediately join the U.S. National Team in Tokyo for the 2020 Olympics. Booker and Adebayo are looking to make it four straight gold medals for a Wildcat in the Summer Games.
 
For the latest on the Kentucky men's basketball team, follow @KentuckyMBB on Twitter, Facebook, Instagram and TikTok, and on the web at UKathletics.com.