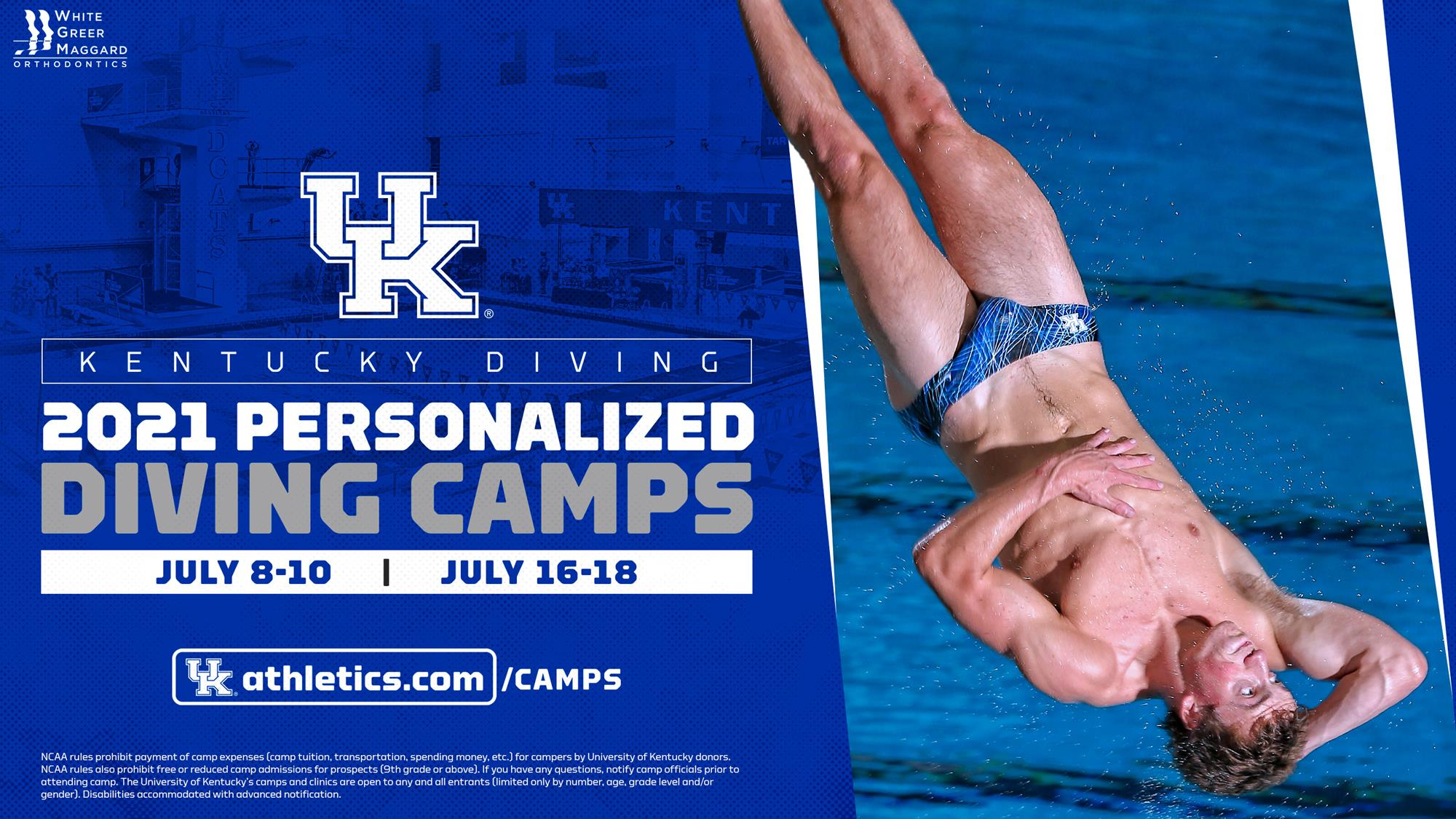 2021 Kentucky Diving Camps
The University of Kentucky Personalized Diving Camps are now available!
 
3-day camps are offered to divers from the age of 8-18 and will be set up with a limited number of spots for each camp to keep the ratio between diver and coach small and focused.  We will personalize these camps utilizing input from the parent, diver, home coach to identify primary learning goals for the camp.  Once the primary goals are identified we will build a personalized lesson plan for the 3 days to maximize learning and teaching.
Campers will get personalized training with UK Head Diving Coach and 2021 SEC Coach of the Year, Ted Hautau and NCAA All-American Divers.
UK Personalized Diving Camps will utilize the University of Kentucky's state-of the-art spotting equipment, video feedback, dry-land and water facilities to teach in a safe and productive atmosphere.
Max 5:1 Camper to Coach ratio
 
CAMP DETAILS
SESSIONS / COSTS:
CAMP 1:              July 8th-10th     (2 sessions per day)
TH 9-11 and 12-2             FR 9-11 and 12-2             SAT 10-1 and 2-5
$550.00               Transportation, meals and lodging for camper are responsibility of parent/guardian
CAMP 2:              July 16th-18th   (2 sessions per day)
FRI 9-11 and 12-2            SAT 10-12:30 and 1:30-4              SUN 9-11:30 and 12:30-3
$550.00               Transportation, meals and lodging for camper are responsibility of parent/guardian
GENERAL INFORMATION
Location:             Lancaster Aquatic Center, 416 Complex Drive, Lexington, KY 40506
Age Group:         8-18 (must be 8 years old 1st day of camp)
Check In:             8:30 am Friday
Capacity:             10 campers (first 10 to register online, wait list will be available)
COMMUNICATIONS:  After you complete your registration you will receive a confirmation email.  This contains a questionnaire that we will use to form the lesson plan for each camper.  Please fill this out and email it back to the address specified.  Double check that your email address is correct in your Active Network Camp Account.  We will use that address for communications.  If you have any questions please email Ted Hautau at ted.hautau@uky.edu
 
Cancellation and Refund  Policies:          
Covid – see Covid policy for UK Camps
Non-Covid – Campers will receive a full refund in case of injury or illness with doctor's note (minus $75 processing fee).  Without a doctor's note, full refunds will be issued minus $75 processing fee if more than 7 days advance notice.  Any cancellations within 7 days of start of camp session will result in NO REFUND unless a doctor's note is presented.
REQUIRED DOCUMENTS FOR ALL UK ATHLETICS CAMPS: – For the child to participate in camp please upload the following documents to your Active Network Camp Account through the link in your confirmation email.
A copy of a physical that was signed by a physician within the last 12 months.  Front and back copies of your medical insurance card(s)
The camper will not be able to participate in camp until we have received these forms. For all camps, disabilities will be accommodated with advanced notifications.