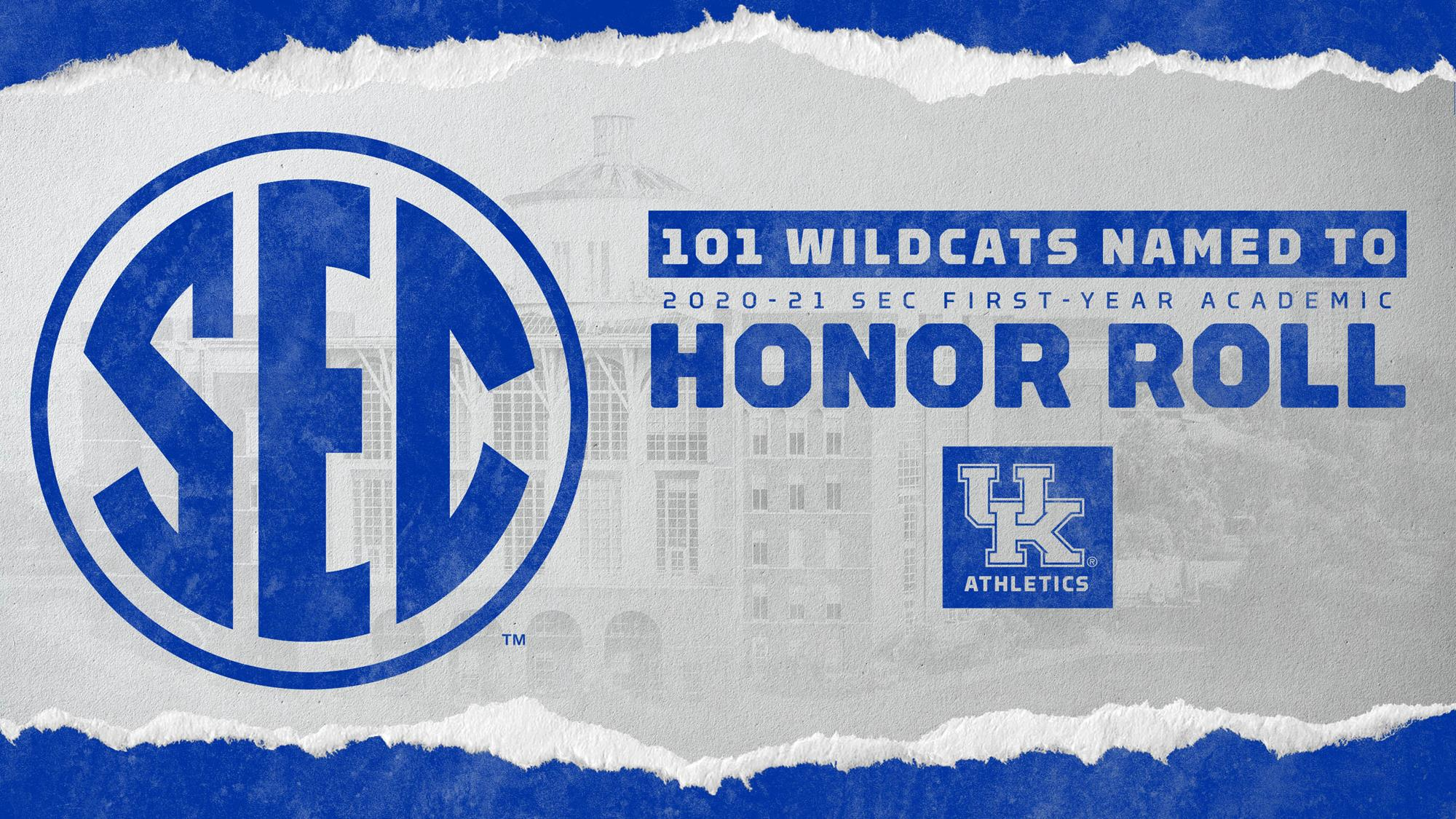 LEXINGTON, Ky. – Student-athletes in their first year at the University of Kentucky combined to earn a total of 101 spots on the 2020-21 Southeastern Conference First-Year Academic Honor Roll, the third-highest number in the league, the SEC Office announced Tuesday. 
Kentucky had three teams finish among the top three in the SEC in their sports.
Baseball tied for first in the league in that sport with 16 honorees
Gymnastics tied for first in the league with five honorees
Women's golf tied for second in the league two honorees
The First-Year Academic Honor Roll is based on grades from the 2020 summer and fall terms, along with the 2021 spring term. Among other qualifications, a student-athlete must have a 3.0 grade-point average for the entire year to earn a place on the honor roll. 
Tuesday's news is a continuation of the academic accomplishments of UK student-athletes:
In November, it was announced that UK Athletics broke school records for the NCAA Graduation Success Rate and Federal Graduation Rate. UK has broken or tied the GSR record every year since the NCAA began measuring that statistic in 2005.
UK athletes have posted an overall grade-point average over 3.0 in 18 consecutive semesters.
115 Wildcat student-athletes earned degrees during the 2020-21 school year.
Kentucky representatives on the honor roll:
Student-Athlete – Sport – Major
Devin Burkes – Baseball – Pre-Human Nutrition
Evan Byers – Baseball – Animal Sciences
Ryan Hagenow – Baseball – Pre-Media Arts and Studies
Sean Harney – Baseball – Communication
Jonathan Hicks – Baseball – Undeclared
Wyatt Hudepohl – Baseball – Pre-Finance
Holt Jones – Baseball – Communication
Zachary Kammin – Baseball – Sport, Fitness, & Recreation Management
Houston King – Baseball – Pre-Marketing
Kirk Liebert – Baseball – Communication
Seth Logue – Baseball – Pre-Finance
Nolan McCarthy – Baseball – Pre-Finance
Jacob Plastiak – Baseball – Finance
Ryan Ritter – Baseball – Pre-Management
Alonzo Rubalcaba – Baseball – Communication
Austin Strickland – Baseball – Pre-Management
Davion Mintz – M Basketball – Kinesiology and Health Promotion
Olivier Sarr – M Basketball – Communication
Jacob Toppin – M Basketball – Communication
Robyn Benton – W Basketball – Journalism
Treasure Hunt – W Basketball – Undeclared
Nyah Leveretter – W Basketball – Journalism
Samuel Anaele – Football – Communication
Isaiah Beasley – Football – Psychology
Jace Bruner – Football – Economics
Deondre Buford – Football – Family Sciences
Izayah Cummings – Football – Undeclared
Michael Drennen, II – Football – Computer Science
Cody Goatley – Football – Agricultural Economics
Rickey Hyatt, Jr. – Football – Sociology
D'Eryk Jackson – Football – Undeclared
Joshua Jones – Football – Undeclared
Luke Leeper – Football – Kinesiology
Earnest Sanders, IV – Football – Undeclared
Carrington Valentine – Football – Journalism
Graham Wald – Football – Finance
Jai Williams – Football – Architecture
Hugo Archer – M Golf – Management
Campbell Kremer – M Golf – Management; Finance
Laney Frye – W Golf – Undeclared
María Villanueva Aperribay – W Golf – Finance
Bailey Bunn – Gymnastics – Kinesiology
Carissa Clay – Gymnastics – Dietetics
Hailey Davis – Gymnastics – Management
Isabella Magnelli – Gymnastics – Merchandising, Apparel, and Textiles
Krista Zultevicz – Gymnastics – Political Science
Trey Asensio – M Soccer – Mechanical Engineering
Jalen Bigby – M Soccer – Marketing
Ben Damge – M Soccer – Finance
Andrew Erickson – M Soccer – Marketing; Communication
Enzo Mauriz – M Soccer – Management
Ben Wendell – M Soccer – Neuroscience
Logan Boggs – W Soccer – Management
Madison Hill – W Soccer – Kinesiology
Marie Olesen – W Soccer – Environmental and Sustainability Studies
Ulfa Ulfarsdottir – W Soccer – Mathematical Economics
Anna Young – W Soccer – Kinesiology
Erin Coffel – Softball – Kinesiology
Victoria Fragoso – Softball – Marketing
Meeko Harrison – Softball – Kinesiology
Vanessa Nesby – Softball – Marketing
Stephanie Schoonover – Softball – Kinesiology
Erica Thulen – Softball – Management
Cooper Drouillard – M Swim & Dive – Journalism
Sam Duncan – M Swim & Dive – Economics
Zane Rosely – M Swim & Dive – Undeclared
Adam Rosipal – M Swim & Dive – Psychology
Caleb Tuckerman – M Swim & Dive – Kinesiology
Kaitlyn Bacik – W Swim & Dive – Mechanical Engineering
Torie Buerger – W Swim & Dive – Animal Sciences
Sofia Davis – W Swim & Dive – Journalism
Megan Drumm – W Swim & Dive – Digital Media & Design
Bridget Engel – W Swim & Dive – Biology
Leah Luckett – W Swim & Dive – Psychology
Van McKinely – W Swim & Dive – Elementary Education
Jodi Ogle – W Swim & Dive – Biology
Tori Orcutt – W Swim & Dive – Psychology
Anna Havens Rice – W Swim & Dive – Chemistry
Kristyn Sabol – W Swim & Dive – Undeclared
Joshua Lapadat – M Tennis – Finance
Heman Nama – M Tennis – Economics
Tate Sandman – M Tennis – Human Health Sciences
Fiona Arrese – W Tennis – Mechanical Engineering
Elizabeth Stevens – W Tennis – Undeclared
Jake Allen – M Track & Field – Accounting; Finance
Keaton Daniel – M Track & Field – Community and Leadership Development
Matt Duvall – M Track & Field – Undeclared
Daroyce Flemons – M Track & Field – Kinesiology
Ethan Kern – M Track & Field – Finance; Economics
Dalton Shepler – M Track & Field – Biology
Brendan Turner – M Track & Field – Undeclared
Jade Gates – W Track & Field – Sociology
Jenna Gearing – W Track & Field – Professional and Technical Writing
Tori Herman – W Track & Field – Interiors
Jaida Knowles – W Track & Field – Kinesiology
Sydney Spillman – W Track & Field – Journalism
Siobhan Szerencsits – W Track & Field – Finance
Elise Goetzinger – Volleyball – Chemistry
Reagan Rutherford – Volleyball – Management
Madisen Skinner – Volleyball – Human Nutrition
Riah Walker – Volleyball – Undeclared