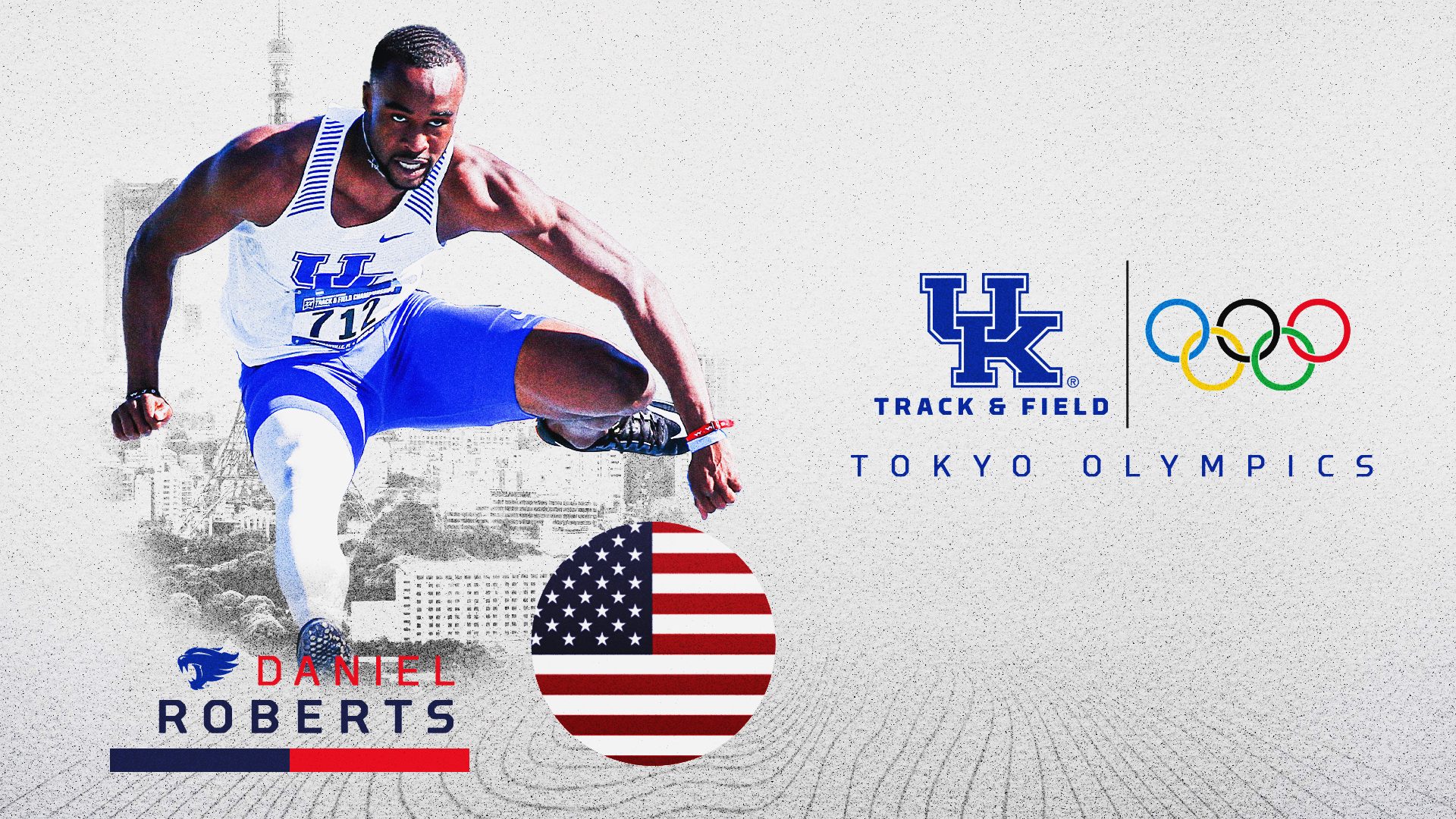 Daniel Roberts Makes U.S. 110m Hurdles Olympic Team
USATF Trials: Live Results | TV Schedule | Competition Schedule
 
EUGENE, Oregon – Hurdle U Kentucky Track and Field legends put on a show during the penultimate day of competition at the United States Olympic Team Trials with Daniel Roberts making the American team in the 110-meter hurdles and Sydney McLaughlin cruising into the 400m hurdles final.
Roberts, the 2019 Southeastern 110H Champion, double NCAA runner-up and U.S. Champion, all as a junior for Kentucky, was third in the final, running a season best 13.11 (+0.4).
 
"It means the world, man," Roberts said to Lewis Johnson on the NBC broadcast. "This past season has been crazy for all of us, so I'm just happy to be here with my boys."
 
Current Kentucky sophomore Tai Brown ran a huge personal best 13.32, No. 2 on the UK all-time list (behind only Roberts) to finish fifth in the final.
 
"My guy Tai, I'm so excited for him to even have that kind of experience in such a big atmosphere, a big moment," Roberts said. "I'm excited for what's coming for him. Back in Kentucky we train together. He's great. He's gonna be one of the best to ever do it if he just keeps going, keeps doing his thing so I'm excited for him to be in that moment with me."
 
Two other Wildcats have earned places on Team USA during the Trials – Javianne Oliver in the 100m dash and Keni Harrison in the 100m hurdles.  They will be joined at the Olympics by UK alumna Jasmine Camacho-Quinn, who will represent Puerto Rico in the 100m hurdles and Leah Nugent who made the Jamaican team in the 400m hurdles.
 
Running on the same ground where she made the 2016 Olympic Team as a high-school athlete and then won the NCAA 400H Title for Kentucky in 2018, Sydney McLaughlin (53.03Q) was fastest of the heats for the second day in a row in one of the most competitive events in an already uber competitive national competition. McLaughlin lowered her Q time of the first round by more than a second.
 
"The goal was just to get out, run the backstretch and run the pattern that's probably going to happen tomorrow in the final, which I did," McLaughlin said. "From there it was just maintaining. Had a couple of switches there with my leg, but overall a good time and excited to see what happens."
The 400H final will take place at 7:18 p.m. ET Sunday on NBC.
 
UK Class of 2017 Kiah Seymour, who was NCAA runner-up at Hayward Field five years ago, was ninth fastest of the first round (57.18Q) and SEC medalist and current team member Masai Russell, were knocked out in the semis, Seymour missing the final by one spot.
 
Olivia Gruver, who won the 2018 NCAA pole vault title at Hayward Field in her last collegiate competition in a UK uniform, finished agonizingly fourth in the women's PV.
 
Gruver missed the Olympic Team by one spot on a tie breaker that came down to her only miss of the competition. Her top clearance at 15'1″/4.60m tied with Sandi Morris and legend Jenn Suhr. Gruver missed on her first attempt of the day at 14'3.25″/4.35, while Morris passed and then had a clean field series over the next two heights, which matched Gruver to earn the tie breaker that put Morris, the reigning Olympic Silver Medalist, on the plane to Tokyo.
 
Saunders, who was an NCAA Indoor long jump champion, placed sixth in the women's long jump with a mark of 22'0.75″/ 6.71m (+1.4) on her sixth and final attempt.
 
Kentucky alumna Dezerea Bryant finished sixth in the 200-meter dash final, running a season-best 22.24 (+1.3). Bryant placed  The 2019 U.S. 200m Champion also made the 100m final earlier in the meet, which will put the two-time NCAA Champion into consideration for the U.S. 4x100m relay, upon which Bryant earned bronze at the World Championships in 2019.
At the British Athletics Championships, UK Class of 2018 and two-time NCAA Champion Tim Duckworth won the decathlon with a score of 7,447.
 
Additionally, UK Class of 2015 alumna Leah Nugent qualified for her second consecutive Olympics representing Jamaica after she placed third in the 400m hurdles at her National Championships on Friday.
The 2020 Summer Olympic Games in Tokyo were postponed last year, but are still being known as the 2020 Olympics.
 
How to qualify for the Olympics
The top three finishers in each event, so long as they have the Olympic qualifying standard which was established by World Athletics months ago, will automatically earn spots on Team USA for the 2020 Summer Olympics to be held in in Tokyo in July-August 2021. 
 
Olympic team trials and their equivalent meetings are taking place across the world in the coming days and weeks.