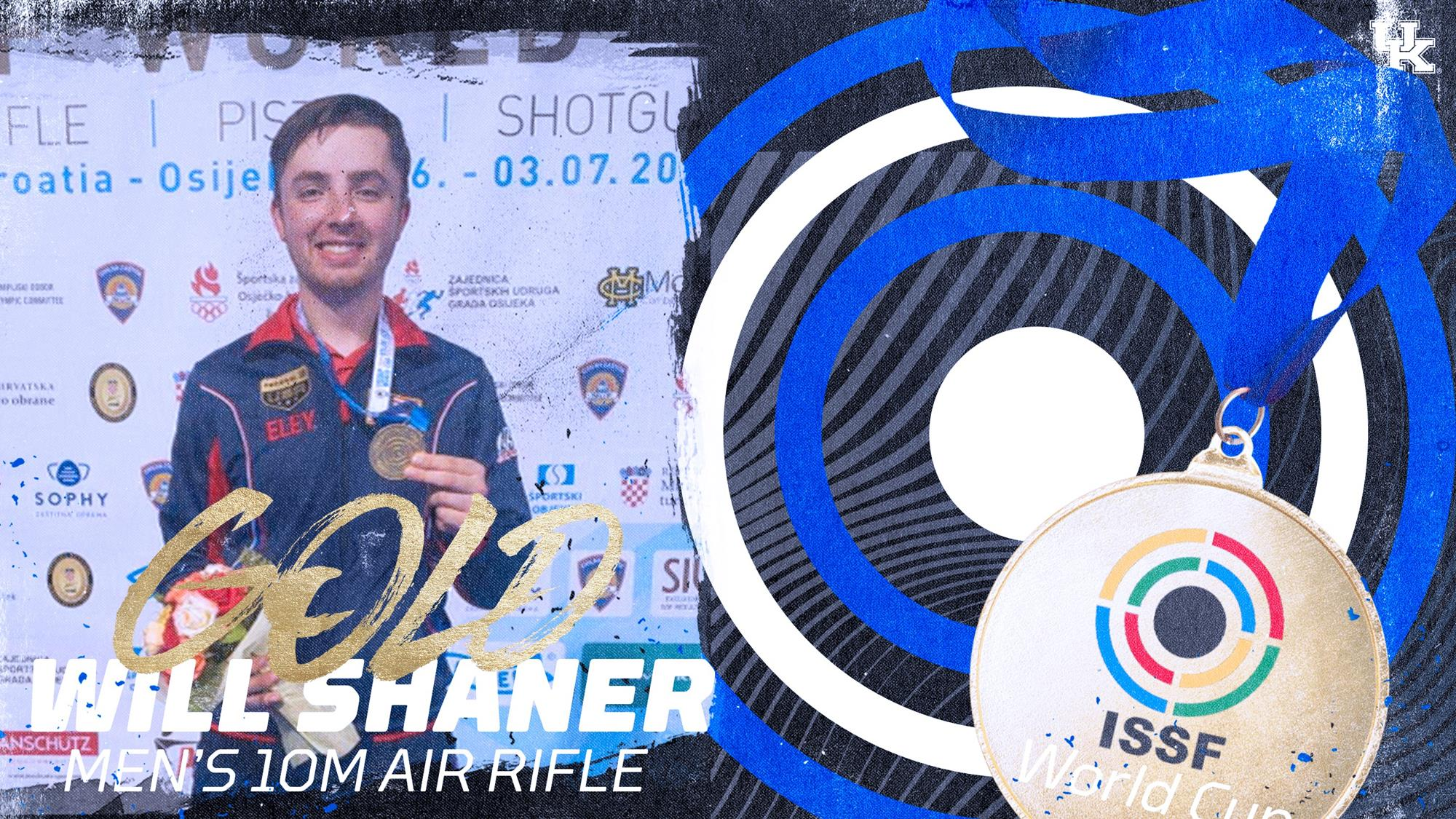 LEXINGTON, Ky. – In his final tune up before heading to Tokyo for the Olympics, Kentucky's Will Shaner performed flawlessly at the ISSF World Cup in Croatia on Thursday, winning the gold medal in men's air rifle 10 meters.
 
Shaner led from start to finish at the event, finishing with 250.5 points. The event took place at Pampas Shooting Range.
 
Last month at the National Junior Olympic Championships, Shaner won gold in smallbore and silver in air rifle. He is one of two male members of USA Shooting's air rifle team and participate in next month's Olympics. Earlier this year, Shaner led the Wildcats to their third national championship posting the highest ever team score in the modern format at the NCAA Rifle Championships. The national championship capped an impressive season for the Wildcats that included a new school-record team score and a share of the Great America Rifle Conference Regular-Season Championship.
 
Shaner earned first-team All-America honors this past season from the Collegiate Rifle Coaches Association for aggregate, smallbore and air rifle. This is the third straight season the CRCA has honored Shaner as an All-American after he was first-team All-America last season and earned CRCA Rookie of the Year and All-America honors as a freshman.
 
Shaner had strong averages in both disciplines this season, earning a 589.25 in smallbore and 595.667 in air rifle for an aggregate average of 1184.917. Shaner finished second in air rifle at the NCAA Championships last week. Shaner was one of three athletes in the nation to score a 595 or higher in smallbore this season. In air rifle, Shaner was one of five athletes in the nation to post a 599 or higher in air rifle. Shaner scored 1190 or higher aggregates twice this season and was one of three athletes in the nation to accomplish that feat more multiple times.
 
For more information on the Kentucky rifle team, visit UKathletics.com or follow UKRifle on Twitter, Instagram and Facebook.