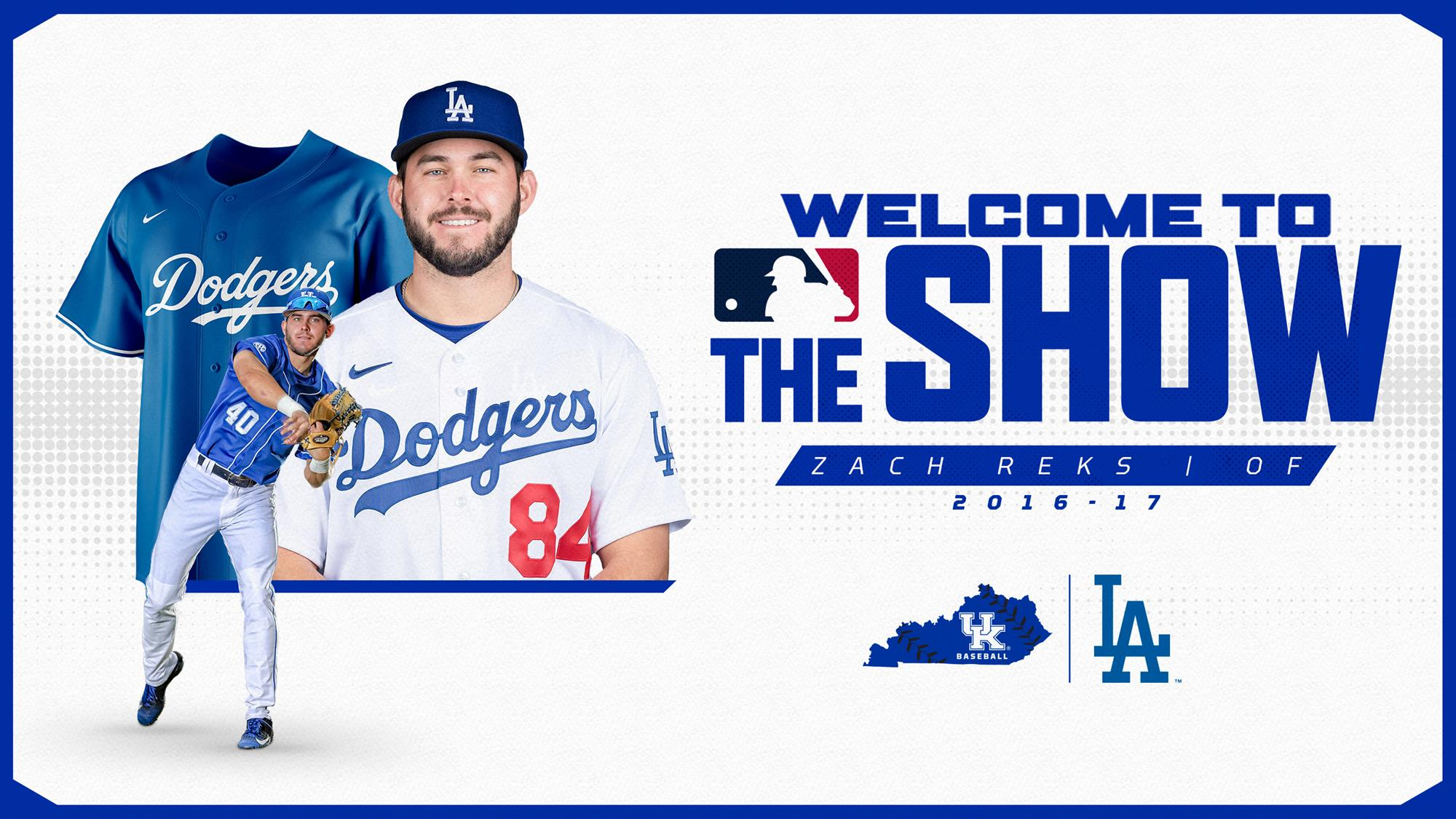 LEXINGTON, Ky. – Former Kentucky standout Zach Reks made his Major League Baseball debut on Monday, getting his first call to the big leagues from the Los Angeles Dodgers after a stellar minor league career.
 
The outfielder from Chicago batted eighth against the San Diego Padres, going 0-for-2 as the starting leftfielder in his first game. He becomes the third player from Kentucky's 2017 NCAA Super Regional team to make it to the majors, including first baseman Evan White (Seattle Mariners, 2020) and right-handed pitcher Zach Pop (Miami Marlins, 2021).
 
Reks was an integral part of the UK program during the 2016 and 2017 seasons, batting .352 during the 2017 run, third on the team behind White and Tristan Pompey. In 65 games that season he scored 44 runs, had 86 hits, 16 doubles, two triples, three home runs, 44 RBI, 42 walks and 15 stolen bases.
 
After walking on in the fall of 2015 he broke out in a big way in 2016, batting .331 with a .925 OPS and 12 extra-base hits in 154 at-bats. He finished his two-year career with 137 hits and currently ranks 37th on the school's all-time list.
 
With his hit tool having been on full display Reks was selected by the Dodgers in the 10th round of the 2017 MLB Draft and immediately began to make an impression in the organization. In his first season he torched three levels by hitting .317 in 47 games. In 2018, he batted .303 with 24 extra-base hits and 40 RBI at the A-Advanced and AA levels.
 
Reks' pro breakout came in 2019 between AA and AAA, batting .291 with a .921 OPS in 121 games. He clubbed 21 doubles, two triples and 28 home runs on his way to 93 RBI and nearly 100 runs scored. The Dodgers added him to the their 40-man roster and he rewarded them this spring by batting .341 with 1.022 OPS, 14 doubles, five homers and 19 RBI in 123 at-bats for Oklahoma City.