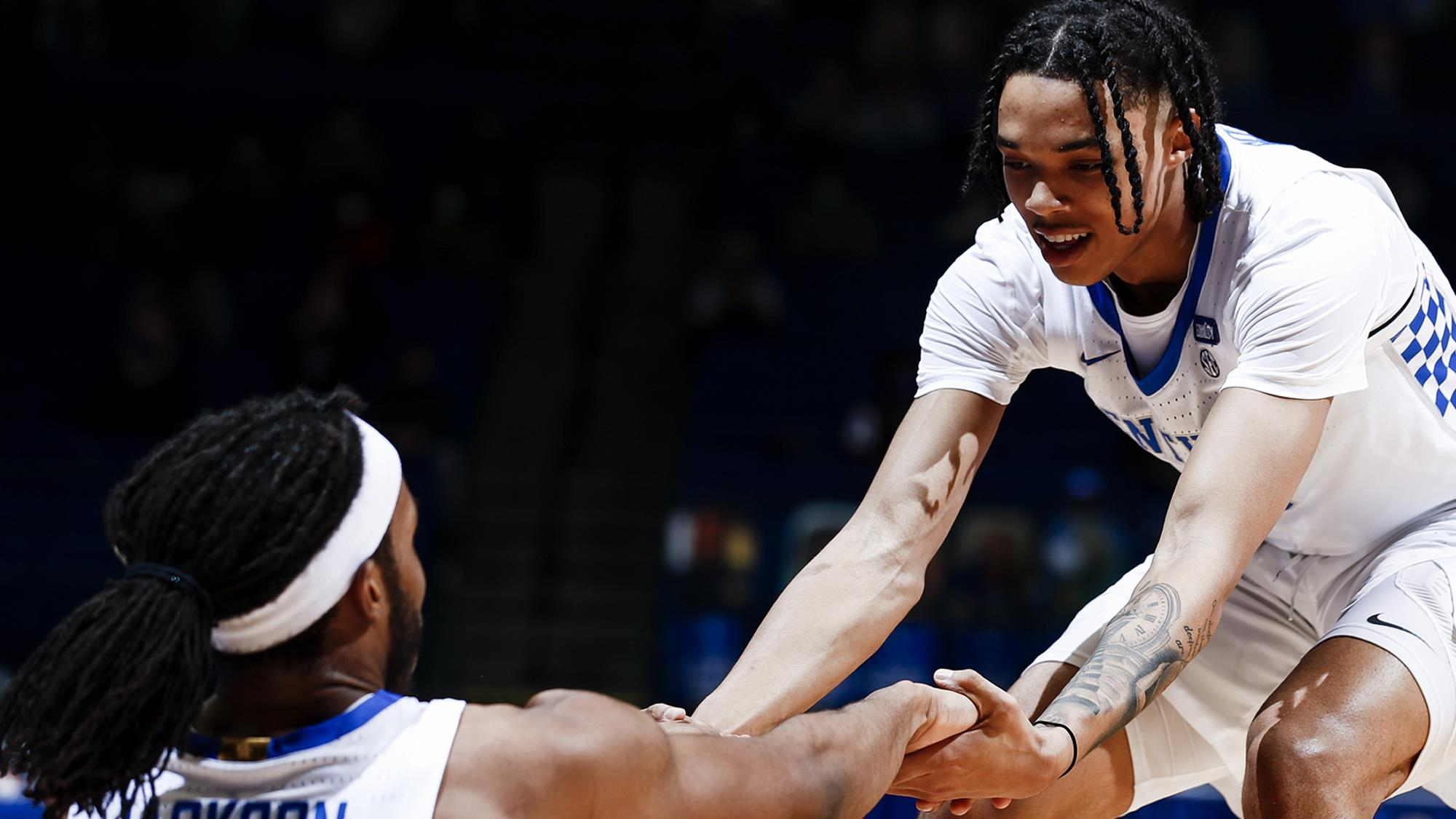 Two Wildcats Set to Attend NBA Draft Combine in Chicago
CHICAGO – Former Kentucky men's basketball players Brandon Boston Jr. and Isaiah Jackson were among 69 players selected to attend the NBA Draft Combine, which will be held June 21-27 at Wintrust Arena and the Marriott Marquis in Chicago.
 
The NBA Draft Combine is a multi-day showcase where some of the world's best draft-eligible players will participate in physical measurements, interviews, drills, medical and athletic testing, and scrimmages in front of NBA personnel. NBA coaches, general managers and scouts will be on hand to assess individual players in preparation for the annual NBA Draft, to be held July 29 at the Barclays Center in Brooklyn, New York.
 
ESPN2 (June 24) and ESPNU (June 25) will provide coverage of the five-on-five games from 3-7 p.m. ET each day.
 
Athletes attend by invitation only from the NBA based on the feedback and requests from the 30 NBA teams. Some of Kentucky's most recent departures have participated in the NBA Combine and gone on to successful NBA Draft nights and promising professional careers.
 
Both Boston and Jackson have announced they are forgoing their remaining collegiate eligibility to stay in the draft.
 
UK has an additional player, Davion Mintz, who has declared for the draft but has left open the option to return to school.
 
Mintz has until July 7 – 10 days after the NBA Combine – to withdraw from the NBA Draft to maintain his collegiate eligibility.
 
Boston made 24 starts in 25 appearances for the Wildcats this season. He averaged a team-high-tying 11.5 points per game and his 4.5 rebounds per outing led the guards. The Norcross, Georgia, native paced the squad with 33 steals and had six games with three or more swipes.
 
Known for his ability to score on all three levels, Boston reached double figures in a team-high 17 games and had a pair of 20-point performances. Boston made particular strides from long range as the season wore on, draining 23 3-pointers over the final 12 games.
 
Boston scored a career-high 21 points with a career-best six 3s in the regular-season finale against South Carolina. He recorded 17 points in back-to-back outings against Arkansas and Auburn. He also posted a career-high four steals in the win over the Tigers. In his return to his home state, Boston scored 18 points at Georgia and followed that with 18 points, six boards, three assists, a block and a steal in the win over LSU.
 
Boston was the only guard on the team to record a double-double this season with 20 points and a career-best 10 rebounds against Richmond.
 
Jackson's ability and athleticism were evident early in his freshman campaign and he transformed into an All-Southeastern Conference Freshman and Defensive performer by the end of the season.
 
The freshman forward averaged 8.4 points and 6.6 rebounds in 25 games with 18 starts. Over the last seven outings, he logged 13.3 points and 6.9 boards per game and reached double-figure scoring in all but the last contest. Jackson recorded two double-doubles on the season, both of which came over the last seven games. He shot 63.3% from the floor during that span.
 
Jackson was an elite shot blocker from the start. He burst onto the national scene in his third career game when he blocked eight shots against No. 7/5 Kansas. It was the most rejections in a game for any Wildcat since Willie Cauley-Stein blocked nine shots against Boise State on Dec. 10, 2013, and it was the most ever by a UK player vs. an Associated Press top-10 opponent in program history.
 
The Pontiac, Michigan, native swatted 65 shots this season to lead the nation's No. 3 shot-blocking team. He led the SEC with 2.6 rejections a game and ranked 15th nationally. Jackson led the Wildcats in blocks in 20 of 25 games and recorded three or more swats in nine outings. The 6-foot-10 forward also induced 19 steals on the season.
 
Jackson grabbed 12.7 rebounds per 40 minutes, among the best marks during the Calipari era, and recorded a team-high seven double-figure rebounding games. In the second half of a win over LSU, after sitting much of the opening stanza with foul trouble, he hauled in 13 rebounds after halftime. It was the most rebounds by a UK player since Nick Richards hauled in 16 boards vs. Arkansas on Feb. 26, 2019. According to STATS, Jackson became the first player with 15 or more rebounds in fewer than 20 minutes played against a major conference opponent since VMI's Eric Mann had 17 boards in 19 minutes against South Carolina on Dec. 28, 2000.
 
Since Calipari joined the Kentucky program for the 2009-10 season, UK has produced 41 NBA Draft picks over 11 seasons, far and away more than any other school. Included in the 41 are 31 first-rounders, three No. 1 overall picks and 21 lottery selections. 
 
Of the 28 players at UK who have declared for the NBA Draft after their freshman seasons, 26 have been first-round picks (and all 28 have played in an NBA game). Calipari is 30 for 32 in that regard when including his players from Memphis.
 
Of the 66 players who have finished their college careers at Kentucky under Calipari (through the 2019-20 season), 41 were selected in the NBA Draft, a 62.1% success rate. Another six of those made the NBA, and the majority of the rest were walk-ons.
 
Calipari's players are not only reaching the next level, they are succeeding when they do. Since 2010, eight of his players have garnered 26 All-Star selections. Derrick Rose (from Memphis) was named league MVP in 2011. Six of his players have been tabbed All-NBA (Rose, John Wall, Davis, DeMarcus Cousins, Karl-Anthony Towns and Julius Randle), three have been named NBA Rookie of the Year (Rose, Tyreke Evans and Towns), and 14 players from Calipari's first 10 teams at Kentucky have made the NBA All-Rookie teams.
 
For the latest on the Kentucky men's basketball team, follow @KentuckyMBB on Twitter, Facebook, Instagram and TikTok, and on the web at UKathletics.com.