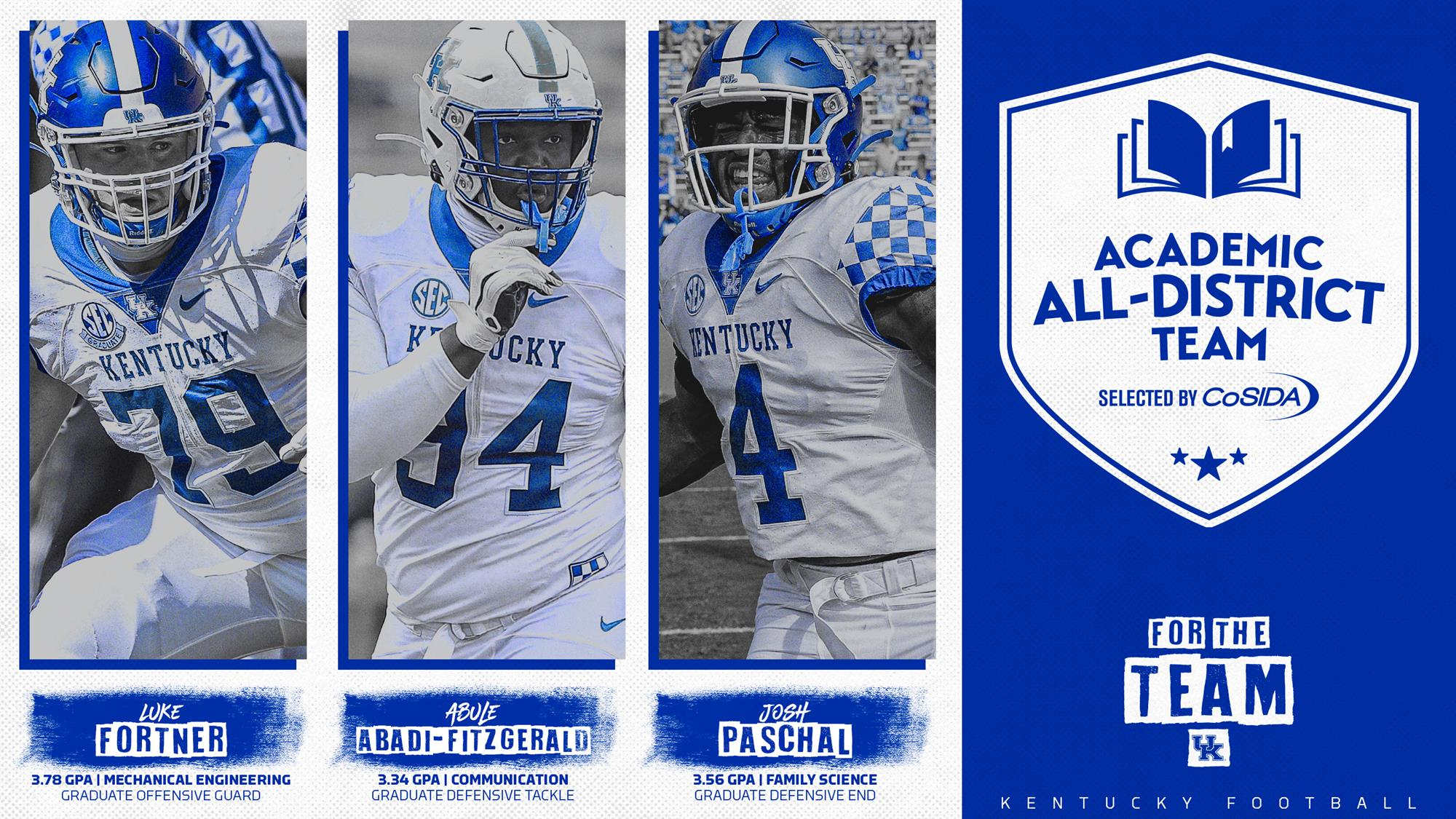 Kentucky football players Abule Abadi-Fitzgerald, Luke Fortner and Josh Paschal have been named to the 2020-21 Academic All-District® Football Team, selected by the College Sports Information Directors of America (CoSIDA), it was announced today. The award recognizes the nation's top student-athletes for their combined performances on the field and in the classroom.
 
The CoSIDA Academic All-America® program separately recognizes football honorees in four divisions — NCAA Division I, NCAA Division II, NCAA Division III and NAIA. First-team Academic All-District® honorees advance to the CoSIDA Academic All-America® ballot. First- and second-team Academic All-America® honorees will be announced in early July.
 
Abadi-Fitzgerald, a 6-foot-6, 305-pound senior of Lakeland, Florida and originally of Yenagoa, Bayelsa State, Nigeria, saw action in five games last season at defensive tackle. He charted his first pass breakup in the win over South Carolina.  
 
The three-time SEC Academic Honor Roll member graduated in May with a degree in communication and is currently pursing graduate school options.
 
Paschal, a 6-3, 275-pounder from Prince George's County, Maryland, moved from linebacker to defensive end prior to the 2020 season and immediately became a stalwart on the line. He was named fourth-team All-SEC by Phil Steele's Football Magazine and All-SEC Honorable Mention by Pro Football Focus in 2020 after totaling 32 tackles, 6.5 tackles for loss, one sack, one quarterback hurry and one interception in 11 games. As a leader on and off the field, Paschal has been elected team captain twice (2019 and 2020) and has been UK football's representative for the NCAA's Student-Athlete Advisory Committee and the SEC Leadership Council the past two seasons. He also was named a semifinalist for the Jason Witten Collegiate Man of the Year award last season and was a SEC Fall Academic Honor Roll member. This season, he's already been named to the 2021 Athlon Sports Preseason All-SEC second-team defense.
 
Paschal graduated in May of 2021 with a degree in family science and a minor in health promotion and is currently working on a second degree in communication.
 
Fortner, a four-year letter winner from Sylvania, Ohio, returns to the "Big Blue Wall" after taking advantage of the NCAA's extra year of eligibility due to COVID-19. He enters the 2021 season having seen action in 42 career games with 23 consecutive starts at right guard. In 2020, he graded out at 82.9 percent in 10 games played with 26 knockdowns and 146 blocks at the point of attack. He was named to the 2021 Athlon Sports Preseason All-SEC third-team offense.
 
The 6-6, 297-pounder graduated in December of 2019 with a degree in mechanical engineering and is currently finishing his master's degree in mechanical engineering. He also just began a master's degree in business administration at UK's Gatton College of Business and Economics on June 10.
 
For more information on the Kentucky football team, follow @UKFootball on Twitter and Instagram, or like Kentucky Football on Facebook.