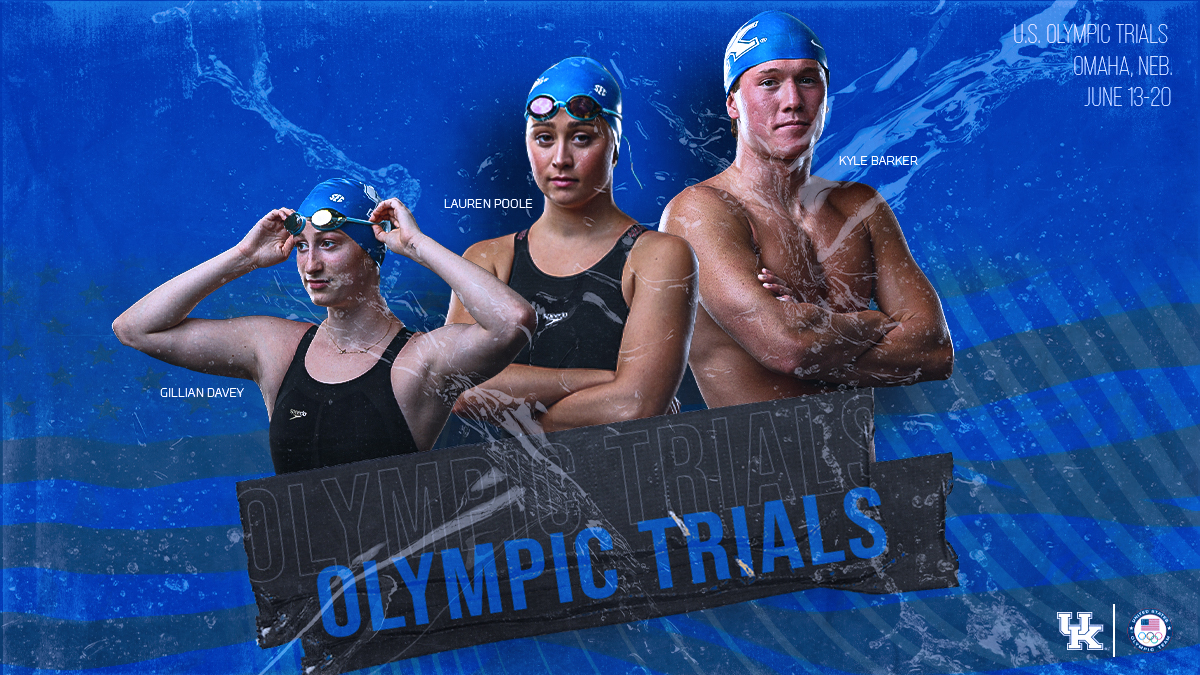 Nine Wildcats Prepare for U.S. Olympic Swimming Trials
OMAHA, Neb. – Nine Wildcat swimmers are set to compete in Wave II of the U.S. Olympic Team Trials at the CHI Health Center in Omaha, Nebraska. The meet, which determines the athletes who will represent Team USA in Tokyo, is set for June 13-20.
Due to the COVID-19 pandemic, USA Swimming separated all swimmers into two tiers. Wave I was held June 4-7, also in Omaha, with the top two finishers in each event advancing to Wave II. Wave II will serve as the sole qualifier for the U.S. Olympic Team.
The winner of each event, as well as the top four in the 100m and 200m free, will qualify for the U.S. Olympic Team. From there, the second-place finishers, and the No. 5 and No. 6 finishers in the 100m and 200m free, will be filled in until 26 swimmers are reached for both men and women.
The Wildcats' roster in Omaha includes:
Kyle Barker (400m IM)
Bailey Bonnett (100m breast, 200m breast, 200m IM, 400m IM)
Caitlin Brooks (100m back, 200m back)
Gillian Davey (100m breast, 200m breast, 200m IM, 400m IM)
Izzy Gati (100m fly, 200m fly, 200m IM)
Parker Herren (100m back, 200m back)
Beth McNeese (400m free)
Lauren Poole (200m IM, 400m IM, 200m breast)
Sophie Sorenson (100m back, 200m back)
Prelims will start each morning at 11 a.m. ET. Semifinals and finals will begin at 7:45 p.m. ET from June 13-17, while those sessions will start at 8:45 p.m. ET on June 18-19. On June 20, finals will commence at 8 p.m. ET. 
Preliminary sessions will be streamed on NBCOlympics.com and the NBC Sports app. All evening semifinal and final competitions will be broadcasted across NBC channels.
The top 16 swimmers during prelims will advance to semifinals for all 50m, 100m, and 200m distances. From there, the top eight will qualify for finals to vie for a spot on the Olympic Team. The fastest eight swimmers during prelims of the 400m IM, 400m free, 800m free, and 1500m free will advance to finals.
Davey holds UK's highest seed at 12th in the 200m breast with Bonnett following closely at 16th. Brooks also ranks 16th in the 100m back and 18th in the 200m back, while Sorenson is seeded 17th in the 100m back. Gati and Poole both hold the 17th seed in the 100m fly and 400m IM, respectively. 
Four Wildcats in Torie Buerger, Megan Drumm, Bridget Engel, and Jodi Ogle competed in Wave I last weekend. Engel stopped the clock in 1:12.72 in the 100m breast and Drumm posted a final time of 2:04.39 after qualifying for the B-final of the 200m free.
Buerger competed in both the 100m back and 200m back, touching in 1:03.54 in the former event. She won the B-final of the 200m back, throwing down a lifetime best of 2:14.12. Ogle advanced to the A-final of the 200m back, finishing fifth overall in 2:14.95.
For the latest on the Kentucky swimming and diving program, follow @UKSwimDive on Twitter and Instagram, on Facebook, and on the web at UKathletics.com.