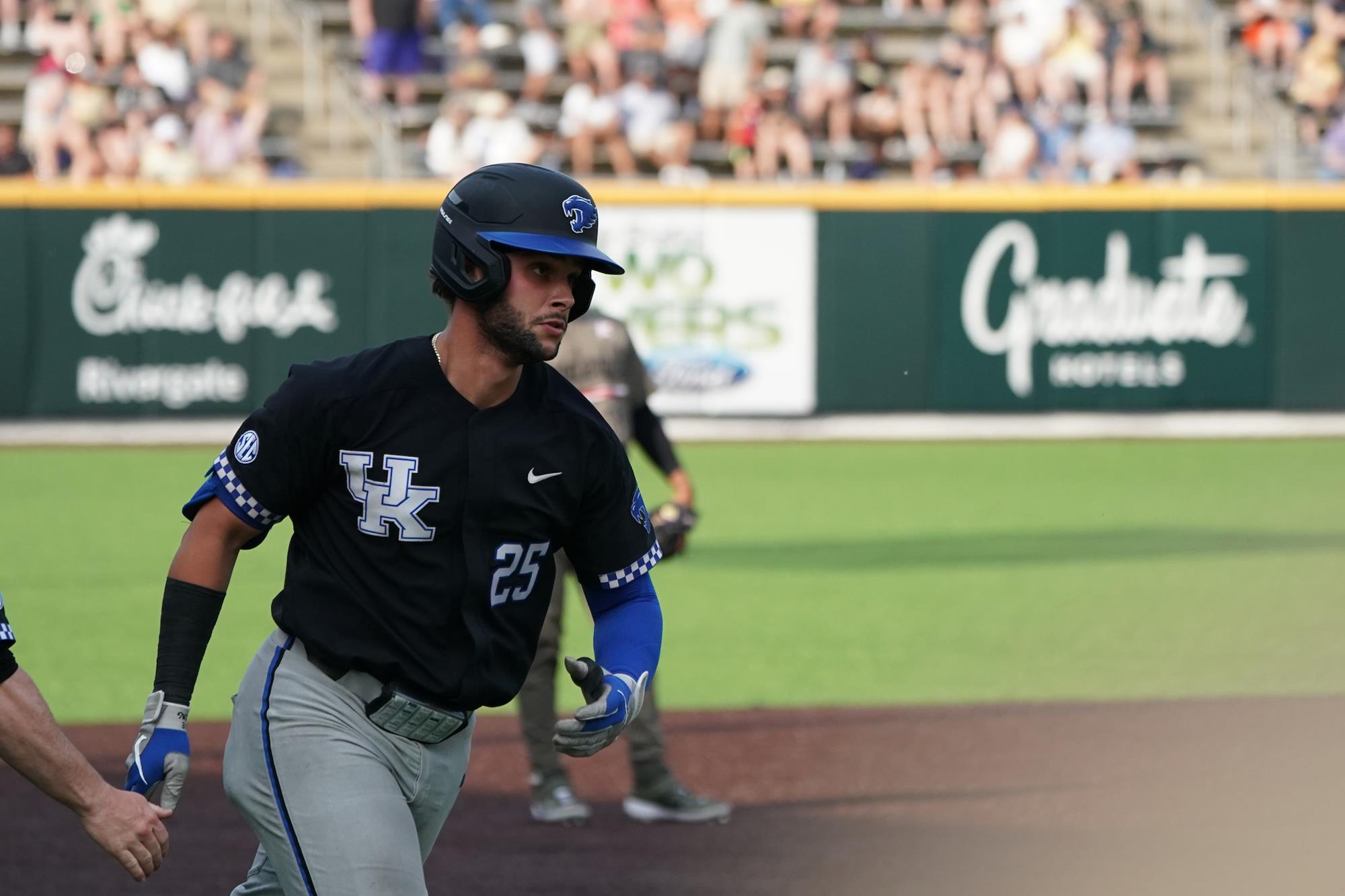 NASHVILLE, Tenn. – Coltyn Kessler pummeled a hanging breaking ball with Kentucky down to its final strike, blasting a three-run, game-winning home run to secure a 7-5 victory over No. 2 Vanderbilt at Hawkins Field on Saturday.
 
The Wildcats (29-22, 12-18 SEC) finished the regular season on a momentum-building win and now head to the Southeastern Conference Tournament needing a win in Tuesday's opener vs. Florida to extend the season. First pitch is at 10:30 a.m. ET in the first game of the tournament and will air on the SEC Network.
 
Competitive all weekend, the Cats finally got rewarded for their continued fight in the 27th and final inning of the series. Trailing 3-2 and facing one of the nation's top closers in Nick Maldonado the winning rally started with Austin Schultz's single to left and T.J. Collett's liner to right, both with two outs. Kessler then worked the count to 2-2, fouled off a pitch and then clobbered a pitch deep into the right field bleachers to stun the home crowd.
 
True to form, Kessler never broke a smile rounding the bases or when his teammates greeted him just outside the dugout. It was just another professional at-bat for the breakout star of the Cats' season, who has a compelling case as the nation's top hitting backstop.
 
John Rhodes followed Kessler's blast by wearing a pitch for the 17th time this season and then Jake Plastiak delivered insurance with a towering two-run home run to the opposite field to complete the Cats' scoring.
 
Lost in the madness of the ending was the fact sophomore starter Zack Lee navigated six innings and allowed just three runs, all of which scored in an inning that had two infield hits. Wyatt Hudepohl, Cole Daniels and Daniel Harper kept the Commodores off the board and Sean Harney earned his sixth save of the season to close it.
 
 
GAME SCORING
Top 1st – Austin Schultz opened the game with a home run to LF. T.J. Collett doubled into RF corner an scored on Coltyn Kessler's double into the LF corner. UK 2, Vanderbilt 0.
 
Bottom 3rd – Bradfield Jr. reached on an infield single and scored from first on a double to LF by Thomas. Keegan reached on a squibber back to the pitcher. Bulger singled up the middle, Thomas scored. Noland hit a SAC fly to RF, scoring Bulger. Vanderbilt 3, UK 2.
 
Bottom 8th – Noland doubled to RF, moved to third on a fielder's choice and scored on Gonzalez's flare to RF. Vanderbilt 4, UK 2.
 
Top 9th – Schultz and Collett singled with two outs. Kessler hit a two-out home run to RF, scoring Schultz and Collett. Rhodes was hit by a pitch and scored on Jake Plastiak's homer to LF. UK 7, Vanderbilt 4.
 
Bottom 9th – Keegan reached on an infield hit and Bulger walked. Both advanced on a wild pitch. Keegan scored on a groundout by Rodriguez. UK 7, Vanderbilt 5.
 
 
NOTES
UK is 29-22 overall, 12-18 in SEC play.
The Cats are 7-9 on the road this season.
The Cats are 5-15 vs. ranked teams this season and 4-10 vs. Top 10 foes.

The Cats have two road wins vs. Top 5 teams.
The Cats stole three bases in four attempts on Saturday.

UK now is 77-of-84 on stolen bases this season. The .917 success rate is the highest of any team in Division I-A with at least 50 steals.
Senior C Coltyn Kessler went 2-for-5 with a run, four RBI, a double and a game-winning home run.

Kessler logged his 15th multi-hit game of the season and 27th career.
It was his seventh multi-RBI game and 15th career.
The four RBI set a new career-high.
Kessler now has 11 doubles and seven home runs on the season.
Sophomore OF John Rhodes went 0-for-2 with a run, two walks and a HBP.

Has reached safely in 16 straight games and 24 of last 25 overall.
Rhodes was hit by a pitch for the 17th time this season, which ties him with Ryan Shinn (2019) for 10th most in a single-season.
He has drawn a walk and/or been hit by a pitch in 33 games this season.

Senior 1B T.J. Collett went 2-for-5 with a run and a double.

Has reached base safely in 25 of his past 27 games.
Collett logged his 17th multi-hit game of the season and 44th career.
Collett now has 162 career hits, moving him past Matt Reida (161) and into a tie with Kole Cottam (2016-18) for 26th on the school's all-time list.

Junior IF/OF Austin Schultz went 2-for-3 with two runs, an RBI, two walks, a steal and a home run.

Schultz has reached base safely in 99 of 109 career games with a plate appearance.
He has recorded a hit in 83 of those 109 games.
Schultz is the first UK player to open the game with a home run since he did it at Missouri on April 7, 2019.
He notched the 24th multi-hit game of his season and 39th career.
Schultz now has 130 career hits. He moves into a tie with Thomas Bernal (2012-15) and Brian Spear (2007-08) for 39th on the school's all-time list.
Schultz swiped his 22nd base of the season and 37th career, placing him 13th on UK's career stolen base list.
 
ON DECK
Kentucky opens the SEC Tournament on Tuesday vs. Florida. First pitch is set for 10:30 a.m. ET on the SEC Network. The radio call will be on the UK Sports Network.
 
Follow along with the Cats on Twitter, Facebook and Instagram, and on the web at UKathletics.com.