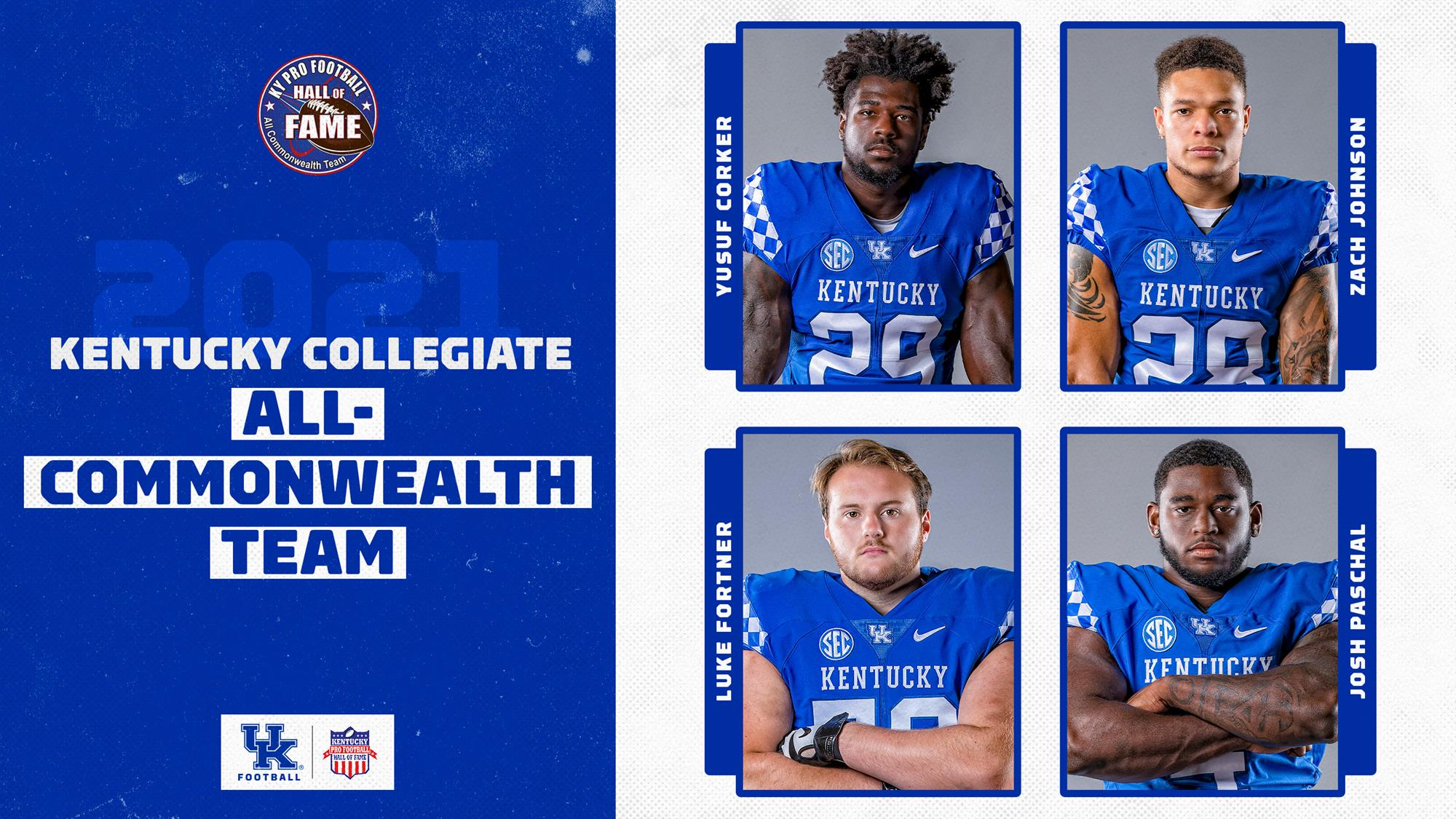 Kentucky football's Yusuf Corker, Luke Fortner, Zach Johnson and Josh Paschal have been named to the Community Trust Bank 2021 Kentucky Collegiate All-Commonwealth Team, it was announced today by the Kentucky Pro Football Hall of Fame.
 
The Kentucky Collegiate All-Commonwealth Team is a pre-season recognition award for football players attending a Kentucky college or university. The Team represents the best college football players in the Commonwealth and highlights those who have shown dedication to the game both on and off the field.
 
Corker, a senior and team captain from McDonough, Georgia, has played in 37 career games with 24 straight starting nods at safety. In 2020, he finished second on the team in tackles (77) behind NFL first-round draft pick Jamin Davis. He also added 2.5 tackles for loss, two interceptions, two pass breakups and a forced fumble, earning All-Southeastern Conference Second Team honors by Pro Football Focus and Phil Steele.
 
Off the field, Corker also excels in the classroom. He was named to the Dean's List and the SEC Fall Academic Honor Roll last season and is on track to graduate in May with a degree in economics.
 
Fortner, a four-year letter winner from Sylvania, Ohio, returns to the "Big Blue Wall" after taking advantage of the NCAA's extra year of eligibility due to COVID-19. He enters the 2021 season having seen action in 42 career games with 23 consecutive starts at right guard. In 2020, he graded out at 82.9 percent in 10 games played with 26 knockdowns and 146 blocks at the point of attack.
 
Fortner graduated in December of 2019 with a degree in mechanical engineering and is currently finishing his master's degree in mechanical engineering. Recently, Fortner was also accepted into the Master of Business Administration program at UK's Gatton College of Business and Economics, which he will begin in June.
 
Fortner has put his degree to good use as a Wildcat. In 2019 along with other UK engineering students, he played a significant role in helping a team of Toyota Manufacturing engineers design, test and manufacture a specially-built push cart vehicle through a project called "Lift Them Up." The push cart vehicle provides a Kentucky Children's Hospital patient the chance to both accompany the Wildcats on the Cat Walk and attend a game at Kroger Field. He also volunteers weekly at the hospital and he hasn't let the pandemic slow him down. Despite not being able to visit the patients in-person, Fortner now zooms with the children weekly.
 
Because of his community service efforts, Fortner was one of just 11 FBS players named to the Allstate AFCA Good Works Team. He also was on the SEC Community Service Team and was a semifinalist for both the Wuerffel Trophy (given annually to the college football player who best combines exemplary community service with athletic and academic achievement) and the Campbell Trophy (awarded to the college football player with the best combination of academics, community service and on-field performance).
 
Johnson, a native of Cincinnati, also is a "super senior," choosing to return for an extra year of eligibility due to COVID-19. The four-year letterwinner, came to UK as a walk-on in 2016 and has played in 44 games during his Wildcat career as a defensive back and kick returner. After redshirting his freshman season, Johnson emerged as a core special-teams and scout-team player in 2017, seeing action in eight games and returning two kicks for 35 yards. Prior to the 2018 season, head coach Mark Stoops was so impressed with his work ethic that he awarded Johnson a full scholarship. He went on to chart eight tackles in 13 games on special teams, most of them highlight reel worthy. He was also named to the Dean's List.  In 2019, he had six kick returns for 164 yards, including a career-long 58-yard return at Georgia. He also had four tackles and a pass breakup and was named to the SEC Fall Academic Honor Roll for his work in the classroom.
 
In 2020, Johnson played in 10 games, missing his first contest since 2017 when he was unable to play vs. South Carolina on Senior Night due to COVID-19 protocols. He finished with 11 returns for 228 yards, averaging 20.7 yards per return. He was also named a Burlsworth Trophy nominee in 2020, an award given to the most outstanding football player in America who began his career as a walk-on and has shown outstanding performance on the field.
 
Johnson graduated in December of 2020 with a degree in health promotion and is currently working on a master's degree in sport leadership.
 
Paschal, a 6-foot-3, 275-pound defensive end from Prince George's County, Maryland, is a two-time team captain revered by his teammates for his leadership and for winning his battle with cancer. He was diagnosed with malignant melanoma that appeared on the bottom of his foot just before training camp was to open in July of 2018. After undergoing three surgeries and monthly immunotherapy treatments for more than a year he was cleared to play in the final three games of UK's historic 10-win season.
 
In 2019, he started in all 13 games, was elected a team captain as a redshirt sophomore and totaled 34 tackles, 3.5 sacks, two forced fumbles, one pass breakup and a blocked kick.
 
Nearly three years since he battled cancer, Paschal, who moved from linebacker to defensive end in 2020, became a stalwart on the line. He helped lead the Wildcats to their fifth straight bowl game with 32 tackles, 6.5 tackles for loss, one sack, one quarterback hurry and one interception and was named fourth-team All-SEC by Phil Steele.
 
His career totals are impressive as he has appeared in 40 games with 25 starts, has 86 tackles, 21.5 tackles for loss, 8.0 sacks, two forced fumbles, two blocked kicks and an interception.
 
Off the field, Paschal is a leader and is very active in giving back to his community. In 2020, he was elected one of three representatives for UK Football on the Student-Athlete Advisory Committee (SAAC) and the SEC Football Leadership Council. He took the lead on social justice initiatives, helping lead a peaceful walk for racial and social justice in the city of Lexington, as well as a player demonstration during training camp to raise awareness for those issues. Each time was one of only a few players selected to speak on behalf of the team. He also recorded videos encouraging fellow students and fans to wear their masks during Covid-19 pandemic, #MaskUpCats. Because of these efforts, Paschal was named a semifinalist for the Jason Witten Collegiate Man of the Year award, which recognizes the top leaders in college football.
 
Paschal, a three-time member of the SEC Fall Academic Honor Roll, is on track to graduate in May with a degree in family science and a minor in health promotion.
 
The players will be recognized during the KY Pro Football Hall of Fame 2021 Induction Ceremony which will be televised on WTVQ Channel 36 on Friday, June 25 at 8 p.m. ET. The KY Pro Football Hall of Fame
ceremony will also be available across all social media outlets.