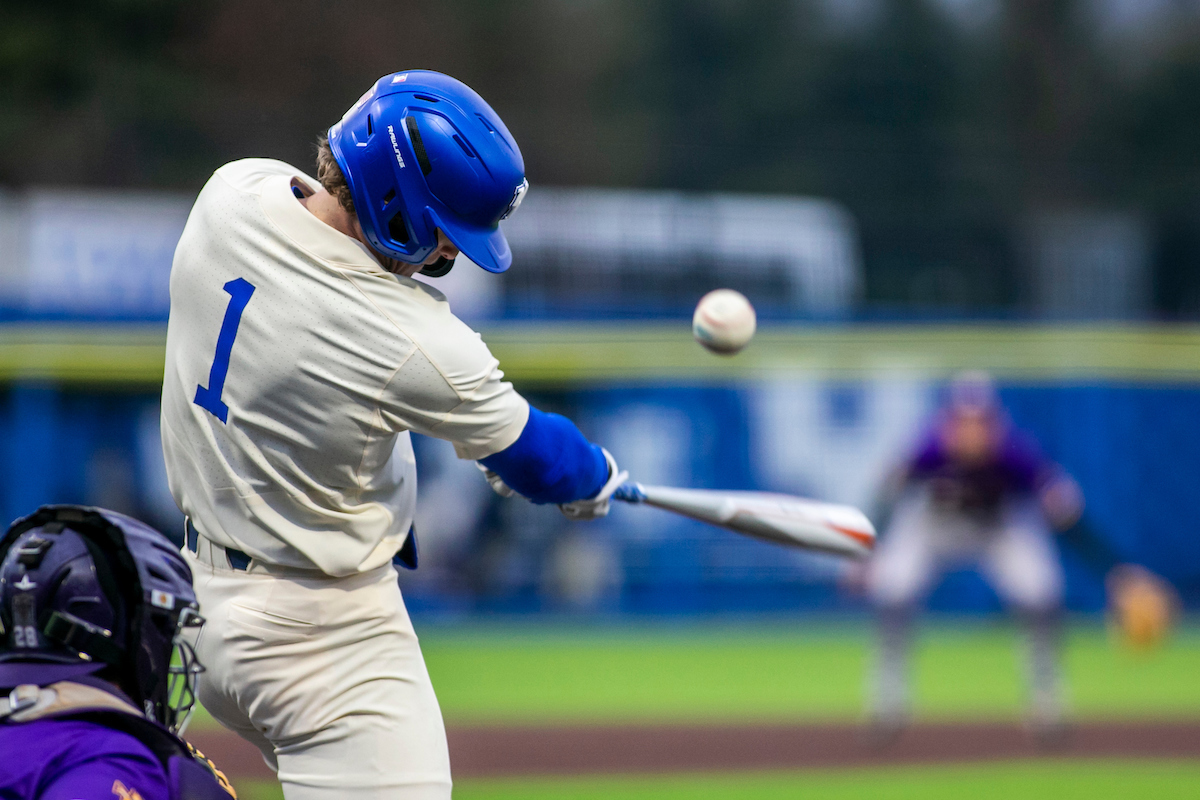 KNOXVILLE, Tenn. – John Rhodes homered twice in his home state and Jake Plastiak delivered the knockout punch as Kentucky defeated No. 4 Tennessee 8-2 on Friday night at Lindsey Nelson Stadium.
 
Plastiak, who homered in Thursday night's series opener, unloaded a two-run, eighth inning blast reminiscent of AJ Reed's memorable shot in the same ballpark seven years earlier. The bomb gave the Wildcats (26-14, 10-10 SEC) a three-run lead and ensured Saturday's finale would be for a series win.
 
Unlike Thursday's opener, all the scoring came in the back half of the game, as the two starting pitchers dealt early on. UK right-hander Sean Harney battled his way through five innings on short rest, allowing only a solo home run and exited with a 2-1 lead after Rhodes blasted a 3-2 changeup over the left-centerfield fence.
 
Alex Degen entered and allowed a solo home run that tied the game but then shut the Volunteers' water off the rest of the way as the Cats pulled away with runs in the seventh, eighth and ninth innings. Rhodes, who grew up down the road in Soddy Daisy, Tennessee, added an exclamation point to the night with a opposite field blast.
 
 
GAME SCORING
Bottom 5th – Greer homered to LF. UT 1, UK 0.
 
Top 6th – T.J. Collett singled to LCF and scored on a John Rhodes home run to CF. UK 2, UT 1.
 
Bottom 6th – Lipcius homered to CF. UK 2, UT 2.
 
Top 7th – Ryan Ritter opened the inning with a single to LF, advanced to second on Cam Hill's SAC bunt, to third on a flyout by Lewis and scored on Austin Schultz's two-out single to CF. UK 3, UT 2.
 
Top 8th – Rhodes walked and scored on Jake Plastiak's homer to CF. UK 5, UT 2.
 
Top 9th – Lewis doubled and scored on Schultz's infield single and throwing error. Schultz advanced to third on a groundout and scored on a wild pitch. Rhodes homered to RCF. UK 8, UT 2.
 
NOTES
UK is 26-14 overall, 10-10 in SEC play.
The Cats are 6-6 on the road this season.
The Cats are 3-7 vs. ranked teams, 2-5 vs. the Top 10.
Senior 1B T.J. Collett went 1-for-5 with a run, a walk and a solo home run.

Collett now has 41 home runs for his career.

Junior IF/OF Austin Schultz went 2-for-5 with a run and an RBI.

Schultz has reached base safely in 90 of 98 career games with a plate appearance.
Schultz now has 20 multi-hit games this season and 35 in his career.
Schultz is 17-for-19 on stolen bases this season.

Senior C Coltyn Kessler went 1-for-5.

Kessler has reached safely in 26 of his past 28 games.
Kessler is one hit away from joining the 100-Hit Club.

Sophomore OF John Rhodes went 2-for-4 with three runs, three RBI and two home runs.

Rhodes has nine multi-hit games this season and 18 in his career.
Rhodes belted his ninth and 10th home runs of the season.

Senior OF Oraj Anu went 1-for-4.

Anu has reached base safely in 17 consecutive games.
Anu now has a career-long hit streak of six games.

Senior IF Zeke Lewis went 2-for-4 with a run and two doubles.
Senior RHP Sean Harney pitched 5.0 innings, allowing four hits, walking one and striking out five. The only run he gave up was a solo home run.
Junior RHP Alex Degen earned his second win of the season.

He pitched the final 4.0 innings, allowing one run on three hits and striking out four.
 
ON DECK
Kentucky and Tennessee will settle the series on Saturday. First pitch is set for 1 p.m. ET on the SEC Network Plus. The radio call will be on the UK Sports Network.