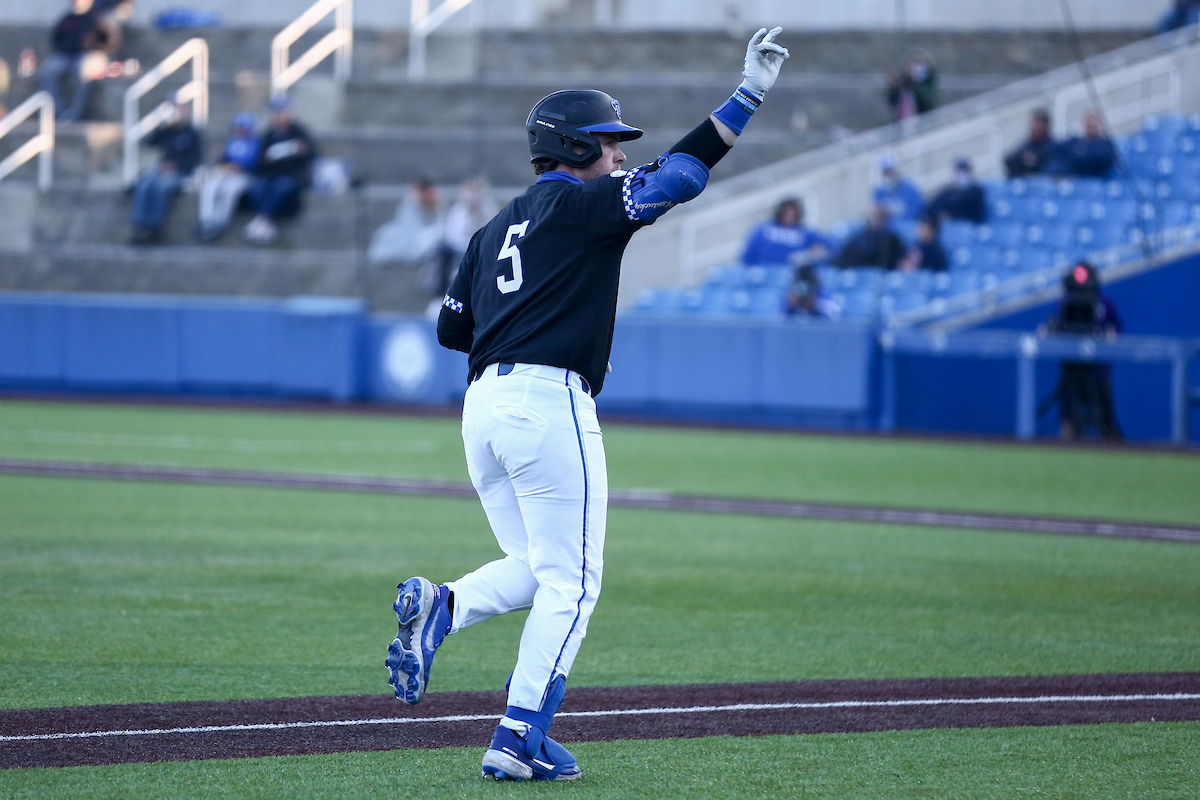 KNOXVILLE, Tenn. – When it rains, it pours.
 
Kentucky saw an early lead quickly disappear, then watched as it poured both rain and mistakes throughout the night in a 14-4 defeat to No. 4 Tennessee at Lindsey Nelson Stadium on Thursday.
 
Self-inflicted wounds and lack of execution cost the Wildcats (25-14, 9-10 SEC) dearly, particularly in the early innings. Tennessee scored seven runs in the second inning after the door was opened when the leadoff batter struck out yet reached first as the ball got passed the catcher.
 
It got worse in the third when three hit batters, a walk and a fielding error allowed five runs to score on just a single hit. And again in the fourth when a routine pop-up in the infield fell for a hit and a fielder losing track of the number of outs cost a double play.
 
Despite the miscues there were bright spots on the dreary Knoxville night. Senior T.J. Collett blasted a no-doubt home run to the opposite field on the first pitch he saw, giving him 41 for his career and moving him past fellow Terre Haute, Indiana native AJ Reed for second on the school's all-time list.
 
Junior infielder Jake Plastiak connected for a tape-measure shot in the second inning, belting a hanging breaking ball into the parking lot beyond the right field bullpen that gave the Cats a short-lived 3-0 lead. Senior catcher Coltyn Kessler also reached base safely for the 25th time in the past 27 games.
 
 
GAME SCORING
Top 1st – T.J. Collett homered to LF. UK 1, UT 0.
 
Top 2nd – John Rhodes lined a single to LF and scored on Jake Plastiak's homer to RF. UK 3, UT 0.
 
Bottom 2nd – Russell struck out but reached on a wild pitch. Lipcius singled. Beck homered to LF. Derkay singled. Greer homered to LF. Ferguson walked and Rucker doubled to LF. Gilbert singled up the middle, scoring two. UT 7, UK 3.
 
Top 3rd – Austin Schultz reached on a throwing error, advanced to second on a wild pitch, stole third and scored on Oraj Anu's SAC fly to deep RF. UT 7, UK 4.
 
Bottom 3rd – Beck hit by pitch, Derkay blooped a single to RCF and Greer was hit by a pitch. Spence walked, forcing Beck in. Rucker hit by pitch, Derkay scored. Gilbert reached on an error, Greer and Spence scored. Rucker scored during a rundown. UT 12, UK 4.
 
Bottom 4th – Lipcius homered to RF. Beck reached on an infield pop-up that wasn't caught. Derkay reached on an infield single against the shift. Greer grounded into a fielder's choice, Derkay out, Beck to third. Spence singled to RCF, Beck scored. UT 14, UK 4.
 
 
NOTES
UK is 25-14 overall, 9-10 in SEC play.
The Cats are 5-6 on the road this season.
The Cats are 2-7 vs. ranked teams, 1-5 vs. the Top 10.
Senior 1B T.J. Collett went 1-for-3 with a run, a walk and a solo home run.

Collett now has 41 home runs for his career.
He moved into second place on UK's career list, passing 2014 Golden Spike Award winner AJ Reed. Both players hail from Terre Haute, Indiana.
He has homered in three consecutive SEC games, the second time he's done that in his career. The previous time, in 2019, also came in a doubleheader and then the series opener vs. Tennessee when he connected off current MLB lefty Garrett Crochet.
Collett has 144 career RBI, 10th on UK's all-time list.
Collett now has 149 career hits, moving him into 33rd place on the all-time list.
Collett has 15 home runs and 47 RBI on the 2021 season.

Junior IF/OF Austin Schultz stole a base and scored a run.

Schultz has reached base safely in 89 of 97 career games with a plate appearance.
Schultz now is 17-for-19 on stolen bases this season.

Senior C Coltyn Kessler went 1-for-4.

Kessler has reached safely in 25 of his past 27 games.

Sophomore OF John Rhodes went 2-for-4 with a run.

Rhodes has eight multi-hit games this season and 17 in his career.

Junior IF Jake Plastiak went 1-for-3 with a walk and two-run home run.

It was Plastiak's second home run of the season.
He logged his second career multi-RBI game.
 
ON DECK
Kentucky and Tennessee square off on Friday evening in the middle game of a three-game series. First pitch is set for 6:30 p.m. ET on the SEC Network Plus. The radio call will be on the UK Sports Network.