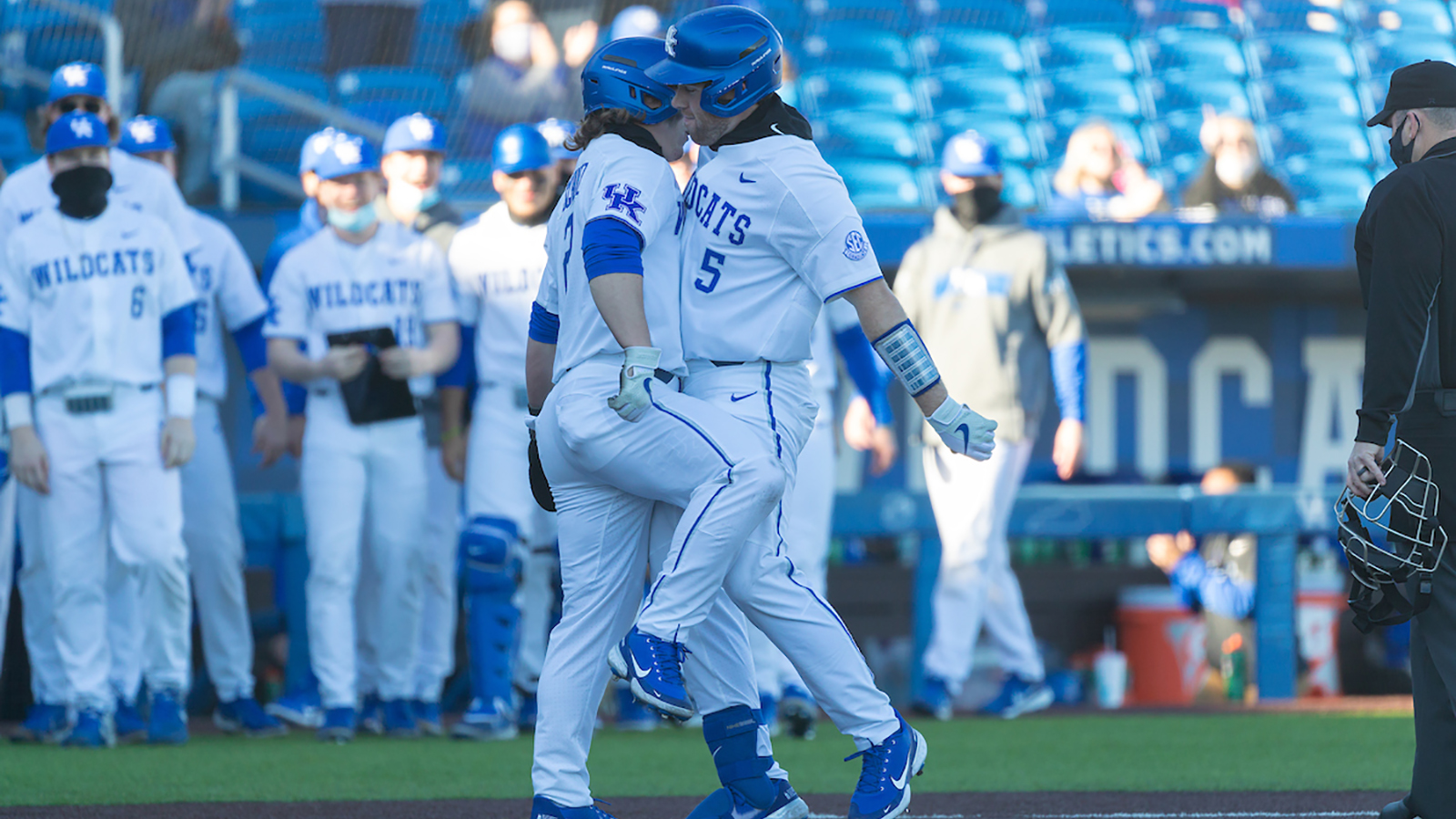 Just over one year ago, everything came to a halt for the Kentucky baseball team. While getting ready to load up the bus for their first SEC series of the 2020 season, at Vanderbilt, the players received the news that the remainder of the season was cancelled due to the COVID-19 pandemic.
 
This was devastating news to all of the players and especially to the seniors on the team. It appeared that their careers were over.
Senior T.J. Collett remembers the moment and the thoughts that came with it.
"I thought I was done playing baseball for the rest of my life," Collett said. "I thought baseball was over for me."
However, it was soon announced that all student-athletes in spring sports would be granted an additional year of eligibility. The players had the right to come back if they wanted to but were not forced to do so. For Collett, it was a no-brainer.
 
"Once I found I could come back, that was my choice," Collett said. "I was ready to come back."
 
Now that he is back, Collett is making the most of this year both on and off the field. On the field, Collett continues to climb up the UK career charts in both home runs and runs batted in. On Sunday, Collett hit three homers in the second game of a doubleheader sweep against Alabama. On Monday, he was named SEC Player of the Week and National Co-Player of the week.
Collett now has 14 homers this season, which is tied for second in the SEC and tied for sixth in this country. He also has 40 home runs in his career, tying him with AJ Reed for second place in Kentucky baseball history.
Also over the weekend, Collett moved into 10th place on UK's career RBI list. And he still has at least 14 games left this season.
As for his time off the field, he continues to live in the moment and cherish the memories that he's making.
"If you ask any player that's done playing, they don't say that they miss the home runs and the doubles, they say that they miss their guys and competing, and being a part of a team working towards a goal," Collett said. He described how being given this opportunity to play again is what pushes him to play better.
 
While Collett's accomplishments on the field will leave a lasting impact on the UK baseball program, so will his character and leadership off the field, according to UK head baseball coach Nick Mingione.
"You don't get to coach a lot of people like him," Mingione said. "He's one of those guys that makes everybody better."
Collett is loved and respected by all of his teammates and coaches.
"We would not be where we are at today without T.J. Collett, and that's probably one of the greatest compliments I could give somebody because he's just a special human being and a special player," Mingione said. "So, to see him have all this success makes us all really happy because he deserves every bit of it."
 
Kentucky opens a three-game set at Tennessee on Thursday night. The Cats are 25-13 overall and 9-9 in the SEC. Tennessee is ranked as high as fourth in the country, sporting a 32-10 record, including a 12-6 mark in conference play.
Thursday's game is set for a 7:30 p.m. ET first pitch and can be seen on ESPNU. On Friday, the Cats and Vols face off at 6:30 p.m. ET on SEC Network Plus. And Saturday's series finale will have a 1 p.m. ET start and is also on SEC Network Plus.