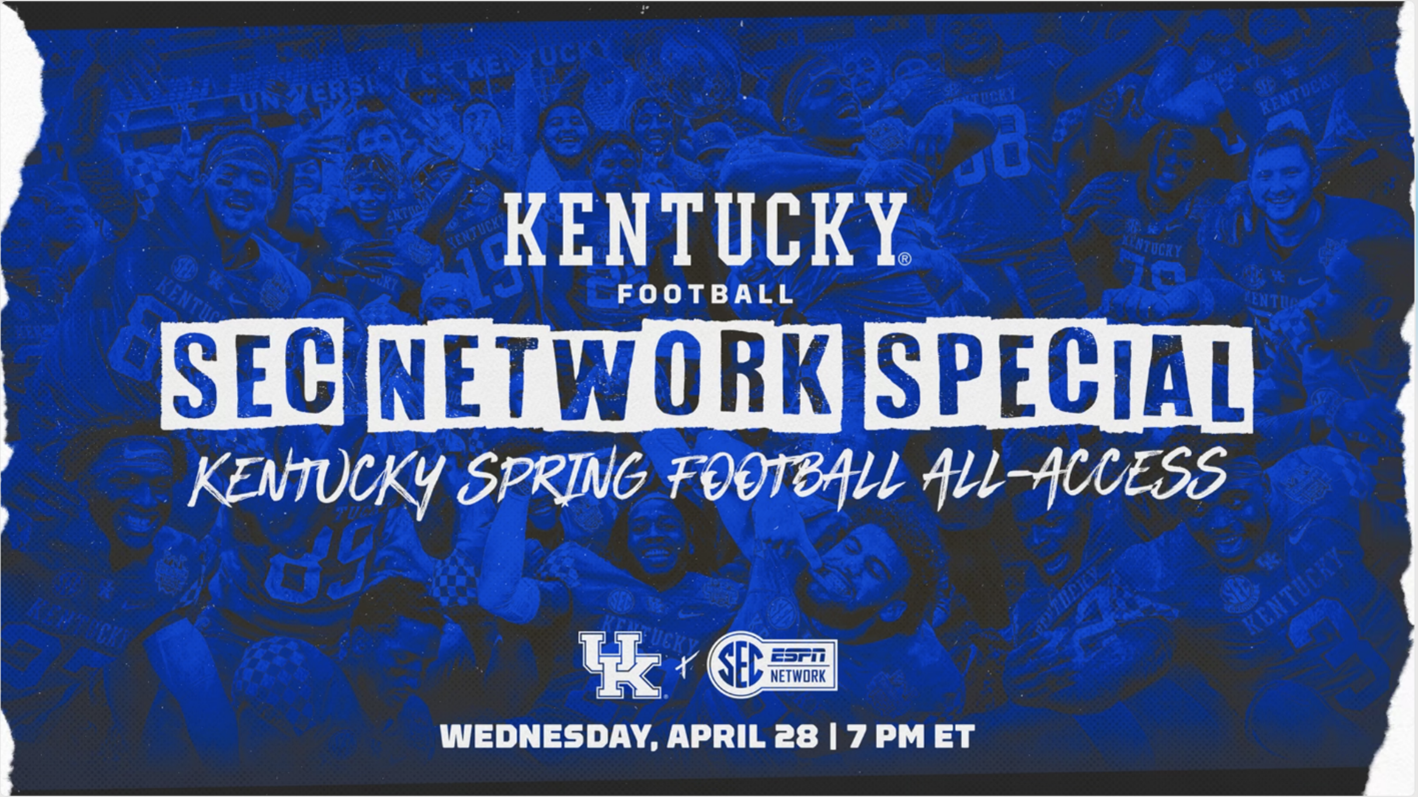 The Kentucky Football Spring All-Access show is set to air Wednesday, April 28 at 7 p.m. ET on SEC Network. The one-hour special features exclusive interviews and behind-the-scenes content from the Wildcats' 2021 spring practice.
 
Produced by Kentucky's award-winning sports video team, the show takes an in-depth look inside the Wildcat football program. Never-before-seen interviews with head coach Mark Stoops, new offensive coordinator Liam Coen, defensive coordinator Brad White as well as NFL standouts Josh Allen, Randall Cobb, Benny Snell Jr., and Danny Trevathan, showcase the program's "recruit and develop" mantra that has become synonymous with recent success.
 
Fans will also get a look inside UK's top-notch facilities, see practice and scrimmage footage and hear from three members of the "Big Blue Wall" in Luke Fortner, Drake Jackson and Landon Young on why they chose to be Kentucky Wildcats.
 
Big Blue Nation's commitment to the Kentucky Football program goes a long way toward helping UK continue to build a championship program. UK has many accomplishments and success over the past few years and with fans continued support, Coach Stoops and the Wildcats will continue pursuing new heights.
 
Fans interested in first-time season-ticket purchases can visit?UKFootballTix.com for great deals and more information. Ticket packages start at just $199, offering a significant savings over single-game ticket prices. Prefer to speak with an expert? Fans may work together with a personal ticketing consultant to compare and purchase available seat locations by?requesting a call?or by contacting the UK Sales Office at (800) 928-2287 (Option 1). 
 
Returning season ticket holders from the 2019 and 2020 seasons received information via email in February regarding the renewal campaign. With the renewal due date passing on April 16, fans who have yet to renew are encouraged to do so as soon as possible in order to retain their priority seating. Season ticket renewals for 2021 are still available and can be made on?My UK Account or by calling the UK Ticket Office at (800) 928-2287. The annual seat upgrade process will begin in mid-May.  
 
The support of every member of the Big Blue Nation is meaningful and makes a difference for the 500-plus student-athletes who compete for Kentucky.? Season tickets, annual donations and philanthropic gifts directly support scholarships and student-athlete support services, including academics, healthcare, nutrition, sports medicine, travel and equipment, for all 22 varsity teams. To learn more about the Ev'ry Wildcat Fund and other opportunities to make a difference, fans are encouraged to reach out to the K Fund Office at (859) 257-6300 or by sending an email to KFund@uky.edu.