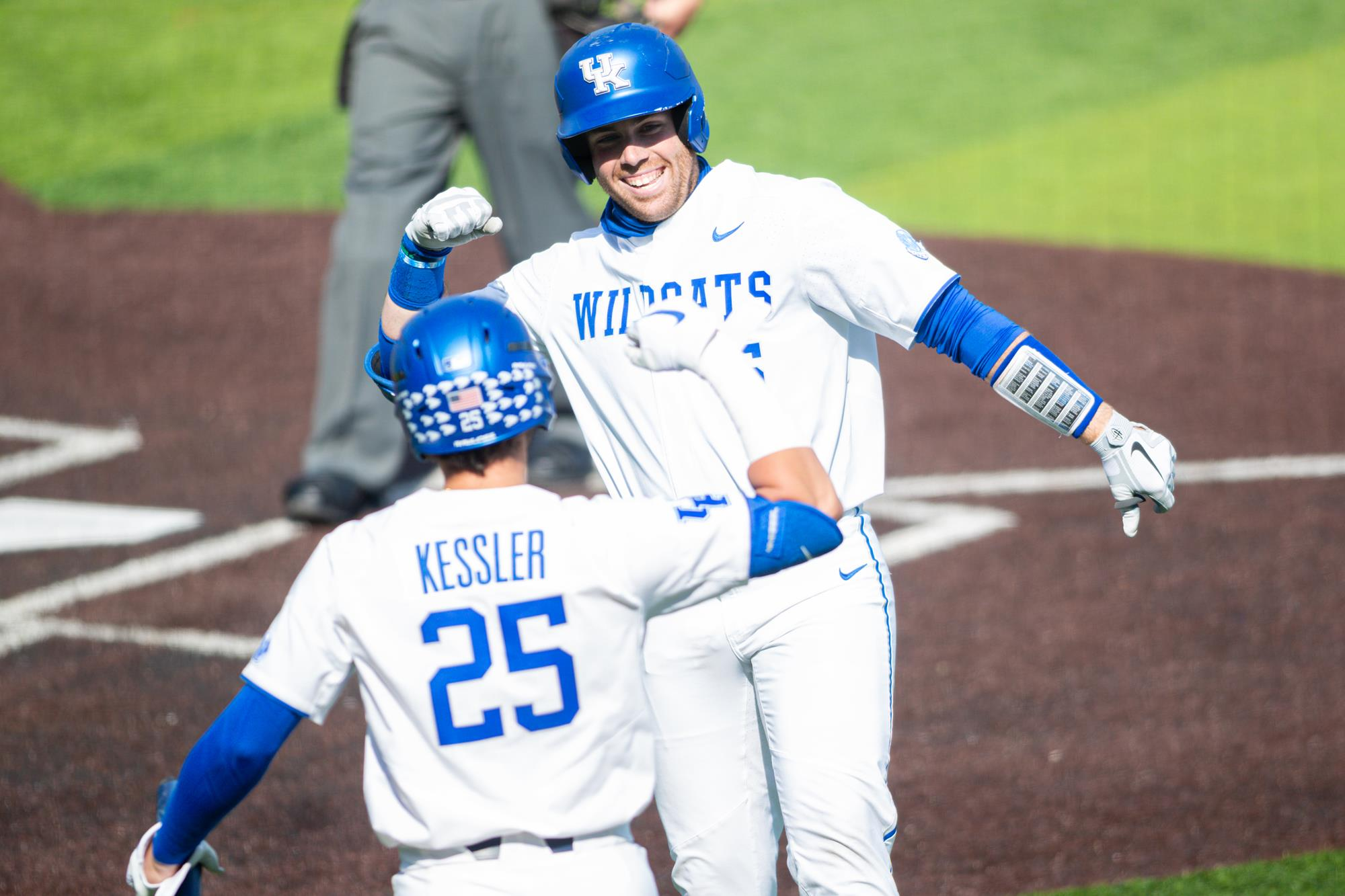 LEXINGTON, Ky. – T.J. Collett's baseball hero is for Kentucky star AJ Reed. Now he sits alongside the 2014 Golden Spikes Award winner and fellow Terre Haute, Indiana native in the school's history book.
 
Collett smacked three home runs in the second game of Sunday's doubleheader, helping secure a massively important series victory over Alabama while simultaneously drawing even with Reed at 40 career home runs. Collett, who was given the Gatorade cooler treatment after the sweep was finalized, could hardly believe he now will be mentioned in the same breath as his idol.
 
"He'll be getting a phone call on the way home," Collett joked. "On a serious note though, AJ is who pushed me back home in Terre Haut, you and Josh Phegley, let me know it was possible to be able to come to play at a high level and perform. Having that number to chase here brought the best out of me. Thank you for that, AJ."
 
Collett joined former teammate Ryan Johnson (2019) and Gunner Glad (2009) as the only Wildcats to have three home runs in a game in the past 13 years but he was hardly alone in his Sunday masterpiece. Coltyn Kessler and John Rhodes each hit a pair of home runs, while Oraj Anu added one as the Cats (24-13, 9-9 SEC) racked up 16 runs in the two seven-inning games.
The Cats won the opener, 5-2, behind senior right-hander Sean Harney, who set the tone for the day with an impressive first inning on his way to a six-inning outing that saw Alabama only scratch across a two-run homer while trailing 5-0 late in the game. In the second game, sophomore Zack Lee turned in the best outing of his career, tossing a complete game, one-hit shutout that saw him retire the final 19 batters that came to the plate as part of facing the minimum of 21 in the outing.
 
 
GAME ONE SCORING
Bottom 3rd – Chase Estep doubled to LF and scored on Austin Schultz's down to RF. Oraj Anu singled, scoring Schultz. UK 2, Alabama 0.
 
Bottom 5th – Coltyn Kessler homered to RF. Jake Plastiak singled to LF and John Rhodes was HBP. Ryan Ritter doubled down the LF line, Plastiak and Rhodes scored. UK 5, Alabama 0.
 
Top 6th – Praytor hit by a pitch and scored on Diodati's home run to RF. UK 5, Alabama 2.
 
 
GAME TWO SCORING
Bottom 2nd – Coltyn Kessler homered to CF. John Rhodes homered to LF. Ryan Ritter and Cam Hill each reached on bunt singles. Ritter advanced to third on Chase Estep's fly out. Austin Schultz reached on an infield hit, Ritter scored. T.J. Collett homered to CF, scoring Hill and Schultz.  UK 6, Alabama 0.
 
Bottom 5th – T.J. Collett, Oraj Anu and Rhodes all hit solo home runs. UK 9, Alabama 0.
 
Bottom 6th – Hill tripled to RF and scored on Estep's single to RF. Collett homered to RF. UK 11, Alabama 0.
 
NOTES
UK is 24-13 overall, 9-9 in SEC play.
The Cats are 19-8 at home this season.
The Cats are 20-8 in doubleheaders under coach Nick Mingione, including three SEC doubleheader sweeps.
The Cats finished its 2021 SEC West portion of the schedule 6-6 with series wins over Auburn and Alabama.
The Cats belted six home runs in the second game of the DH, the most in a game since hitting six vs. Western Kentucky on April 23, 2019 at the home of the Bowling Green Hot Rods in Bowling Green, Kentucky.
Senior 1B T.J. Collett went 4-for-8 in the DH with three home runs, three runs and five RBI.

Collett now has 40 home runs for his career.
He moved into a tie with Golden Spikes Award winner AJ Reed for second on UK's all-time list. Both players hail from Terre Haute, Indiana.
On Sunday, he leap-frogged Collin Cowgill (2005-06, 2008), Jeff Abbott (1991-94) and Randy Clark (1984-85) who had 37, and Aaron McGlone (1997-2000) who had 39.
He is the first Wildcat to hit three home runs in a game since Ryan Johnson vs. Western Kentucky on April 23, 2019 and just the second since Gunner Glad against South Carolina on March 28, 2009.
Collett's five RBI moved him into 10th place on the school's all-time RBI list with 142. He passed All-American Collin Cowgill (2005-06, 08) at 140.
Collett now has 145 career hits, good for 35th on the all-time list.
Collett has 14 home runs and 45 RBI on the 2021 season.

Junior IF/OF Austin Schultz went 4-for-6 with two runs, two RBI, a walk and a HBP.

Schultz has reached base safely in 88 of 95 career games with a plate appearance.
Schultz has 18 multi-hit efforts in 36 games this season.
In game one, Schultz tied his career high with three hits.

Senior C Coltyn Kessler went 5-for-eight with two home runs, two runs, two RBI on the day.

Kessler has reached safely in 23 of his past 25 games.
Kessler registered his 11 and 12th multi-hit games of the season and has 24 in his career.
Kessler hit his third home of the season in the first game of DH and added his fourth home run in the second game.

Sophomore OF John Rhodes clubbed a pair of solo home runs in game two. He now has 19 extra-base hits on the season, including eight home runs.
Sophomore RHP Zack Lee was sensational in the series-clinching game, facing the minimum number of batters in a complete game, one-hit shutout.

Lee's final line: 7.0 IP, 1 H, 0 R, 0 BB, 6 K
He retired the final 19 batters of the game.

In game one, senior RHP Sean Harney earned the win, going 6.0 IP with five hits, two runs, one walk, five strikeouts.
 
ON DECK
Kentucky hosts Eastern Kentucky for the second time this season at Kentucky Proud Park on Tuesday. First pitch is set for 6:30 p.m. ET on SEC Network Plus. The radio call will be on the UK Sports Network.