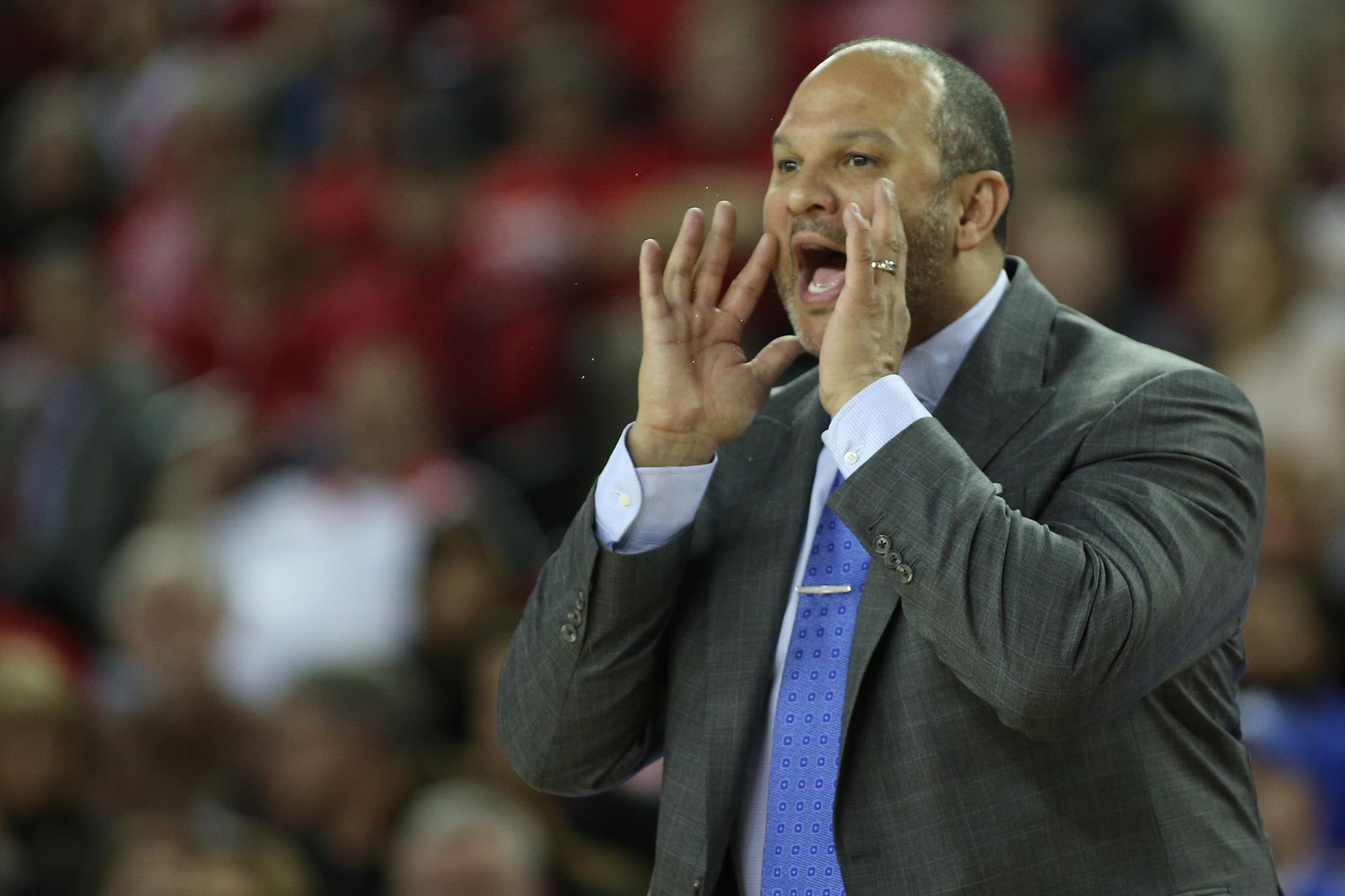 April 23, 2021 - 10:50 AM
Tony Barbee Named Head Coach at Central Michigan
MOUNT PLEASANT, Mich. – Kentucky men's basketball assistant Tony Barbee, a key member of the staff since the 2014-15 season, has been named the new head coach of the Central Michigan men's basketball program.
 
Central Michigan announced the hire on Friday.
 
Barbee will depart UK after an impactful seven seasons in Lexington, where he served as a special assistant to the head coach in his first season, assistant coach for the next five years and associate to the head coach this past season.
 
In every position, Barbee played a major role in the strategy and game planning of an impressive run that included 187 wins, five NCAA Tournament appearances, a Final Four berth, three Elite Eight runs, four Southeastern Conference regular-season championships and four SEC Tournament titles.
 
"The last seven seasons at Kentucky have been incredible," Barbee said. "To have the opportunity to coach at a historic and tradition-rich school like Kentucky has been a dream come true, and I want to thank Coach Cal and Mitch Barnhart for placing their faith in me to be a part of this storied program. From the moment I first put on that jersey as a player at UMass through my time at Memphis and most recently at Kentucky as an assistant, Coach Cal has been a mentor to me. I have learned so much from him, and the players-first approach that we have instilled at every place we have been together will carry on with me at Central Michigan. I want to thank Mitch Barnhart for giving me the opportunity to work and grow as a coach. I will always cherish the incredible friends and memories we built over the last seven sessions. I enjoyed every second of it. Thank you to the Big Blue Nation for all of your love and support."
 
Barbee has been a part of John Calipari's Hall of Fame career both as a player and as a coach. Barbee was an important player in the remarkable turnaround at UMass in the early 1990s and served as an assistant in all three of Calipari's college head coaching stops at UMass, Memphis and UK.
 
"Tony is one of the best coaches I have ever coached with or against," Calipari said. "He has an unbelievable basketball mind. The game plans that he put together for us, especially on defense, were second to none. I have known him since he was 15 and I know how much this game means to him. He is my brother and always will be. I expect big things to happen for Central Michigan and their players under Tony's leadership. He is ready for this and I look forward to watching his success."
 
Barbee completed his seventh season with the Kentucky men's basketball program and his first as the associate to the head coach in 2020-21. After playing a key role in Kentucky's game management and Xs and Os as an assistant for five seasons, he took on an increased responsibility in game planning, scouting opponents, and helping Calipari formulate the team's approach in practices and in games this past season.
 
As an assistant coach, Barbee took on the role of UK's defensive specialist on the bench, solidifying Kentucky as one of the best defensive teams in the country on an annual basis. In addition to his coaching and on-court development with players, Barbee helped secure a top-three recruiting class in every season, including the No. 1 hauls in 2016, 2017 and 2020, as designated by the Recruiting Services Consensus Index.
 
In his five seasons as an assistant coach, UK went to the NCAA Tournament in every season (the 2020 tournament was canceled due to the COVID-19 pandemic) and sent a combined 13 players to the NBA Draft with 10 first-round picks and eight lottery selections.
 
During the 2014-15 season, Barbee served as the special assistant to the head coach, where he assisted Calipari in a variety of roles, including game-plan preparation, practice plans and administrative duties within everyday basketball operations. With Barbee's help, the Wildcats enjoyed one of the most storied seasons in program history, becoming the first team in NCAA history to begin a season 38-0 while claiming the SEC regular-season and tournament crowns, advancing to the program's fourth Final Four in five seasons, and helping six players go in the NBA Draft.
 
Barbee was previously the head coach at UTEP and at Auburn. During his four-year tenure at the helm of the Miners program, starting with the 2006-07 season, Barbee averaged 20.5 wins per season and exceeded his win total from year to year. His most prolific season at UTEP was his last, in which he led the Miners to a 26-7 overall record, a Conference USA regular-season title and an NCAA Tournament appearance in 2010.
 
Barbee became Auburn's head coach prior to the start of the 2010-11 season. He spent four seasons as the head coach of the Tigers.
 
As a head coach, Barbee has a 131-127 record.
 
Barbee began his coaching career as a graduate assistant at UMass for the 1995-96 season. The Minutemen advanced to the NCAA Final Four in Barbee's first season.
 
After Calipari left for the NBA, he stayed on as an assistant coach for two seasons at UMass before taking an assistant coaching position at Wyoming. He returned to UMass for a season before rejoining Calipari as an assistant at Memphis for six seasons from 2001-06.
 
The Tigers earned a 20-win season in each of Barbee's six seasons at Memphis. The Tigers claimed a pair of C-USA titles and advanced to the NCAA Tournament three times during his tenure, including an Elite Eight run in his final season.
 
During Barbee's tenure at Memphis, the Tigers won 148 games, an average of nearly 25 victories per season. Memphis produced top-10 recruiting classes in each of Barbee's six years, including the 2001 class that was ranked No. 1 in the country.
 
Prior to Auburn, Barbee had advanced to postseason play in 18 of his 19 seasons as a head coach, assistant coach and player.
 
As a player, Barbee helped lead the Minutemen to a pair of Atlantic 10 championships and two NCAA Tournaments, including the Sweet 16 in 1992. UMass went 91-39 during his four-year career.
 
Barbee still ranks among the school's all-time leaders in numerous statistical categories, including scoring with 1,643 points. He was a Second Team All-Atlantic 10 player in 1991 and 1993 and All-Atlantic 10 Freshman Team selection in 1990.
 
The Indianapolis native played professionally in Spain and France after his playing career at UMass. He earned his bachelor of arts in sports management from UMass in 1993, with a minor in African-American studies.
 
For the latest on the Kentucky men's basketball team, follow @KentuckyMBB on Twitter, Facebook, Instagram and TikTok, and on the web at UKathletics.com.