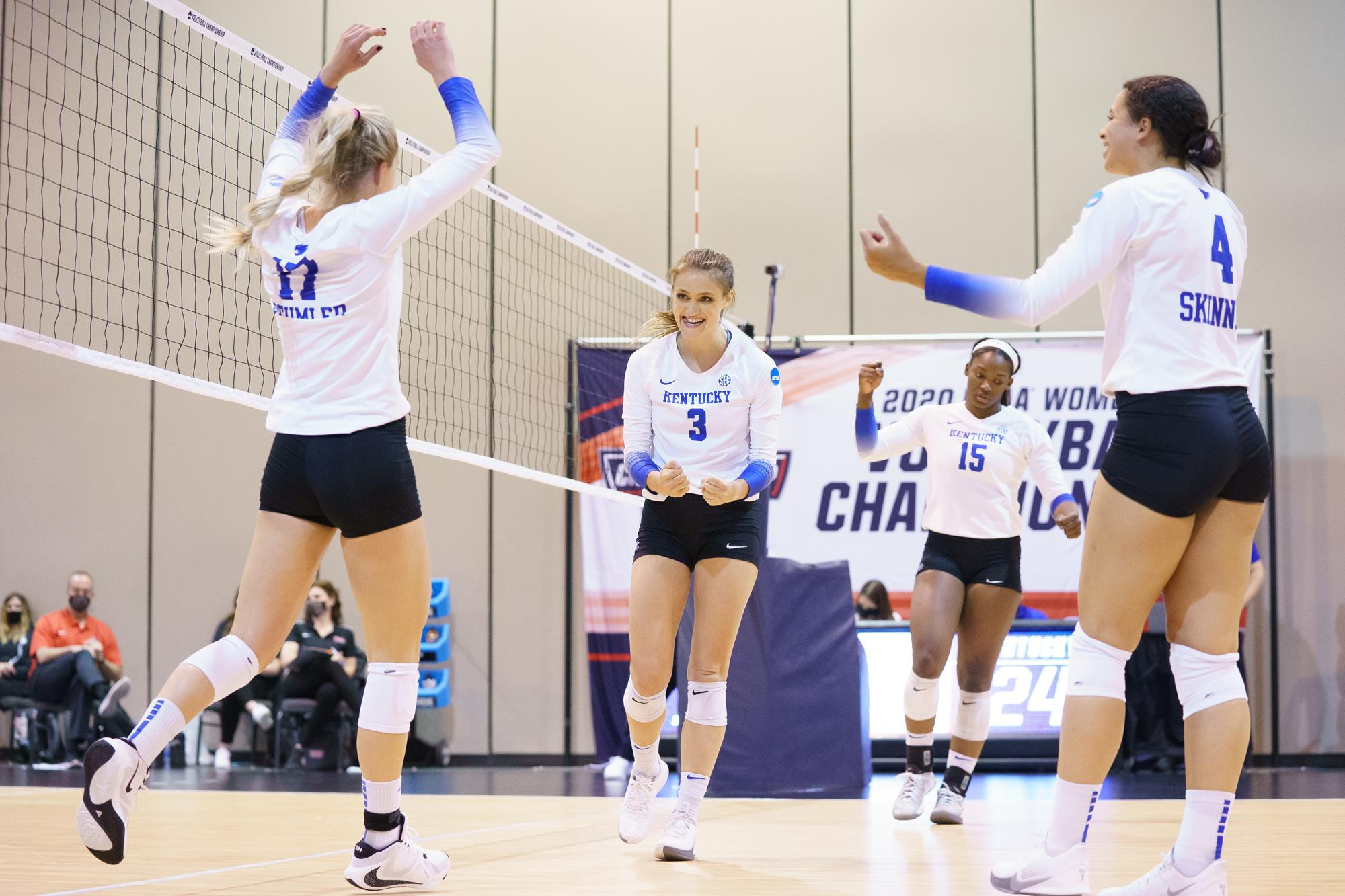 April 23, 2021 - 04:58 PM
Kentucky Volleyball Riding Experience, Momentum Into Title Match
The 2020-21 college volleyball season has been a grueling, nine-month process for a number of teams across the country. While some conferences elected to play volleyball only in the spring, when the NCAA Championship would be held, others played in both the fall and the spring, setting themselves up for a long, arduous task.
Two teams that played during the fall and the spring have made it to the NCAA Tournament finals. That's where second-seeded Kentucky will face fourth-seeded Texas for the title on Saturday night.
Kentucky started its fall season on Oct. 16 at Tennessee. The fall portion of the schedule concluded on Nov. 14. UK started its spring schedule on Jan. 29 at Arkansas.
Texas played its first match way back on Sept. 24. The Longhorns played their final fall match on Nov. 13, then started the spring portion of the schedule on Feb. 26.
So what do these two teams have in common that has allowed them to survive such a long, unprecedented season and make it all the way to the championship? In addition to outstanding talent, the answer appears to be experience and chemistry.
Kentucky is led by senior setter Madison Lilley, the AVCA National Player of the Year, along with senior first-team All-American outside hitter Avery Skinner and senior third-team All-American libero Gabby Curry. Junior Alli Stumler, another first-team All-American, is also a major contributor to the Wildcats' cause.
Texas is led by junior setter Jhenna Gabriel, junior hitters Logan Eggleston and Brionne Butler and junior libero Sydney Peterson.
Both teams have also navigated the long season with great efficiency. UK head coach Skinner likes the fact that his team has had so much time together.
"I think we found a healthy balance of competition in the fall and the spring," Skinner said. "As a staff, we felt like it was really important that, if we were going to go this long, that we had to find a couple of weeks here to take off. We had to find months in between the two seasons to take off and go away and be away from each other."
In addition to the intangibles, just being on the court also gave UK an advantage, according to Skinner.
"In terms of playing volleyball, I think there was a distinct advantage because we could play matches and we had several really good freshmen and new players that we had to find out what our lineup could look like and what type of options we have," Skinner said. "There are several options that we can use at any certain time that we wouldn't know if we hadn't play in the fall. Having two separate seasons gave us time to reflect and see where we were and evaluate and find new things."
Lilley liked playing in the fall when other conferences chose not to do so.
"I can't say enough how happy I am that we were able to play in the fall," Lilley said. "I remember when we weren't sure if we were going to be able to do that. All of those moments were so pivotal for us because it allowed us to really put our eyes on what we were going after."
Skinner knows that the experience and maturity his team has helps in handling the fact that they are in such a big situation.
"Our team has managed that part of the game pretty well this year," Skinner said. "Obviously, this is a different magnitude and competing for a national championship is a different scenario. But we just got off the floor in practice and our team was in a pretty status quo mindset and went about their business. Pretty focused. I don't sense that we've settled and that we're OK with where we are. There's still more to do."
Lilley has extreme trust in her team during the biggest moments.
"Especially the trust in moments like (against Washington), being able to trust our teammates when there's more lights, more fans, more media," Lilley said. "Just being able to lean in and the trust that we have is where it is and has developed so much because of how much time we've had. That is something that has been so beneficial for us."
Lilley likes how hungry her team is to win.
"This is a team of crazy competitors," Lilley said. "It might sound cliché, but I've never been part of a group that loves competing like we do. We've been putting ourselves in these situations for eight, nine months now. So now that we're finally here, we're soaking it in but also, we're not taking no for an answer."
Now, the experienced, hungry Cats will face a similar Longhorns' squad that brings the same qualities. Lilley knows how tough Texas will be but she also likes how her team is playing.
"Texas is going to serve tough, they're going to be a big block," Lilley said. "I love our transition game. We play hard, we play fast and that is something that I think is in our advantage. I don't think a lot of teams can play with us in transition. We're going to try to play to that tomorrow night."
The longest college volleyball season on record will come to a close on Saturday night, with one experienced team completing a nine-month trek to the title.