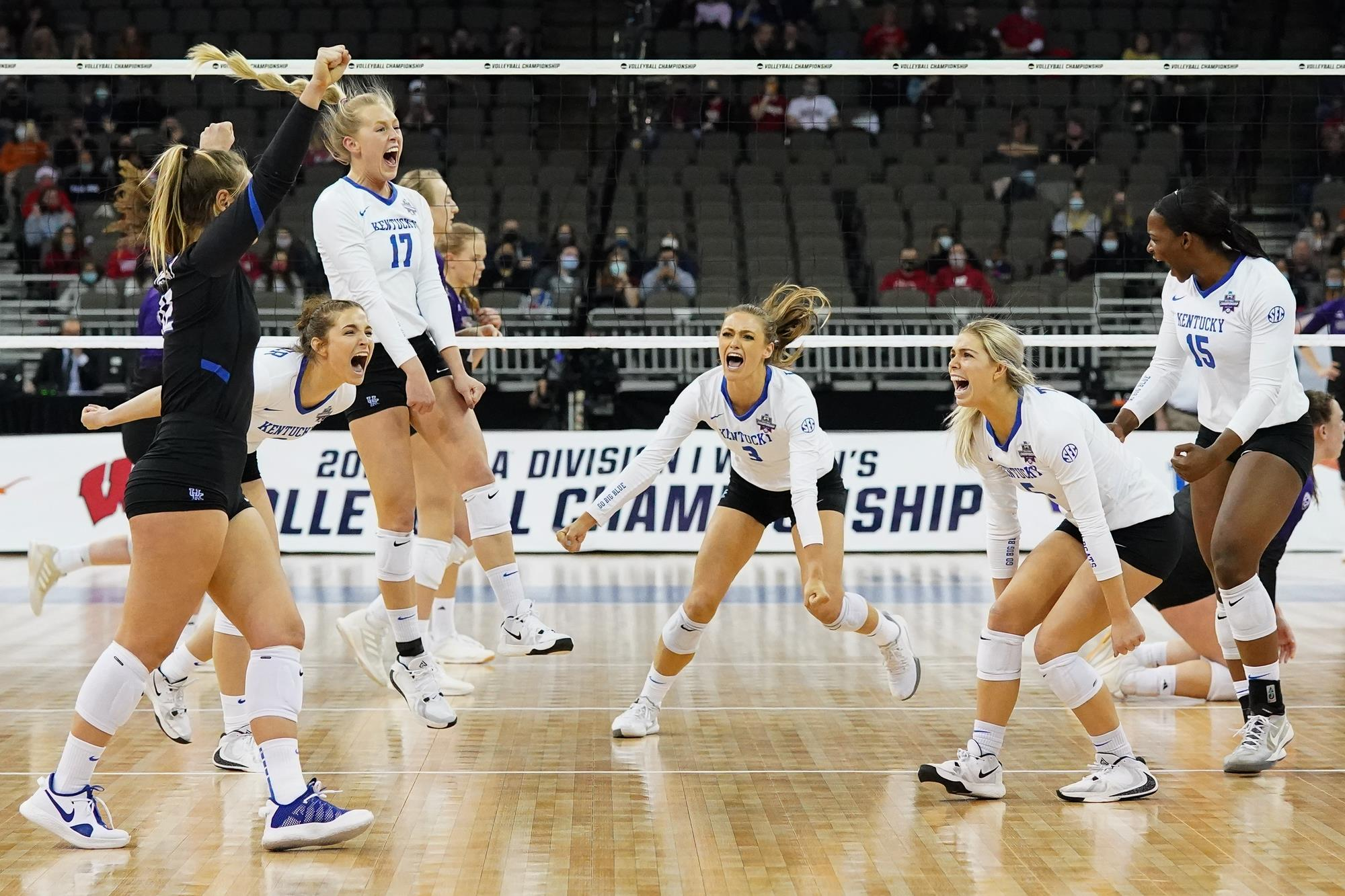 April 23, 2021 - 01:37 PM
Kentucky to Play Texas for 2020 Volleyball National Championship
OMAHA, Neb. – The Kentucky Volleyball team will play the Texas Longhorns for the 2020 NCAA Volleyball national championship Saturday night at 8 p.m. from the CHI Health Center in Omaha, Nebraska as the Wildcats will seek a first national title in program history.
 
The match will be shown live on ESPN2 with Paul Sunderland (pxp), Samila Rockwell (color) and Holly Rowe (sidelines) on the call. Fans can also catch the match on the ESPN app.
 
Kentucky earned its spot in the 2020 national championship match by defeating sixth-seeded Washington on Thursday night, 3-1 in four sets. The Wildcats won the first, third and fourth sets in its first-ever national semifinal match.
 
Madison Lilley, the AVCA National Player of the Year, had a season-high 63 assists in the match as senior outside hitter Avery Skinner terminated 19 balls on the night, one of four UK players to score in double figures in the match. Kentucky held Washington to under .250 hitting in the match and served six service aces en route to victory.
 
Texas, the 2020-21 champions of the Big 12 Conference, swept the top overall seeded Wisconsin Badgers, 3-0 in the second national semifinal Thursday. The Longhorns are 27-1 on the season, and went a perfect 16-0 in Big 12 Conference play during the regular season. Both UK and Texas have played the entire tournament by only dropping one set.
 
Memorial Coliseum in Lexington will be showing the match on the videoboard Saturday night, with free admission for all fans. More on that even can be found here. Doors to Memorial Coliseum open at 7:30 p.m. ET, with the match beginning at 8 p.m.
 
Follow along with the Wildcats on Twitter, Facebook and Instagram, and on the web at UKathletics.com.