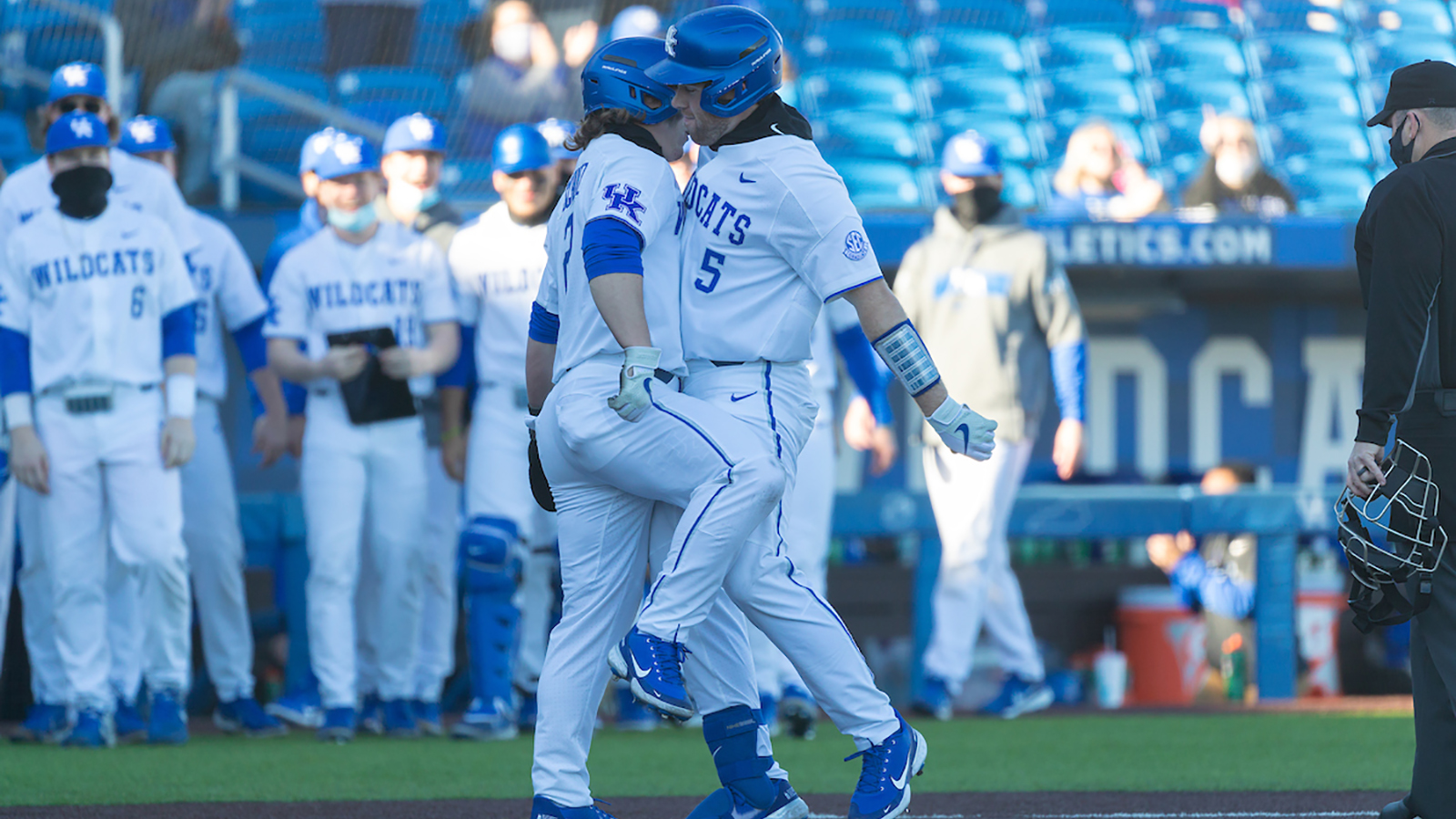 LEXINGTON, Ky. – T.J. Collett uncorked another moonshot, this time with one of the best power hitters in school history in attendance, but Kentucky was unable to muster much more in a 10-1 loss to Alabama in Friday night's series opener at Kentucky Proud Park.
 
Collett bashed the 37th home run of his illustrious career in the third inning, moving him into a tie for fourth place on the school's all-time list. The blast came with AJ Reed, the 2014 Golden Spikes Award winner and unanimous National Player of the Year, watching from seats as Collett pulled with four homers of surpassing his fellow Terre Haute, Indiana native for second on the career chart.
 
Despite Collett's fireworks the Wildcats couldn't shake their recent doldrums as the losing streak reached a season-long four games and dropped them to 22-13 overall, 7-9 in Southeastern Conference play. Four the fourth straight game the opponent jumped out to an early lead and piled on late, as the Crimson Tide plated seven runs in the seventh innings, all of them unearned. In that disastrous inning the Cats committed two infield errors, walked two, hit a batter and saw a routine fly ball drop untouched between a pair of outfielders.
 
An offense that had been averaging more than 7.5 runs over the past nine games managed just three hits, none after a leadoff single in the fifth inning by Jacob Plastiak, as the final 15 Cats went down in order.
 
 
GAME SCORING
Top 2nd – Reeves singled with two outs, stole second and scored on Diodati's double to RF. Alabama 1, UK 0.
 
Top 3rd – Wilson doubled inside the 1B bag and scored on Hamiter's triple off the CF wall. Praytor hit a two-strike, two-out single to score Hamiter. Alabama 3, UK 0.
 
Bottom 3rd – T.J. Collett homered to RF. Alabama 3, UK 1.
 
Top 7th – Jarvis reached on an error. Wilson doubled to LF on a hit and run. Hamiter reached on an error, Jarvis scored, Wilson to third. Denton walked. Praytor it a SAC fly, Wilson scored. Williamson was hit by a pitch. Reeves walked, Hamiter scored. Diodati blooped a single to RF, Denton scored. Williamson scored on a wild pitch. Jarvis doubled to RCF, driving in two. Alabama 10, UK 1.
 
NOTES
UK is 22-13 overall, 7-9 in SEC play.
The Cats are 17-8 at home this season. 
Senior 1B T.J. Collett went 1-for-4 with a home run.

Collett now has 37 home runs for his career.

He moved into a tie for fourth on UK's all-time list. He is tied with Collin Cowgill (2005-06, 2008), Jeff Abbott (1991-94) and Randy Clark (1984-85).

Collett ranks 12th on UK's all-time list with 137 and sits three behind UK Athletics Hall of Famer inductee Sawyer Carroll (2007-08) for 11th.
 
ON DECK
Kentucky and Alabama are scheduled to continue their series at Kentucky Proud Park on Saturday. First pitch is set for 2 p.m. ET on SEC Network Plus. The radio call will be on the UK Sports Network.
 
Follow along with the Cats on Twitter, Facebook and Instagram, and on the web at UKathletics.com.