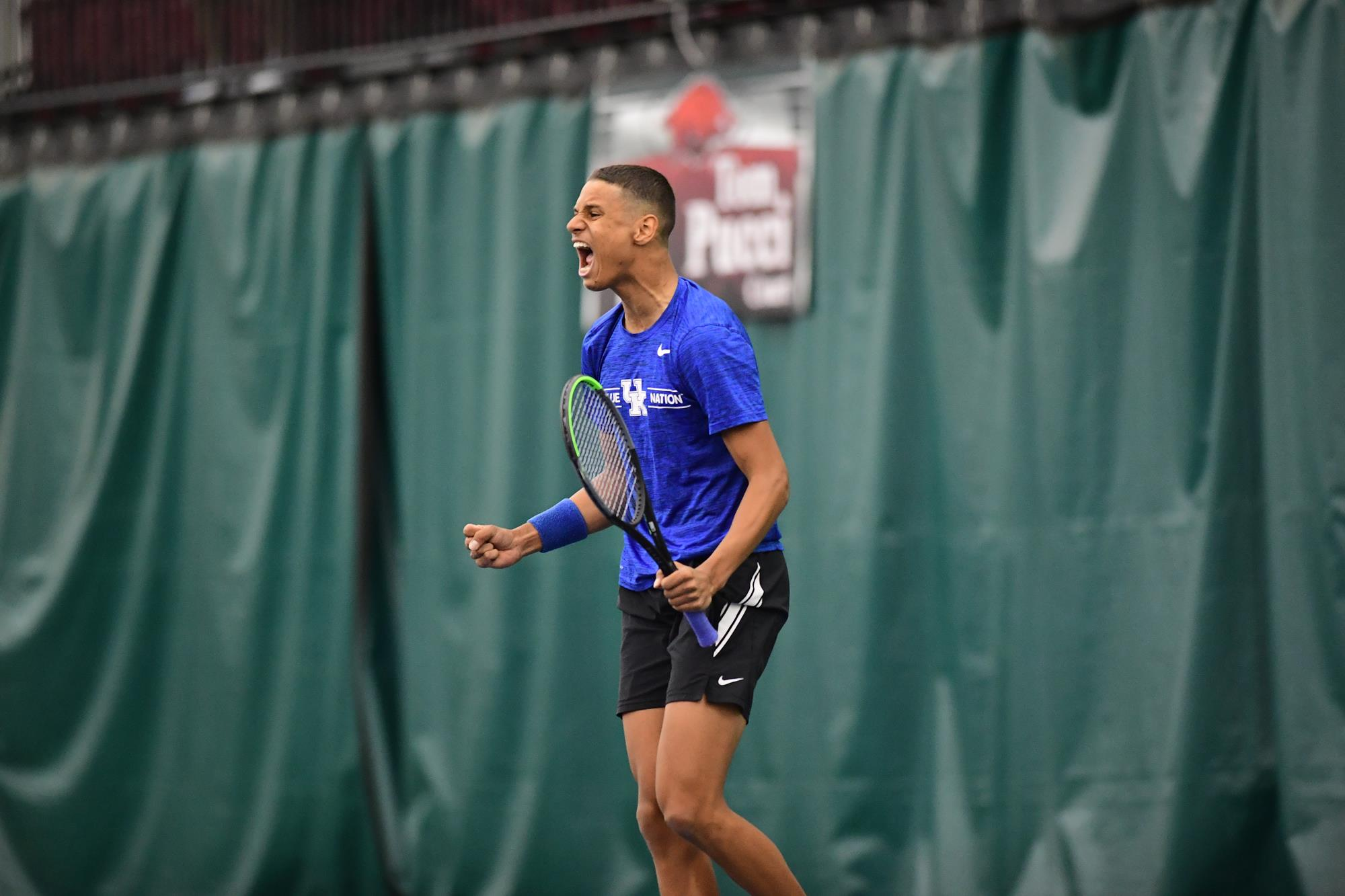 April 21, 2021 - 01:35 AM
Cats Advance to SEC Quarterfinals with 4-0 Sweep of Hogs
FAYETTEVILLE, Ark. – Fourteenth-ranked and fifth-seeded Kentucky (18-6) made its debut at the 2021 Southeastern Conference Championship with a 4-0 sweep of 36th-ranked and 12th-seeded host Arkansas (10-14) on Tuesday inside Billingsley Tennis Center.
 
With their second sweep of the Razorbacks this spring, the Wildcats advance to the SEC Tournament quarterfinals for a matchup with eighth-ranked and four-seeded Texas A&M (15-7) on Wednesday at 4 p.m. ET.
 
Tuesday marked the 150th win as Kentucky head coach for Cedric Kauffmann, who was the program's first tennis player inducted into the UK Athletics Hall of Fame in 2011.
 
Alexandre LeBlanc and Joshua Lapadat were Tuesday's most clutch players, clinching both the doubles point and the final two points of singles competition. The duo followed Millen Hurrion and Liam Draxl's 6-1 victory over Melvin Manuel and Adrien Burdet on court two with a 7-5 comeback over Nico Rousset and Alex Reco on the third court.
 
After No. 21 Gabriel Diallo pushed the Wildcats to a 2-0 lead with a 6-3, 6-3 win over Maxim Verboven on the second singles court, the 114th-ranked Lapdat defeated Burdet 6-1, 7-5 from the fifth slot. LeBlanc buried Arkansas with a 7-5, 6-3 triumph over Manuel on court six.
Three of the top four singles matches, as well as the No. 1 doubles contest, were left unfinished.
 
Kentucky will enter Wednesday seeking revenge for a 6-1 loss to the Aggies in College Station, Texas, on Feb. 23. Liam Draxl—now the nation's top-ranked singles player—suffered his first of just two losses in the regular season at the hands of Texas A&M's Valentin Vacherot—now the No. 5 singles player—by a score of 7-6 (8-6), 6-3.
 
For the latest on the Kentucky men's tennis team, follow @UKMensTennis on Twitter and Facebook, @kentuckymenstennis on Instagram, and on the web at UKAthletics.com.
 
 
#14 Kentucky 4, #36 Arkansas 0
 
Singles
1.#1 Liam Draxl (UK) vs. Alex Reco (ARK) 3-6, 6-2, 2-1, unfinished
2.#21 Gabriel Diallo (UK) def. Maxim Verboven (ARK) 6-3, 6-3
3.#43 Millen Hurrion (UK) vs. #95 Nico Rousset (ARK) 4-6, 6-1, 3-0, unfinished
4.#97 César Bourgois (UK) vs. Aleksa Bucan (ARK) 5-7, 6-2, 1-1, unfinished
5.#114 Joshua Lapadat (UK) def. Adrien Burdet (ARK) 6-1, 7-5
6.Alexandre LeBlanc (UK) def. Melvin Manuel (ARK) 7-5, 6-3
 
Doubles
1.#11 César Bourgois/Gabriel Diallo (UK) vs. #41 Enrique Paya/Hunter Harrison (ARK) 4-5, unfinished
2.Millen Hurrion/Liam Draxl (UK) def. Melvin Manuel/Adrien Burdet (ARK) 6-1
3.Alexandre LeBlanc/Joshua Lapadat (UK) def. Nico Rousset/Alex Reco (ARK) 7-5
 
Order of finish: Doubles (2,3); Singles (2,5,6)