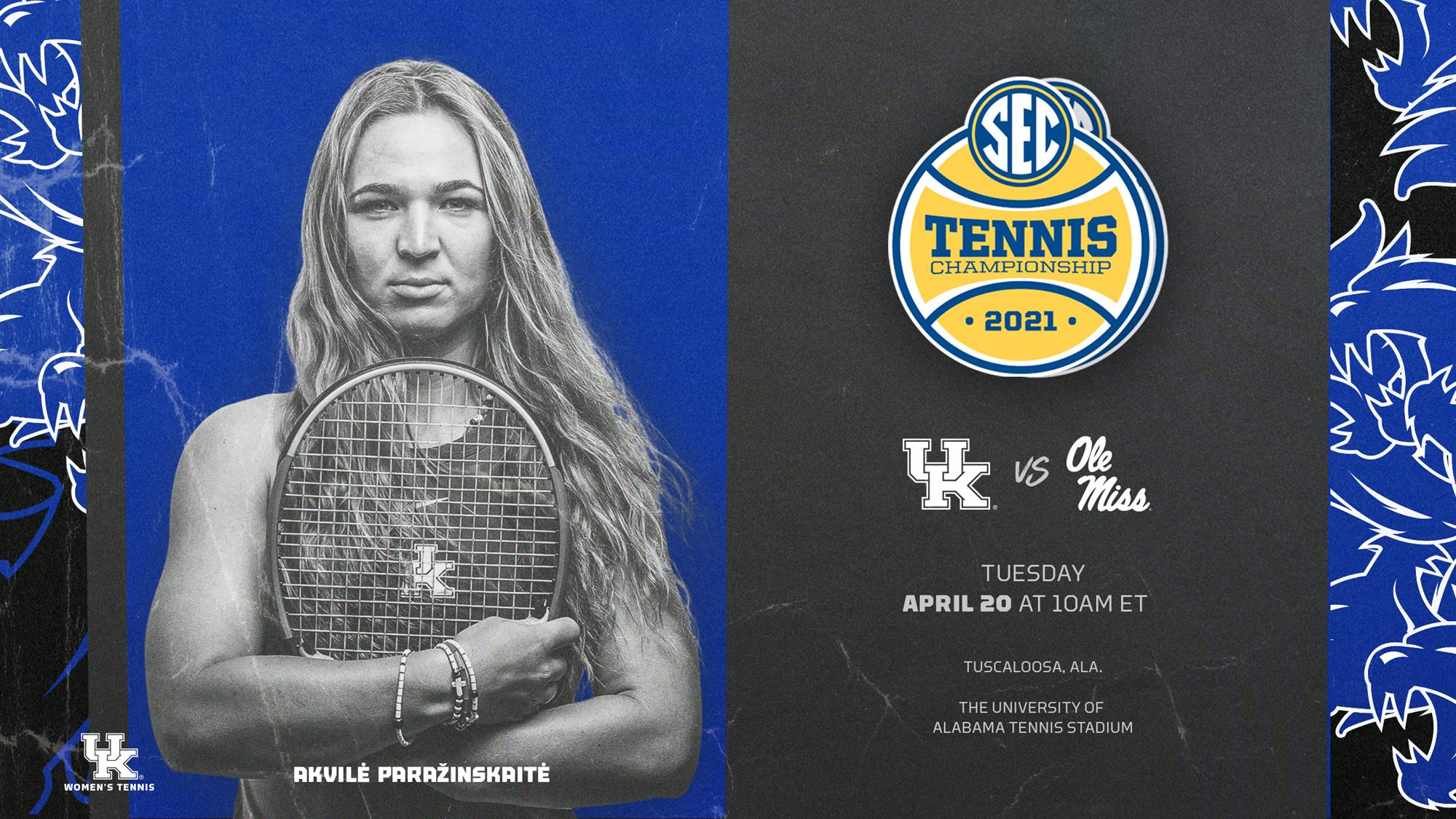 April 19, 2021 - 11:34 AM
Wildcats to Take on Ole Miss in SEC Championship Opener
LEXINGTON, Ky. – The Kentucky women's tennis team opens play at the Southeastern Conference Championship hosted by Alabama on Tuesday. The ninth-seeded Wildcats will take on No. 8 Ole Miss at 10 a.m. ET from Tuscaloosa, Alabama.
 
Kentucky (14-7, 6-7 SEC) earned a bye in the opening round and will take on the Rebels (11-8, 7-6) for a chance to play the No. 1 seed in Georgia (17-1, 13-0) in the quarterfinals on Wednesday.
 
The No. 26 Wildcats paced by the nation's top doubles duo of Akvile Paražinskaite and Fiona Arrese will appear in their first SEC Championship since 2019 after last season's was canceled due to the COVID-19 pandemic. UK advanced to the quarterfinals during that run before falling to Vanderbilt.
 
Coincidentally, the No. 19 Rebels are the same opponent the Wildcats last faced. Ole Miss earned a 4-1 decision on April 10 in Oxford, Mississippi, to close out the regular season.
 
Kentucky got off to a 1-0 start by taking the doubles point for the 18th time this season. Paražinskaite and Arrese captured a 7-5 win on court No. 1, and Lesedi Jacobs and Elizabeth Stevens earned a 6-1 win on court No. 3.
 
Ole Miss rallied for four straight singles points to win the match, however. Jacobs and Stevens were both in the midst of a third set and did not finish their matches.
 
Kentucky will utilize a lineup comprised of possible starters in No. 45 Paražinskaite, No. 95 Jacobs, Carlota Molina, Stevens, Carla Girbau, Arrese, Ana Tkachenko and Mailen Morante.
 
The Rebles are paced by Sabina Machalova, Tiphanie Fiquet and Tereza Janatova who are rated as the No. 26, No. 59 and No. 90 overall singles players, respectively. Alexa Bortles and Anna Vrbenska are ranked the No. 20 doubles tandem, while Bortles and Machalova are tabbed the No. 83 doubles team.
 
The all-time series is tied 24-24 following the Rebels win during the regular season. The teams last met during the SEC Championship in 2017. UK earned a 4-3 decision in the second round.
 
Due to health and safety considerations in addition to the current guidelines, attendance at the SEC Women's Tennis Championship is on a first-come, first-served basis until reaching capacity if the matches are played outdoors. Admission is free. Facial coverings must be worn at all times unless actively eating or drinking. If matches are forced indoors, there will be more spectators permitted.
 
For the latest on the Kentucky women's tennis program, follow @UKWomensTennis on Twitter and on Instagram, on Facebook and on the web at UKathletics.com.