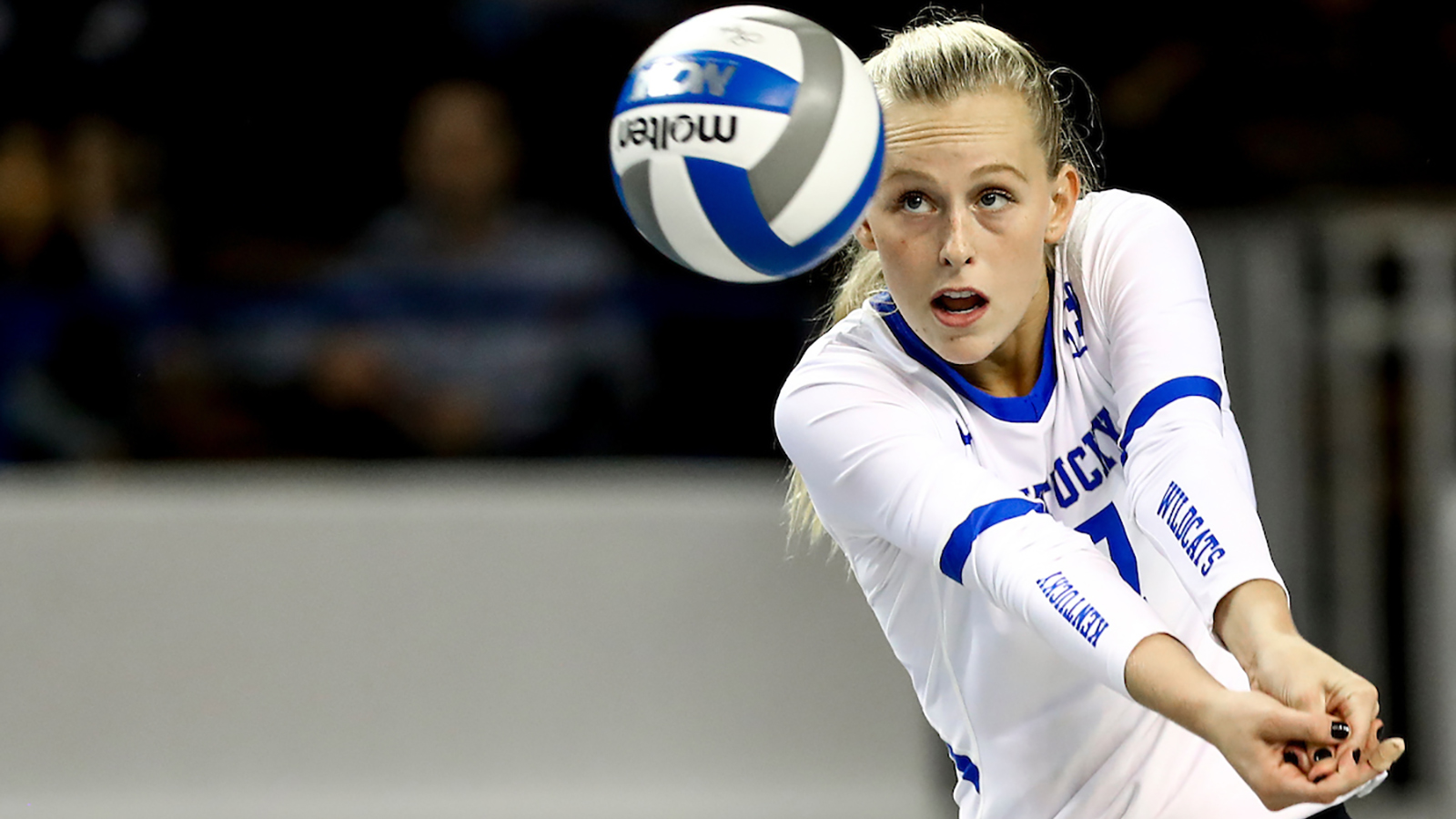 April 19, 2021 - 01:55 AM
Volleyball Cats Preparing for Purdue, Quick Turnaround
The Kentucky volleyball team's Sweet 16 match against Western Kentucky did not start until nearly 11:45 p.m. Eastern Time on Sunday night. But the late start did not bother the Wildcats.
Kentucky found its footing in the middle of the first set, then cruised to a 25-20, 25-16, 25-10 win to advance to the Elite Eight of the NCAA Tournament for the first time since 2017. It's a great feeling for the Cats, according to junior Alli Stumler.
"It's awesome and it's so rewarding, especially after a year like this," Stumler said. "It's so cool just to see hard work pay off."
The Cats survived a tough first set, hitting just .281. But after that, the offense caught fire. Kentucky hit .556 in the second set and .571 in the third and cruised to victory. For the match, UK had 47 kills and 11 errors on 80 attempts, resulting in a .450 hitting percentage.
The Cats got 17 kills from Stumler, who hit .483 in the match. Azhani Tealer had eight kills and one error on nine swings (.778) and Madi Skinner had 11 kills and three errors in 20 attempts (.400).
And it wasn't just the offense on this night. Kentucky had 33 digs in the match and eight total blocks, helping to stifle a potent Western Kentucky offense.  UK head coach Craig Skinner was impressed with his team's defensive effort.
"After a delay getting on the court, it's nice to perform the way we did," Skinner said. "(A) Western Kentucky team that we knew was going to be good and the fact that a team that's second in the country in hitting and we held them to under .100 is a pretty amazing night defensively. Just proud to move on."
Tealer credited the coaching staff with getting the team prepared.
"I think we came in with a really good game plan," Tealer said. "Kudos to our coaching staff for that."
Madison Lilley directed the offense with her normal efficiency, handing out 38 assists in the match. Lilley also led the team with nine digs.
Kentucky (21-1) now faces a quick turnaround and a very talented opponent on Monday. The Cats will take on Purdue, who beat Oregon in four sets in the regional semifinals on Sunday. Purdue is the seventh overall seed in the tournament and is 16-6 overall. The Cats and the Boilermakers will meet at approximately 9 p.m. ET on Monday. It's a quick turnaround, but the Cats have a plan.
"Sleep. I told them to sleep in," Skinner said. "We normally eat breakfast at nine. We got testing pushed back a little bit and we'll do a little bit later breakfast."
Tealer noted that the team has been getting ready for this situation.
"We've been preparing for this, trying to stay up late the last couple of nights," Tealer said. "We were ready for this."
As for Purdue, Stumler knows that the Boilermakers will be a tough opponent.
"Looking forward to that match," Stumler said. "I've been keeping track of them this year. They're a good team. They're scrappy, their defense is awesome, their hitters are big. It will be a really good challenge for us defensively."
Skinner and his staff are ready for the quick turnaround and getting the team ready for Purdue.
"When you go to a tournament like this, the coaching staff has already gotten an advance on video and watched the other teams you could potentially play," Skinner said. "We've watched both Purdue and Oregon and we'll find some time tomorrow, around lunch time to watch the video and talk about the game plan and get on the court a couple of hours before hand and walk through some things. We'll have some time to get it done."
Kentucky will hope that the momentum from Sunday's match can carry over to Monday, when they face a quick turnaround and a tough Purdue team.