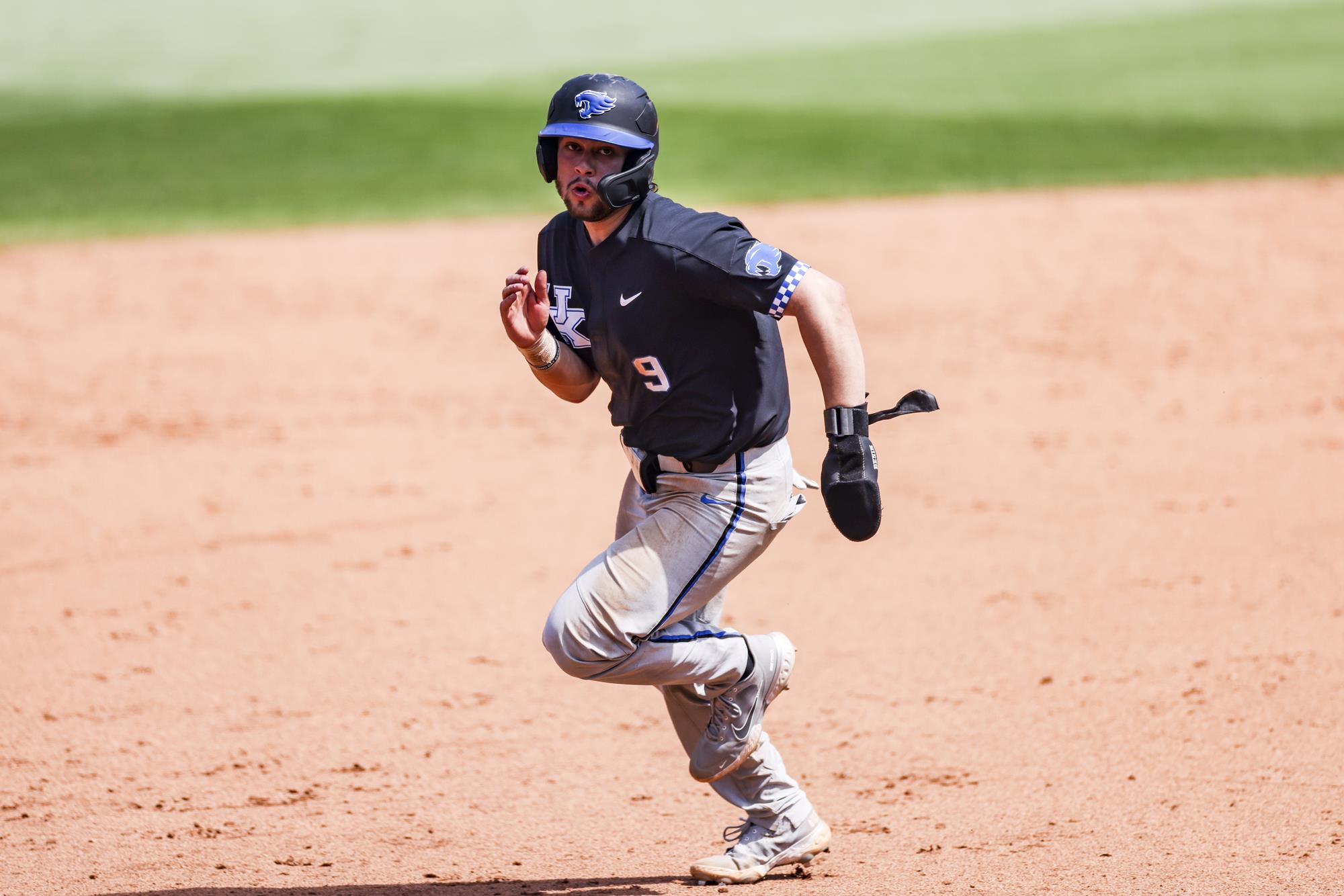 ATHENS, Ga. – Sunday was not a fun day for the Kentucky baseball team.
 
For the second straight day the Wildcats found themselves in an early hole, dug themselves out and then couldn't sustain the momentum, falling 17-6 to No. 20 Georgia at Foley Field. The loss dropped the Cats to 7-8 in Southeastern Conference play at the midway point of the league gauntlet.
 
Georgia used a three-run home run to stake a lead in the second inning only to see the Cats battle back with four runs an inning later, as Oraj Anu had a two-run double and Jacob Plastiak brought home two more on a single to left field.
 
But the good vibes ended there as Georgia plated five runs in the bottom half of the inning, fueled by four straight two-out hits aided by several miscommunications by UK defenders. The big blow was a routine fly ball to shallow left field that turned into a two-run triple when Anu and shortstop Ryan Ritter collided chasing the ball.
 
Senior first baseman T.J. Collett had another strong day at the plate, ripping three hits to give him 142 for his career and move into 35th place on the school's all-time list.
 
Kentucky returns home to face rival Louisville in the back half of a home-and-home series. The Cats defeated the Cardinals 11-7 on April 6 in Louisville.
 
 
GAME SCORING
Bottom 2nd – King and Rogers singled. Gonzalez homered to LF. Georgia 3, UK 0.
 
Top 3rd – Alonzo Rubalcaba singled and John Rhodes reached on an infield single. Coltyn Kessler walked to load the bases. Oraj Anu hit a ground rule double inside the RF line, scoring Rubalcaba and Rhodes. Jacob Plastiak singled through the left side, Kessler and Anu scored. UK 4, Georgia 3.
 
Bottom 3rd – Collins hit a leadoff double and Connor Tate followed with an single through the infield. King hit a SAC fly, scoring Collins. Rogers hit a flared single to RCF, Tate scored from first. Anderson lifted a popup to LF for a triple as UK defenders collided, scoring a pair. McAllister singled, Anderson scored. Georgia 8, UK 4.
 
Bottom 4th – Collins walked and scored on King's two-out homer to LF. Georgia 10, UK 4.
 
Top 5th – T.J. Collett singled, Kessler doubled to LCF and Plastiak was intentionally walked to load the bases. Drew Grace walked, scoring Collett. Georgia 10, UK 5.
 
Bottom 5th – Anderson singled, stole second and scored on Cole Tate's single to CF. Georgia 11, UK 5.
 
Bottom 6th – Connor Tate singled to open the inning, advanced to second on a groundout and scored on a fielding error. Georgia 12, UK 5.
 
Bottom 8th – Connor Tate reached on a fielder's choice, Blaylock walked and King was hit by a pitch. Rogers singled, scoring Tate. A wild pitch scored Blaylock and moved runners up. Gonzalez hit an infield single, King scored. Rogers scored on a fielder's choice. Cole Tate drove in a run with a single. Georgia 17, UK 5.
Top 9th – Collett walked and scored on Anu's single to CF. Georgia 17, UK 6.
 
NOTES
UK is 22-11 overall, 7-8 in SEC play.
The Cats are 5-5 on the road this season.
The Cats are 2-5 vs. ranked opponents this season, with all seven games coming on the road.
UK is 49-for-52 on stolen base attempts this season.
Senior 1B T.J. Collett went 3-for-4 with two runs and a walk.

Collett now has 142 career hits, moving him into a tie for 35th place on the all-time list with Sean Coughlin (2006-07).

Senior C Coltyn Kessler has reached safely in 20 of his past 21 games.
Junior C Alonzo Rubalcaba made his first start since March 14 vs. Georgia State due to injury.

Rubalcaba had a pair of hits, tying his career high.
 
ON DECK
Kentucky returns home to face rival Louisville on Tuesday at Kentucky Proud Park. First pitch on is set for 5 p.m. ET on ESPNU. The radio call will be on the UK Sports Network.