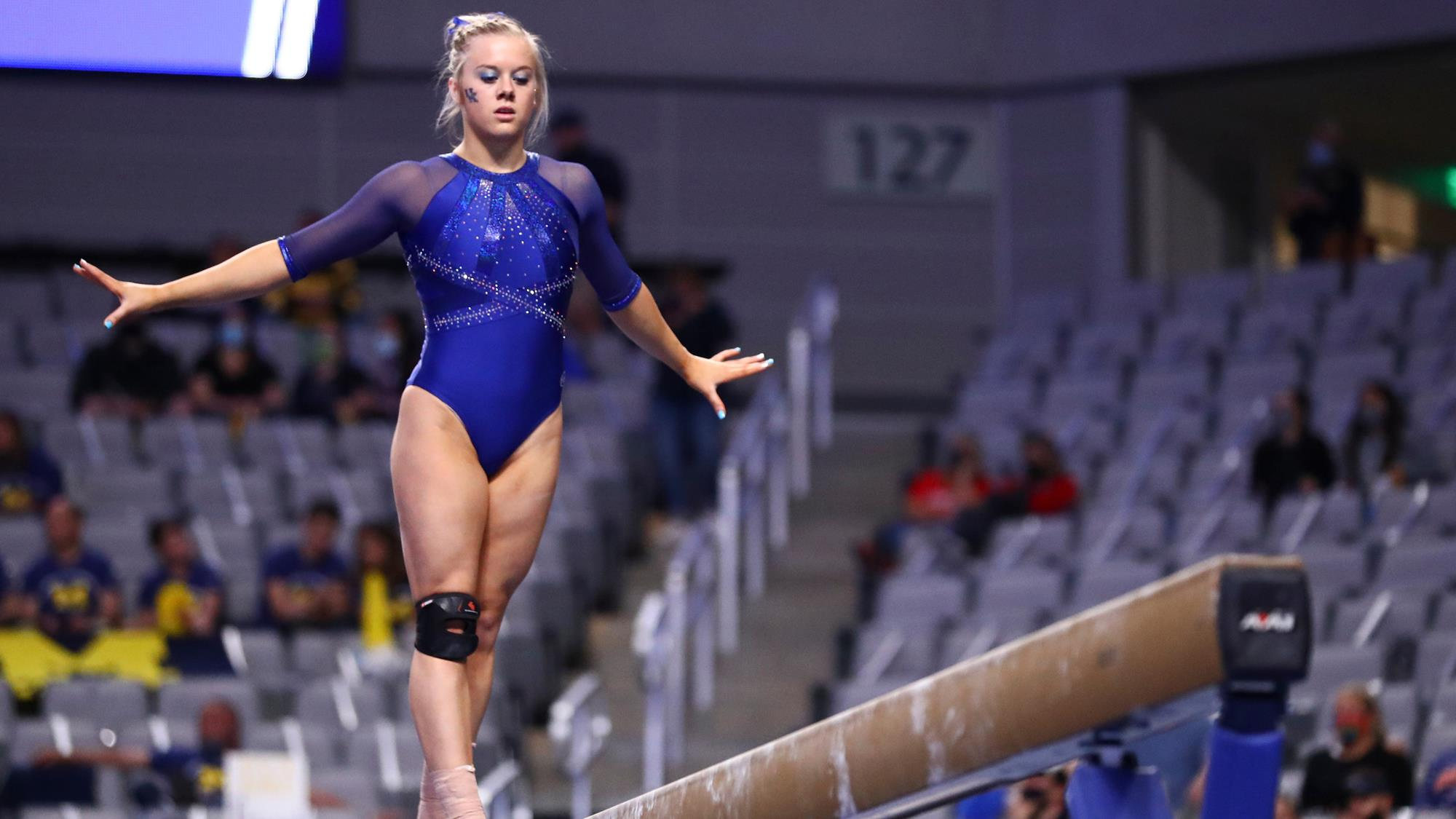 April 17, 2021 - 12:08 AM
Bailey Bunn, Raena Worley Wrap Up 2021 Season
FORT WORTH, Texas – The 2021 women's gymnastics season came to a complete close for the University of Kentucky on Friday at the NCAA Championships.
 
While Kentucky's final team performance came two weeks prior at the NCAA Salt Lake City Regional final, Wildcats Bailey Bunn and Raena Worley performed one more routine apiece as individual competitors in the afternoon session of the NCAA Championship semifinals.
 
With the pair of underclassmen facing six judges on each event for the first time, Bunn earned a top-20 placement among 56 event competitors once results from both semifinal meets were combined at the end of the night.
 
Bunn, who also earned All-Southeastern Conference and SEC All-Freshman recognition in her first collegiate campaign, competed on balance beam for the 10th time in her career on Friday. The Greenville, North Carolina, native was awarded a 9.8875, which tied for 10th place in the first semifinal and 17th place overall.
 
Worley, whose sophomore season included All-SEC and Women's Collegiate Gymnastics Association Regular Season All-America honors, landed a vault routine of 9.7875. The Riner, Virginia, native placed 21st in the meet, ultimately tying for 47th overall.
 
Michigan (197.8625) and Florida (197.4375) were the top two team performers from Semifinal I, advancing to Saturday's NCAA Championship final alongside Oklahoma (198.0875) and Utah (197.6000).
 
The Sooners' Anastasia Webb was named the season's all-around national champion (39.7875), sharing national titles on vault (9.9750) with LSU's Haleigh Bryant and floor exercise (9.9625) with the Utes' Maile O'Keefe and Alabama's Lexi Graber. O'Keefe shared the crown on uneven parallel bars (9.9500) with California's Maya Bordas, while the Crimson Tide's Luisa Blanco earned an outright event championship on beam (9.9625).
 
Kentucky has captured eight individual NCAA titles in program history, each claimed by UK Athletics Hall of Famer Jenny Hansen.
 
For the latest on the Kentucky gymnastics team, follow @UKGymnastics on Twitter, Facebook and Instagram, as well as on the web at UKAthletics.com.