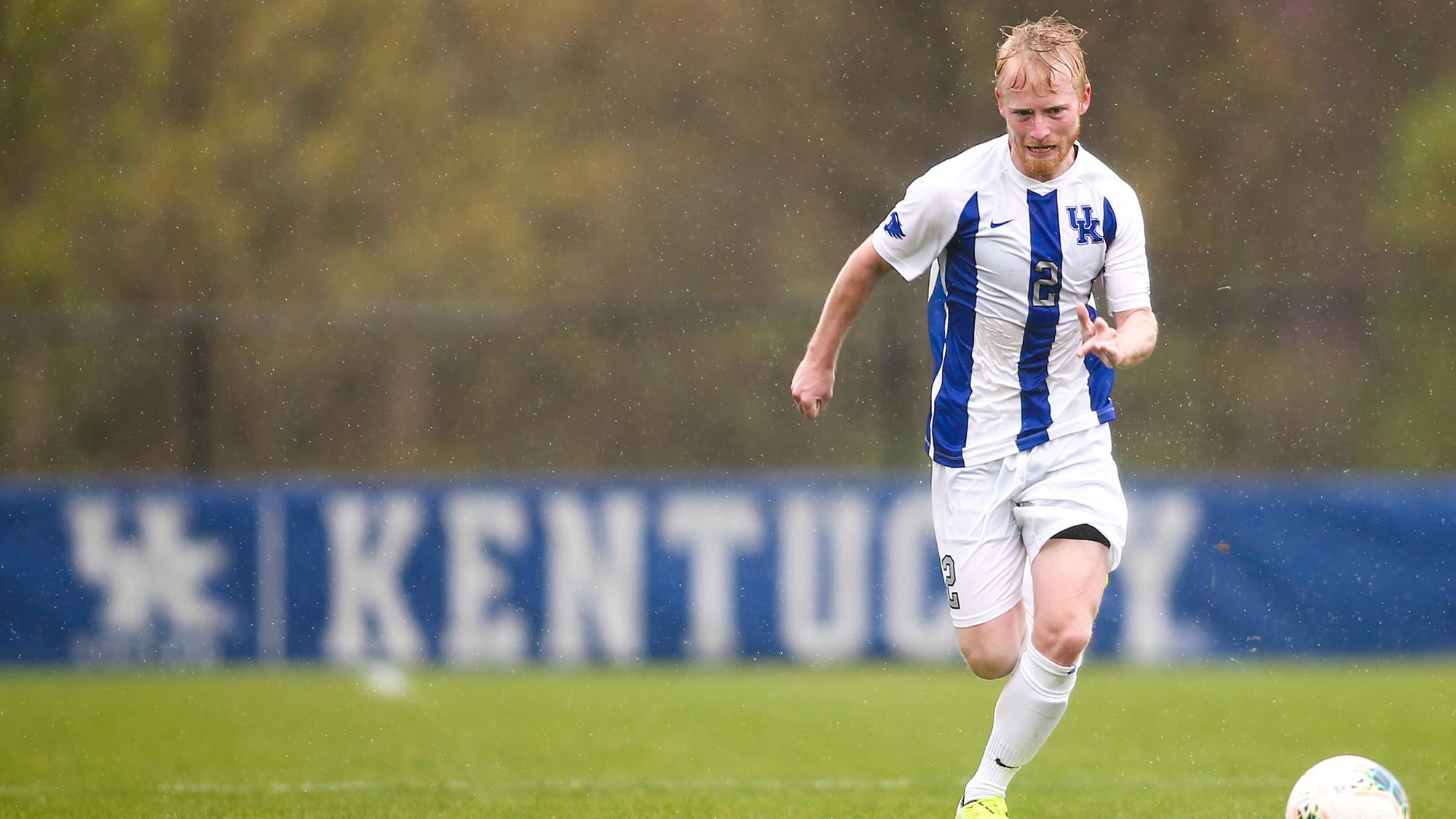 April 17, 2021 - 07:25 PM
Wildcats Beat Gamecocks 2-1 in Regular Season Finale
COLUMBIA, S.C. – Exactly seven months after kicking off competition, Kentucky (11-4-2, 3-3-1 Conference USA) concluded its 2020-21 regular season with a 2-1 win at South Carolina (8-7-1, 2-4-1 C-USA) on Saturday afternoon at Stone Stadium.
 
Robert Screen and Marcel Meinzer each scored an unassisted goal against the Gamecocks, whose head coach Mark Berson is set to retire after 43 years at the helm of the program.
 
In the first half of a contest in which Kentucky ultimately outshot its opponent 20-9, the Wildcats got on the scoreboard first in the 29th minute when Screen's corner kick from the left side of the field bounced off the hands of South Carolina goalkeeper Ryan Bilichuk and landed directly in the back of the net.
 
The go-ahead goal was the first of Screen's junior campaign and the second of the defender's career.
 
After heading into halftime with a 1-0 lead, Kentucky was granted another opportunity to strengthen its advantage when Gamecock Jake O'Connor was called for a foul in his own penalty box just after the 56-minute mark.
 
Meinzer converted the penalty kick, notching his third goal in the last three matches.
 
South Carolina's Justin Kopay answered back in the 86th minute just 120 seconds after receiving a yellow card, but the Cats held on for a fourth straight victory in the head-to-head series between the only Southeastern Conference member institutions to participate in varsity men's soccer.
 
Defenders Leon Jones, Trey Asensio and Jalen Bigby, as well as midfielder Bailey Rouse, played all 90 minutes in the winning effort, while goalkeeper Enrique Facusse logged three saves.
 
With no conference tournament on the horizon, Kentucky's postseason hopes hinge on a potential at-large berth to a condensed NCAA Championship field. The NCAA Selection Show will air Monday at noon ET on NCAA.com.
 
For the latest on the Kentucky men's soccer team, follow @UKMensSoccer on Twitter, Facebook and Instagram, as well as on the web at UKAthletics.com.