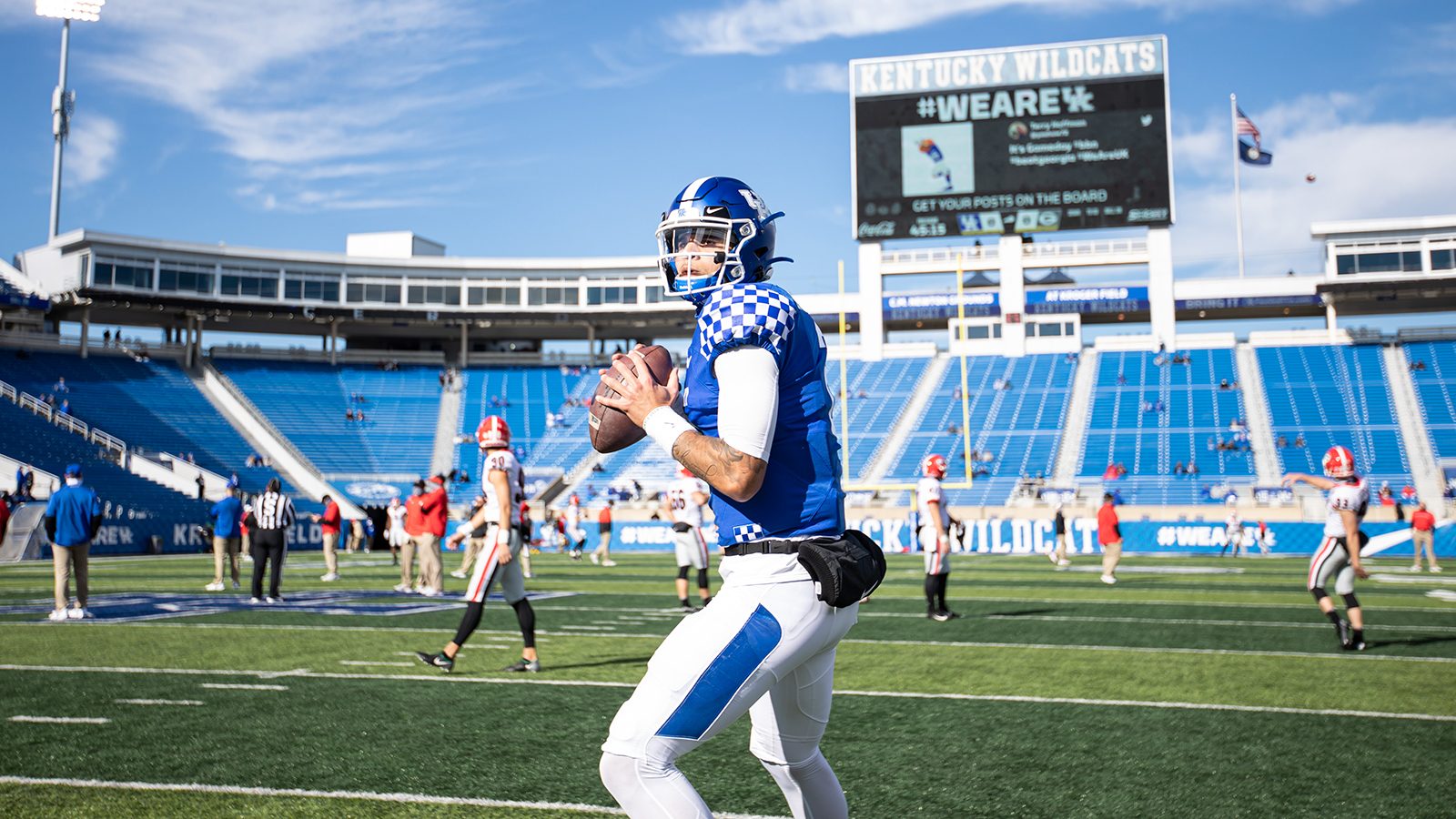 The Kentucky football team wrapped up its spring practice on Saturday with a scrimmage inside Kroger Field. The big question for head coach Mark Stoops, and for the Big Blue Nation, remains unanswered at this point. Who will be UK's starting quarterback this fall?
Stoops likes what he has seen from both junior Joey Gatewood and sophomore Beau Allen.
"Both guys that are in competition for the starting job maybe alternated days," Stoops said. "Both of them have done some really good things. You can see the confidence in both guys growing. They've really done a nice job."
In particular, the UK head coach pointed out a few things that each player has done well.
"I will say Joey has done a really nice job off the play actions and the waggles in this system," Stoops said. "Hitting some deep balls and we've gotten the ball downfield better than we have in some time. That's been good to see. Beau had some really good ones today as well. He dropped a dime on a deep pass today, in a predictable pass situation today that I would have liked to have seen the receiver come up with a catch, it could have been a touchdown. Both guys have really shown some good signs."
When asked which players have shown the most improvement this spring, Stoops again cited his signal callers.
"I think both quarterbacks have made big strides," Stoops said. "I see the confidence in them. I see the awareness of where to go with the football. I think we all understand that we need to improve and play better at that position. But I do see the confidence in the quarterbacks growing and that's rubbing off on the other guys. I think Beau and Joey are guys that I'm seeing make a lot of growth this spring, which is important."
Gatewood played in seven games last season, connecting on 17 of 35 through the air for 109 yards with an interception. He also rushed seven times for 62 yards.
Allen played in two games last year as a true freshman. The Lexington Catholic product hit on three of his seven passes for 40 yards.
Overall, Stoops seemed pleased with his team's effort during the five-week spring practice period.
"Really good day today. I feel good about wrapping up spring," Stoops said. "The guys have worked really hard for five weeks. It's a long time to compete against each other. It's been a good five weeks, we've gotten a lot of work done. Overall, very successful spring."
That good work bodes well for the Cats as the offseason begins. It will take more work, and more time, for Stoops to be ready to name his starting quarterback for this fall. But the UK head man likes where his quarterbacks are at the completion of spring drills.