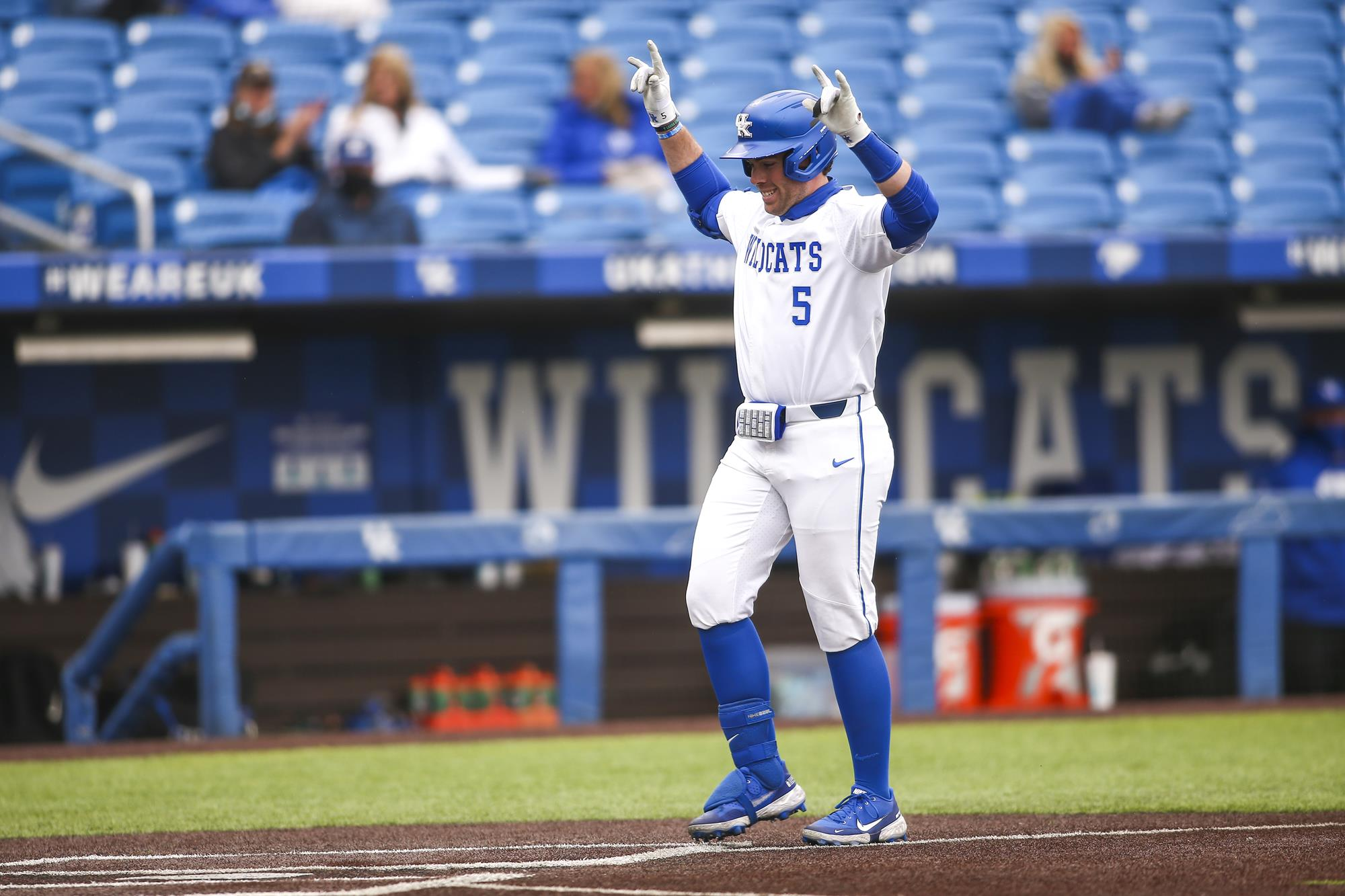 ATHENS, Ga. – T.J. Collett smacked the 36th home run of his career as he continues to climb Kentucky's all-time chart but the Wildcats fell 8-7 to No. 20 Georgia at Foley Field on Saturday night. The teams will play a decisive game in the series on Sunday afternoon.
 
Collett moved into seventh place on the school's career list with a mammoth blast that clanked off the light tower in centerfield as the Cats fought their way back from a 3-0 first inning deficit. The senior from Terre Haute, Indiana, is tied with Jeff Shartzer (1979-81) and needs just one more to move into a four-way tie for fourth. The blast also was his 10th of the season, making him the first player in school history to have three double-digit homer seasons.
 
The Cats (22-10, 7-7 SEC) spotted Georgia a three-run lead after three batters on a single, hit batter and home run but starter Sean Harney settled in after that, striking out nine in 4.2 innings before giving way to the bullpen. Meanwhile, the offense battled back and tied things at four in fifth inning with the first four batters of the inning reaching base, although they left a pair of runners in scoring position in the inning.
 
Georgia took advantage of the leadoff man reaching base each of the final three innings, scoring each time as it took an 8-5 lead into the ninth. UK, as it has all season, would fight to the bitter end with Trae Harmon drawing a walk as a pinch hitter in front of Austin Schultz, who blasted a two-run homer int the trees beyond left field with the Cats down to their final strike.
 
On Sunday, the Cats will send sophomore right-hander Zack Lee to the mound in search of a second road series win in three attempts in conference play. First pitch is set for 1 p.m. ET on the SEC Network Plus.
 
 
GAME SCORING
Bottom 1st – McAllister singled through the left side, Cole Tate was hit by a pitch and Collins homered to RF. Georgia 3, UK 0.
 
Top 2nd – Oraj Anu homered to LF. Georgia 3, UK 1.
 
Top 4th – T.J. Collett homered to CF. Georgia 3, UK 2.
 
Bottom 4th – Blaylock homered to CF. Georgia 4, UK 2.
 
Top 5th – Jacob Plastiak singled up the middle and advanced to third on Ryan Ritter's double inside the RF line. Plastiak and Ritter scored on Chase Estep's single up the middle. UK 4, Georgia 4.
 
Bottom 6th – Connor Tate singled and Blaylock singled. King singled up the middle, scoring Tate. Wagner moved the runners up with a SAC bunt. Blaylock scored on a SAC fly. Georgia 6, UK 4.
 
Bottom 7th – McAllister hit a leadoff double, advanced to third on a SAC bunt and scored on Collins' SAC fly. Georgia 7, UK 4.
 
Top 8th – John Rhodes and Anu both hit by pitches. Plastiak singled to CF, Rhodes scored. Georgia 7, UK 5.
 
Bottom 8th – Blaylock reached on a leadoff double. Floyd pinch ran, advanced to third on a wild pitch and scored on Wagner squeeze bunt. Georgia 8, UK 5.
 
Top 9th – Trae Harmon walked. Austin Schultz homered to LF. Georgia 8, UK 7.
 
 
NOTES
UK is 22-10 overall, 7-7 in SEC play.
The Cats are 5-4 on the road this season.
The Cats are 2-4 vs. ranked opponents this season, with all six games coming on the road.
UK is 48-for-51 on stolen base attempts this season.
Senior 1B T.J. Collett went 1-for-5 with a solo home run.

It was his 10th home run of the season. This is the third time in his career he's hit double-digit home runs in a season.
Collett now has 36 career home runs, moving into a tie for seventh place on UK's career list with Jeff Shartzer (1979-81).
Collett now has 135 career RBI, moving him into 12th place on the all-time UK list.

Senior C Coltyn Kessler has reached safely in 19 of his past 20 games.
Junior IF/OF Austin Schultz went 1-for-5 with a two-run home run.

Schultz has reached base safely in 85 of 92 career games.
It was his third home run of the season.

Senior RHP Sean Harney made his first start for Kentucky.

Harney worked 4.2 IP, allowing five hits, four runs and striking out nine.
The nine strikeouts are the second-most in his career and most in a UK uniform. He had 10 for UMass in 2019.
 
ON DECK
The series will be decided on Sunday afternoon. First pitch on is set for 1 p.m. ET on the SEC Network Plus. The radio call will be on the UK Sports Network.