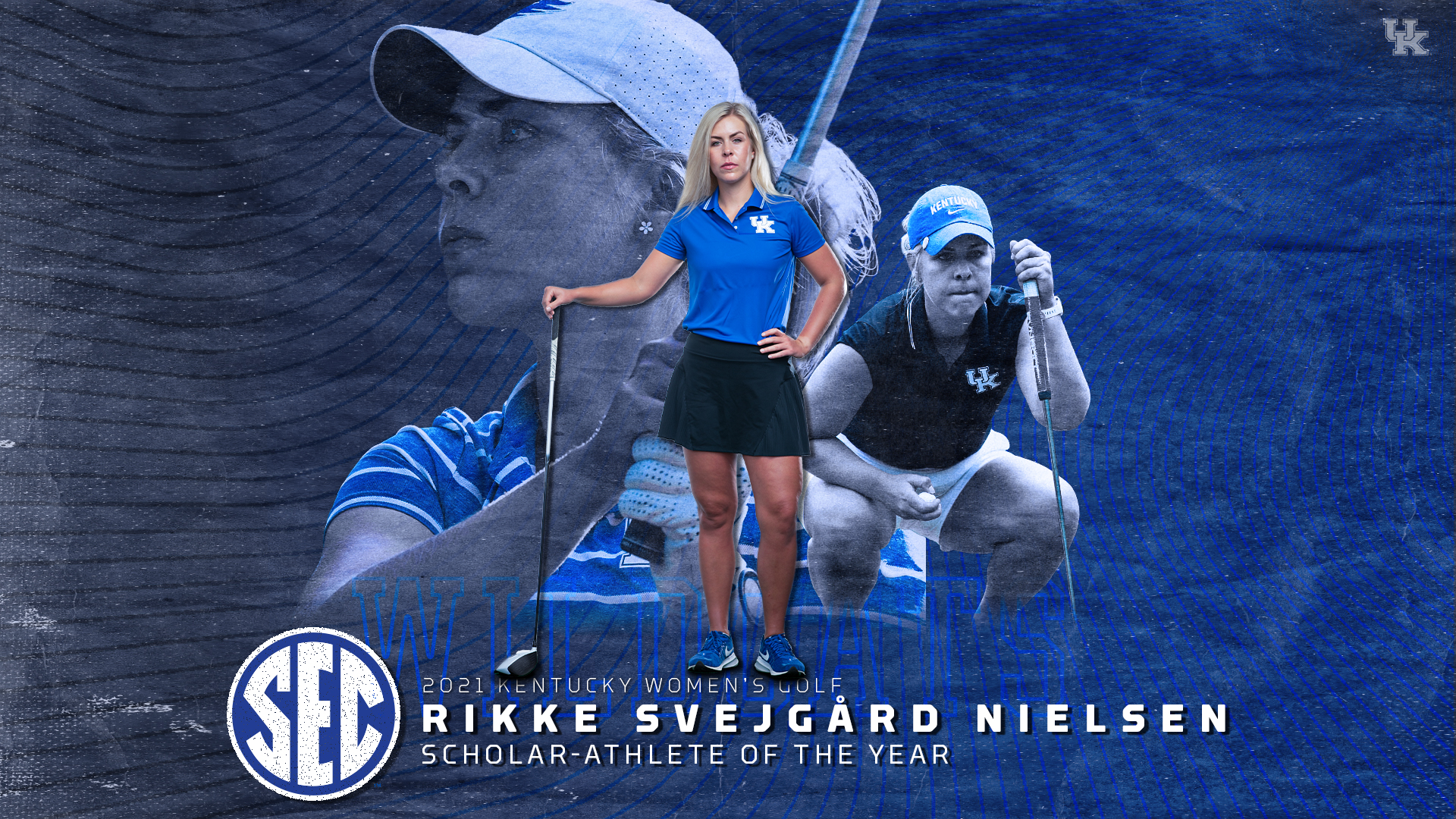 April 16, 2021 - 06:57 PM
Svejgård Nielsen Wins SEC Women's Golf Scholar-Athlete of the Year
BIRMINGHAM, Ala. – Kentucky women's golf senior Rikke Svejgård Nielsen was named the Southeastern Conference Women's Golf Scholar-Athlete of the Year on Friday for her exemplary work in the classroom and her excellence on the course.
 
Svejgård Nielsen was awarded the honor on Friday afternoon following the stroke-play portion of the SEC Championship. She is the third UK women's golfer in school history to win the award and the first since 2009. Beth Felts was the Wildcats' first winner in 2007 and Mallory Blackwelder earned the honor in 2009.
 
"I was really surprised to win this award," Svejgård Nielsen said. "I had no idea at all and I was very startled when I realized that I was going to be this year's recipient. I want to thank my teammates, the coaching staff and our CATS (Center for Academic and Tutorial Services) staff for pushing me and motivating me to be the best I can be both on the course and in the classroom. I'm so honored to represent them, the University of Kentucky and the SEC."
 
Academically, Svejgård Nielsen has shined. Even with English as her second language, she has excelled while majoring in agricultural and medical biotechnology with a 3.711 grade-point average. Picking up a minor in neuroscience recently, she earned a perfect 4.0 GPA this fall while balancing athletic competition and the complications of the COVID-19 pandemic.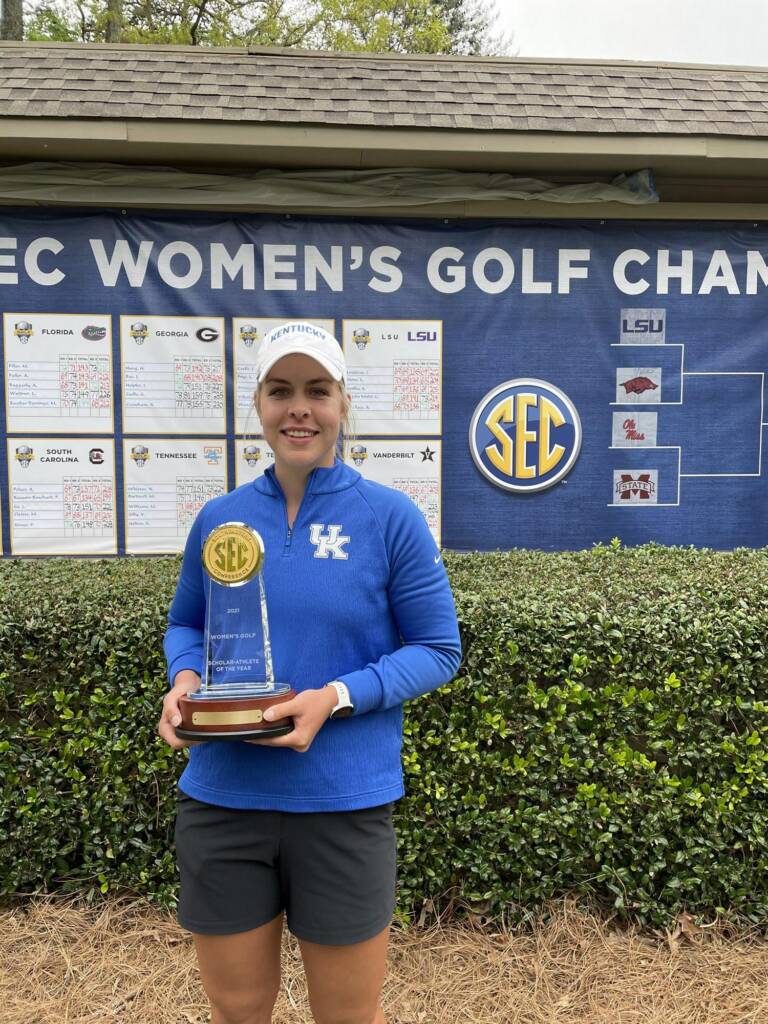 Svejgård Nielsen is a two-time Women's Golf Coaches Association All-American Scholar Team member, a two-time SEC Academic Honor Roll member and has made the university's Dean's List five times. Earlier this season she was inducted into the UK Athletics Frank G. Ham Society of Character, which annually honors Wildcats who have shown an extraordinary commitment to academic excellence, athletic participation, personal development and career preparation while serving as a role model.
 
"I could not be prouder of Rikke," UK head coach Golda Borst said. "Wow, what an accomplishment. She is a true student-athlete and is so deserving of this prestigious award. She works incredibly hard on her academics and her game. As the captain of our team, she has led this group both on the course and in the classroom all season long. She is truly, one of the most disciplined players I have ever had on my team and she has a bright future ahead of her in whatever path she chooses."
 
Currently a junior academically, Svejgård Nielsen plans to attend medical school or chiropractic school following graduation. She aspires to become a doctor with interests in brain or heart surgery and chiropractic medicine.
 
Svejgård Nielsen has a specific interest in how the body works in relation to brain functions, including how the brain receives, processes, and communicates input and stimuli. She has an internship lined up in the fall where she will be conducting research on how glycosylation and glycogen are relevant in different disease stages of Alzheimer's disease.
 
On the course, Svejgård Nielsen has been nearly as impressive.
 
One of the most experienced golfers on a deep and talented Kentucky roster, Svejgård Nielsen has appeared in 25 events with 70 rounds of competition in her three seasons of athletic eligibility so far. She leads UK with nine career top-20 finishes and three top-10 showings, including winning the MSU Greenbrier Invitational in her debut tournament in 2018 as a sophomore (she did not have a freshman season). She carries a 75.1 career stroke average.
 
In the 2020-21 season, Svejgård Nielsen has shown admirable perseverance. After battling consistency issues for the first half of the season and going without a top-20 showing for the first six tournaments, she turned it on for the most important time of the year with top-20 finishes in each of the last two regular-season tournaments leading up to the SEC Championship.
 
Last month at the Liz Murphey Collegiate Classic, Svejgård Nielsen rebounded from a 79 in the opening round with a 71 in the second and a 73 in the third to tie for 16th place and lead the Wildcats from a 15th-place standing on day one to a season-best third-place finish.
 
Last week at the LSU Tiger Golf Classic, Svejgård Nielsen posted a season-low 221 (5-over par) thanks to a final-round 70 (2-under par) to fuel another UK comeback and help the Wildcats to a sixth-place performance.
 
Svejgård Nielsen posted her best 54-hole total of the season this week, a 2-over-par 218, at the SEC Championship. Although Kentucky failed to qualify for match play this weekend, with Svejgård Nielsen's strong play down the stretch and her leadership as the team captain, the Wildcats are a virtual lock for the NCAA postseason. Ranked No. 35 in the Golfstat rankings entering this week, UK is looking to make NCAA Regionals for the seventh time in the 11-season Borst era.
 
Svejgård Nielsen has been a member of the Danish national team since 2015. She has also been a leader in the community, volunteering with the Salvation Army, Special Olympics, God's Pantry, Christmas with Santa, and coaching young golfers with Kenneth Hansen Golf.
 
Kentucky will return home following the SEC Championship and continue preparing for the remaining postseason. The field for the May 10-12 NCAA Regionals will be announced on the Golf Channel on April 28.
 
For the latest on the Kentucky women's golf team, follow the team on Twitter, Facebook, and Instagram, as well as on the web at UKathletics.com.
 
Introducing your 2021 @SEC Women's Golf Scholar-Athlete of the Year: @rikkesvejgaard!!! pic.twitter.com/JZcGwfRXEV

— Kentucky W. Golf (@KentuckyWGolf) April 16, 2021