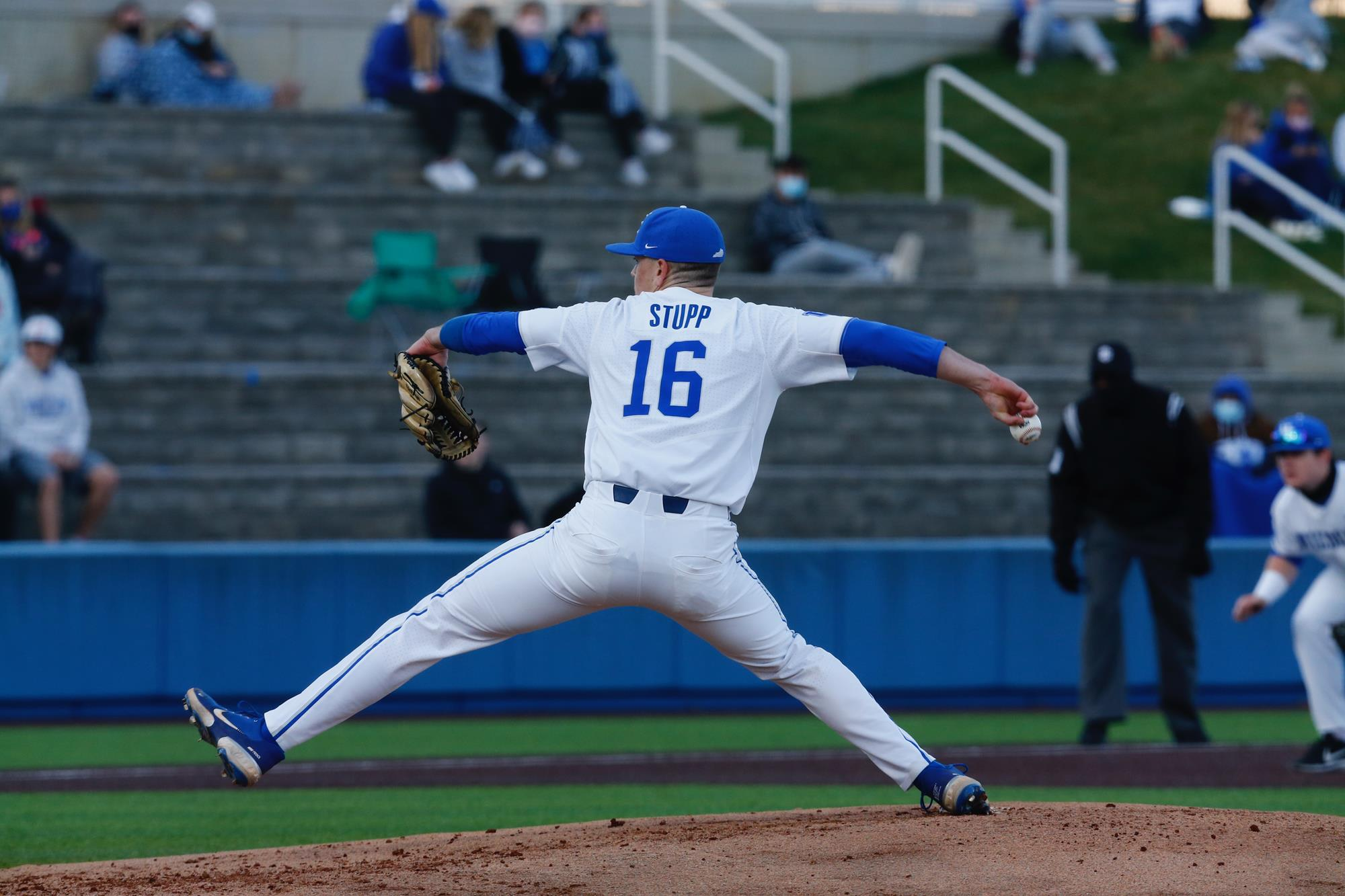 ATHENS, Ga. – Cole Stupp pumped his fist, turned and let out a primal yell, the final act of a dominant performance that pushed Kentucky to a 6-1 victory over No. 20 Georgia at Foley Field on Friday night.
 
Taking the mound barely more than an hour from his hometown of Milton, Georgia, with a large family contingent in attendance, Stupp delivered arguably the best outing of his career, spinning 8.0 innings of one-run baseball as the Wildcats earned their second road win over a ranked team. The sophomore right-hander blanked the Bulldogs for the first 7.2 innings before they scratched across a single run, but Stupp blew a fastball past Chaney Rogers to end the inning, finally allowing the stoic pitcher to let his emotion explode.
 
The win moved UK to 22-9 overall on the season and 7-6 in Southeastern Conference play with an opportunity to secure a second road series win in the first half of the league schedule. Georgia, coming off a series win over No. 1 Vanderbilt, fell to 21-12 overall, 5-8 in SEC play.
 
The Cats found ways to manufacture runs all evening and produced three two-out runs, including a pair in the seventh that made it 4-0. In the second, Austin Schultz singled with two outs, stole second and then scored on T.J. Collett's RBI single. In the seventh, Collett was hit by a pitch to load the bases after a nine-pitch at bat before John Rhodes and Coltyn Kessler each walked to force in runs.
 
 
GAME SCORING
Top 3rd – Schultz singled to CF, stole second and scored on T.J. Collett's single to LF. UK 1, Georgia 0.
 
Top 4th – Coltyn Kessler was hit by a pitch, stole second and moved to third on Oraj Anu's single. Ryan Ritter hit a SAC fly to RF, scoring Kessler. UK 2, Georgia 0.
 
Top 7th – Reuben Church walked, Schultz reached on an error and Collett was hit by a pitch to load the bases with two outs. John Rhodes drew a walk, forcing Church home. Kessler walked, Schultz scored. UK 4, Georgia 0.
 
Bottom 8th – Blaylock hit a two-out double and scored on King's single to LF. UK 4, Georgia 1.
 
Top 9th – Schultz singled to RF, advanced to second on a passed ball and third on a throwing error by the pitcher. Rhodes doubled to RCF, Schultz scored. Rhodes stole third and scored on Kessler's fielder's choice. UK 6, Georgia 1.
 
 
NOTES
UK is 22-9 overall, 7-6 in SEC play.
The Cats are 5-3 on the road this season.
The Cats are 2-3 vs. ranked opponents this season, with all five games coming on the road.
UK is 48-for-51 on stolen base attempts this season.
The Cats had a shutout streak of 17.2 innings end in the 8th inning.
The Cats now are 19-1 this season when leading after seven innings and 115-9 under Coach Mingione.
Senior C Coltyn Kessler has reached safely in 18 of his past 19 games.

Kessler drove in a pair of runs on a walk and fielder's choice.

Junior IF/OF Austin Schultz went 2-for-5 with three runs.

Schultz has reached base safely in 84 of 91 career games.
It was his 16th multi-hit game of the season and 31st career.
Schultz stole a base and now is 15-of-16 on the season.
The three runs tied Schultz's career high. He has scored eight runs in the past three games.

Sophomore RHP Cole Stupp was magnificent in earning the win.

Stupp pitched 8.0 innings, a new career high, allowing one run, walking one and striking out eight.
Stupp did not allow a run through the first 7.2 innings, pushing UK's shutout streak to 17.2 consecutive innings.
He allowed just one extra-base hit.
Stupp lowered his season ERA to 3.02.
 
ON DECK
The Cats seek a series win at No. 20 Georgia on Saturday. First pitch on is set for 7 p.m. ET on the SEC Network. The radio call will be on the UK Sports Network.