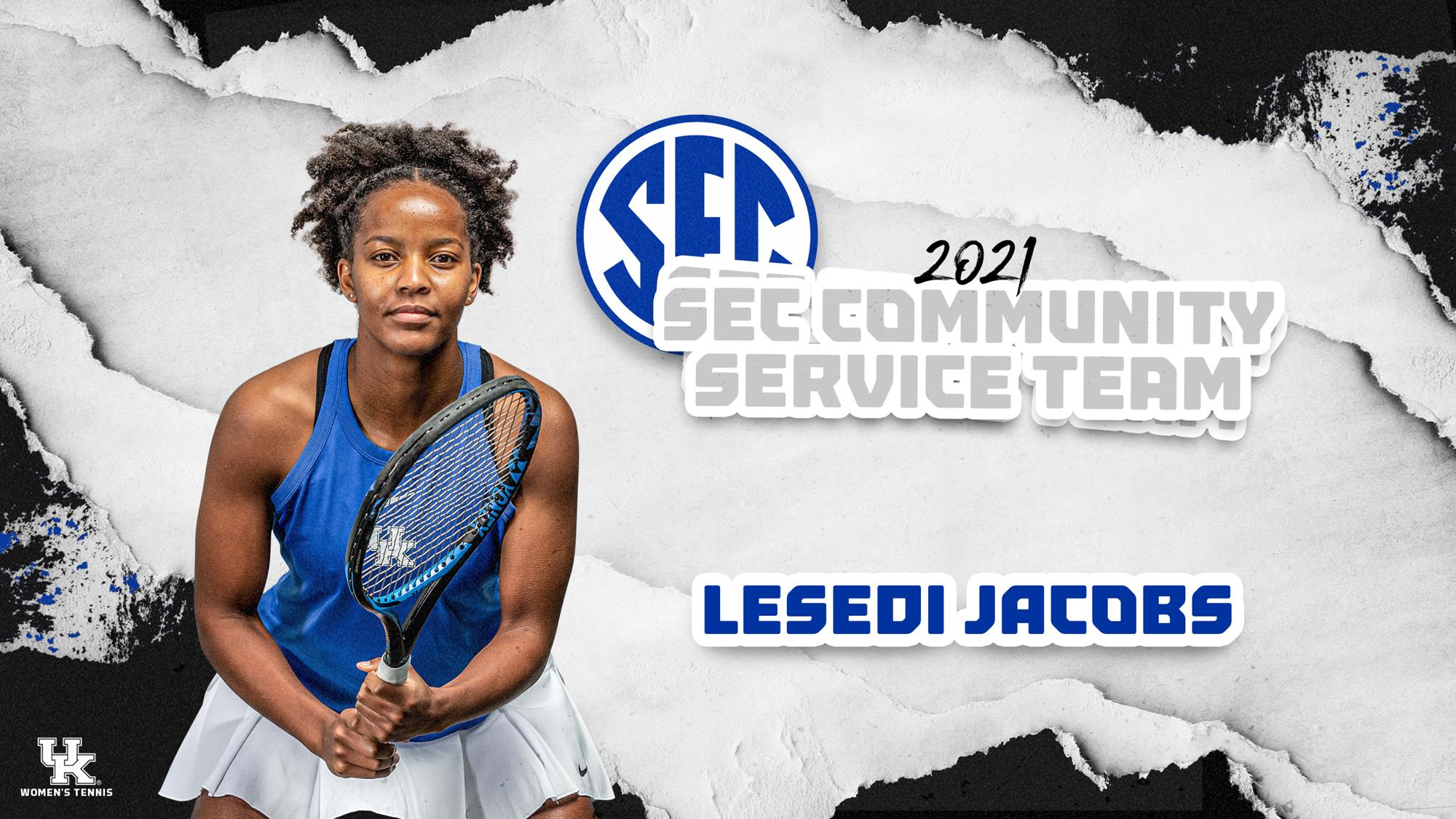 April 15, 2021 - 03:07 PM
Lesedi Jacobs Tabbed to SEC Community Service Team
BIRMINGHAM, Ala. – Kentucky women's tennis senior Lesedi Jacobs was recognized as one of 14 athletes selected to the annual Southeastern Conference Community Service Team for her hard work and dedication to serving others during her time as a Wildcat. Jacobs has logged more than 100 hours during her career.
 
In a continuing effort to recognize the accomplishments of student-athletes beyond the court of competition, the SEC once again highlighted a Community Service Team for women's tennis for the 2020-21 season. All league-sponsored sports have had a Community Service Team since 2004, with at-large teams for men's and women's sports being chosen from 1999-2003.
 
Jacobs leads the women's tennis team with 189 hours of community service during her collegiate career. The Windhoek, Namibia, native has touched many diverse organizations in the community, spreading her service across more than 10 different organizations.
 
Some of the groups that she had touched include Special Olympics Kentucky, Amachi Central Kentucky, Habitat for Humanity and the Backpack Program. Through Amachi Central Kentucky, she is able to create relationships with children of incarcerated parents, serving as a friend and mentor to the same children on a regular basis. For the Backpack Program, Jacobs packs hundreds of bags of donated foods, goods and supplies to give to underprivileged children in the greater Lexington community for week nights and weekends.
 
Jacobs was also inducted into the 2020 Frank G. Ham Society of Character, a group of student-athletes honored each year who show a profound commitment to the following areas: academic excellence, athletic participation, personal development, community service and career preparation.
 
UK's senior joins teammate Akvile Paražinskaite as the only two players in program history to earn selection to the SEC Community Service team in consecutive seasons.
 
Jacobs is 9-4 overall on the season and ranked No. 95 in the country in singles play as a senior. She is 7-4 on court No. 3 and 2-0 on court No. 4, while also earning a 1-1 mark against ranked foes. UK's senior leader is a perfect 8-0 in doubles action on court No. 3. She has teamed with Salsa Aher for seven straight wins and a perfect 7-0 record in doubles action. Jacobs is also 1-0 paring with Elizabeth Stevens.
The 2021 Southeastern Conference Tournament begins action on Monday in Tuscaloosa, Alabama. Regular-season competition has yet to finish for all member institutions therefore UK's opponent and time for its opening-round match has not been determined yet.
 
For the latest on the Kentucky women's tennis program, follow @UKWomensTennis on Twitter and on Instagram, on Facebook and on the web at UKathletics.com.