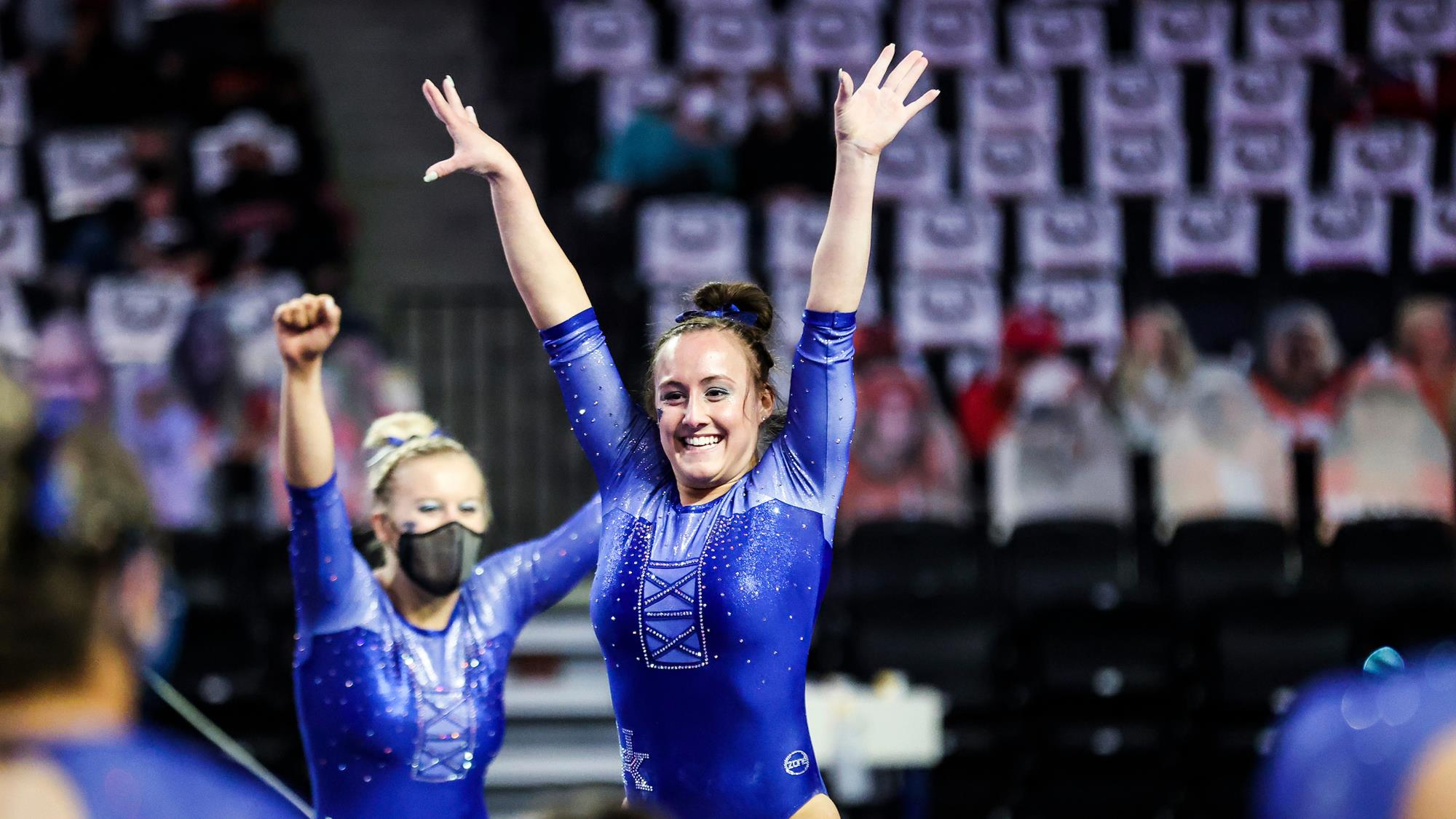 April 15, 2021 - 04:51 PM
Raena Worley, Bailey Bunn Prepare for NCAA Championships
FORT WORTH, Texas – Raena Worley and Bailey Bunn are set to put a bow on the 2021 season at the NCAA Championships on Friday at 1 p.m. ET, with Bart Conner and Kathy Johnson Clarke live on the call for ESPN2.
 
Though No. 11 Kentucky did not qualify for the NCAA Championship semifinals as a team, Worley and Bunn will each vie for a national title as individual competitors in Semifinal I against No. 2 Michigan, No. 3 Florida, No. 6 California, No. 8 Minnesota and eight individuals from No. 9 Arizona State, No. 10 Denver, No. 13 Arkansas, No. 14 Missouri, No. 19 BYU and No. 43 Illinois State.
 
At the end of the night, scores from Semifinals I and II—featuring No. 1 Oklahoma, No. 4 LSU, No. 5 Utah, No. 7 Alabama and 10 more individuals from Arkansas, No. 12 UCLA, No. 15 NC State, No. 22 Oregon State, No. 26 Central Michigan, No. 27 Arizona and No. 40 Rutgers—will be compared to determine the national champion of each individual event and to determine which four teams will advance to Saturday's NCAA Championship final.
 
The Wildcats will perform one routine apiece. Worley will get started in the competition's opening rotation alongside Minnesota on vault. She earned her spot for a career-high- and third-place-tying 9.900 vault routine among 55 competitors at the NCAA Salt Lake City Regional second round on April 2.
 
Bunn will also compete alongside the Golden Gophers, making her debut in the third rotation on balance beam. Bunn qualified for nationals with a fourth-place-tying 9.900 performance among the Salt Lake City Regional's 52 beam competitors.
 
Kentucky has earned eight individual NCAA titles in program history, each claimed by UK Athletics Hall of Famer Jenny Hansen.
 
For the latest on the Kentucky gymnastics team, follow @UKGymnastics on Twitter, Facebook and Instagram, as well as on the web at UKAthletics.com.