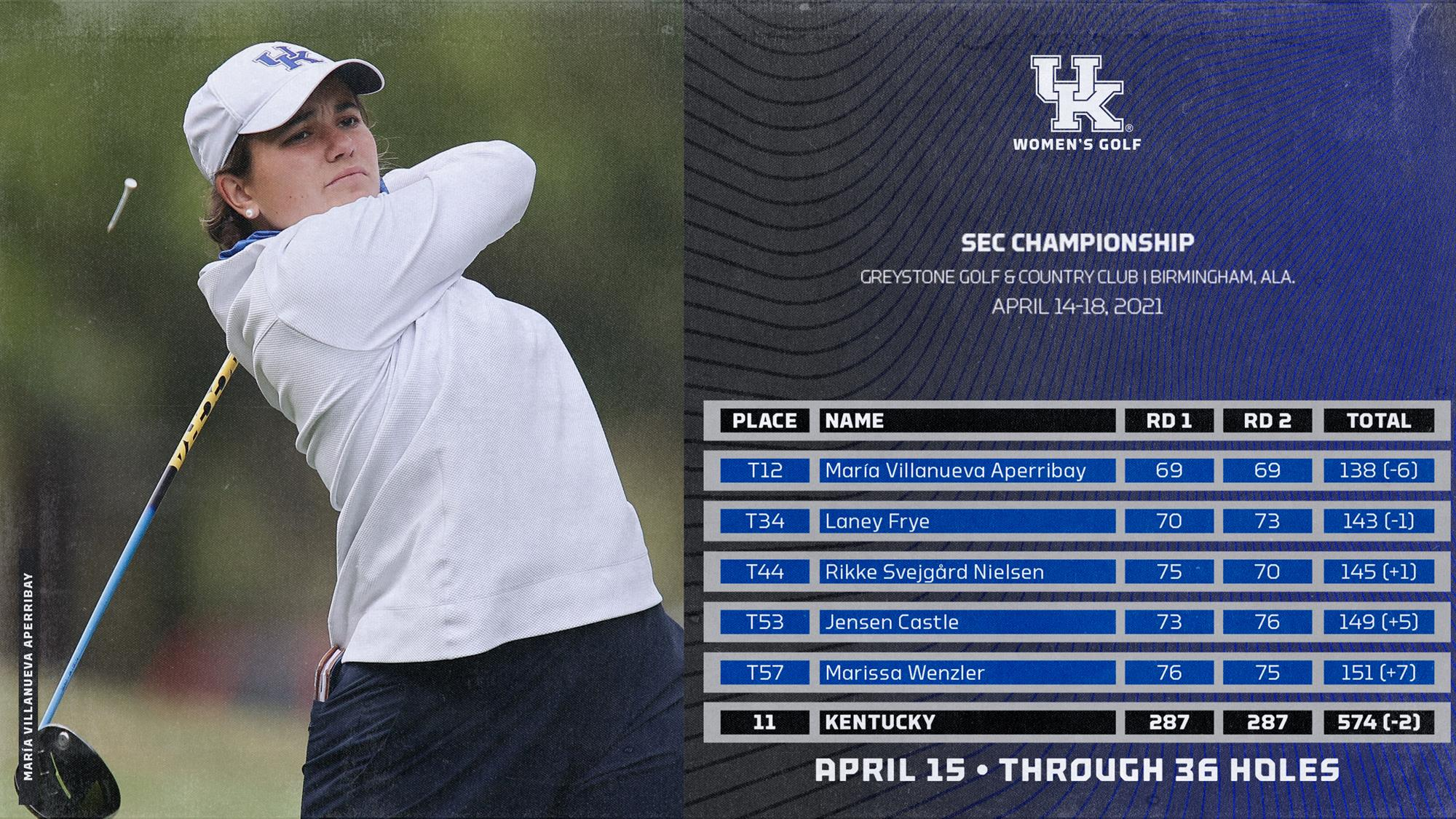 April 15, 2021 - 08:25 PM
UK Five Shots Back of Cut Line Heading into SEC Stroke-Play Finale
BIRMINGHAM, Ala. – The Kentucky women's golf team enjoyed a second straight solid day at the Southeastern Conference Championship, but the Wildcats will have ground to make up at Friday's stroke-play finale if they hope to qualify for match play on the weekend.
 
UK shot a 1-under-par 287 for a second straight round – tying both the program's SEC Championship 18-hole low and its season-best 18-hole score – to hold serve with the field Thursday, but the Wildcats, currently in 11th place at 2-under par overall, are five shots and three teams back of the coveted eighth spot.
 
The top eight teams after three rounds of stroke competition qualify for match play at the Greystone Golf & Country Club's Legacy Course (par 72, 6,253 yards) in Birmingham, Alabama.
 
"Today was a bit more of a grind for us," UK head coach Golda Borst said. "We had to fight through some tough holes early, but the team hung in there and we were able to make some birdies on our back nine. We played the par 5s better but had a couple big numbers, so we have a couple things we need to tighten up. But overall we are so close to a great round."
 
Kentucky received another spectacular effort from sophomore María Villanueva Aperribay, who shot a 3-under-par 69 for the second consecutive round, as well as senior Rikke Svejgård Nielsen, who fired a 2-under-par 70.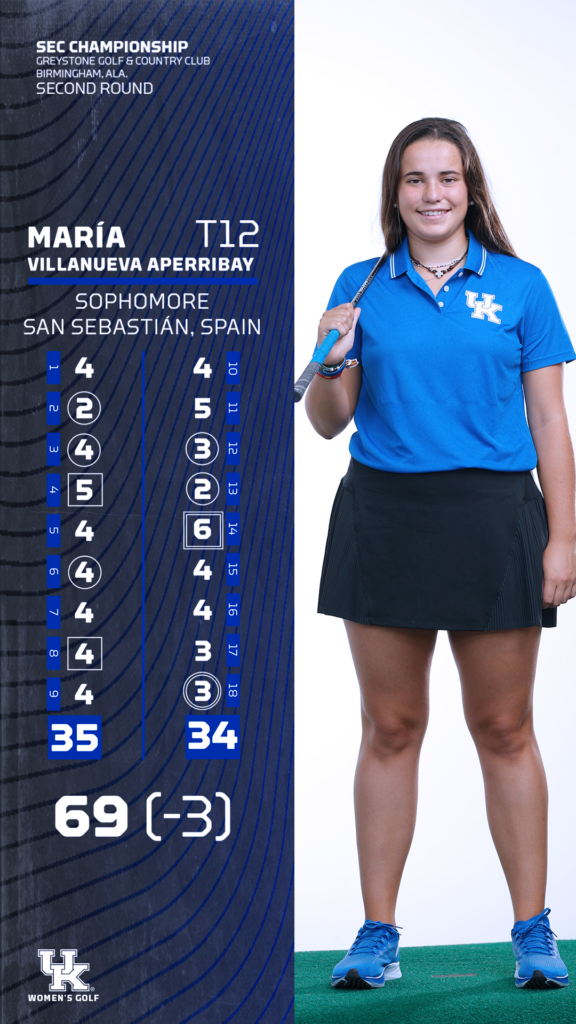 Fourth-ranked LSU leads the 14-team field at 28-under par, five shots ahead of top-ranked South Carolina. The Gamecocks' Pauline Roussin-Bouchard, the No. 1 player in the country, is atop the individual leaderboard at 10-under par with a two-shot lead.
 
But all eyes Friday will be on the race for eighth place. No. 23 Alabama and Vanderbilt currently occupy the final two spots in a tie for seventh at 7-under par. No. 24 Florida and Tennessee are tied for ninth at 5-under par.
 
The Wildcats will need to leapfrog at least three teams Friday to qualify for the eighth spot and make match play for the first time in what will be the third season of the NCAA-patterned format. The final round begins again at 9 a.m. ET with UK slated to tee off No. 10 at 9:20 a.m. ET for a second straight day. Live scoring will continue to be available at Golfstat.com.
 
"We have given ourselves the opportunity to have a chance tomorrow," Borst said. "Now we need to handle the moment, stick to our plan and play our game."
 
Kentucky's bid for a comeback is definitely in reach. The Wildcats need to look no further than their last two events – their best overall performances of the season – for inspiration.
 
At the Liz Murphey Collegiate Classic last month, UK climbed from 15th place after the first round to seventh on the second day and a season-best third by the conclusion of the tournament. At last week's LSU Tiger Golf Classic, Kentucky was tied for 11th place after the second round and finished in a tie for sixth place. Both of those comebacks were largely against SEC competition.
 
And the Wildcats will have more than just previous event success to draw upon. UK has posted several solid rounds this week, led by Villanueva Aperribay.
 
The sophomore's gem on Thursday included five birdies and an eagle on the par-5 18th hole. Villanueva Aperribay was as low as 4-under par with two holes to play but bogeyed the par-3 eighth hole, her second-to-last hole of the day, to turn in a 69 for the third time in her last six rounds. She is tied for 12th place.
 
The 69 tied Villanueva Aperribay's career low and the team's 2020-21 team low yet again. The Spaniard, who is on pace to shoot the best 54-hole score of her college career, has fired four of the team's five rounds of 69 this season.
 
Svejgård Nielsen nearly matched Villanueva Aperribay on Thursday with a 2-under-par 70. The senior opened the second round with nine straight pars and made the turn with birdies on two of her next three holes to get to 2-under par for the day. She went bogey-birdie-par to finish the round and carded her season low of 70 for the second time in the last three rounds.
 
Currently tied for 44th at 1-over par overall, Svejgård Nielsen entered the week playing the best golf of anyone on the team after back-to-back top-20 finishes at the Georgia and LSU events. Take away a 5-over-par stretch over four holes after a 50-minute lightning delay in Wednesday's opening round and Svejgård Nielsen has played the other 31 holes at 4-under par.
 
Freshman Laney Frye is two strokes ahead of Svejgård Nielsen at 1-under par and in a tie for 34th. Entering the tournament with a team-best 73.7 stroke average and a team-high three top-20 and two top-10 finishes, Frye continued her season-long strong play with a 1-over-par 73 in the second round.
 
Frye bounced back from some adversity Thursday with a nice finish. She got as high as 4-over par after 11 holes but closed with three birdies and four pars to salvage the round. After Wednesday's 70, she is tied for 34th.
 
Sophomore Marissa Wenzler contributed to team score in the second round with a 3-over-par 75. She is currently in a tie for 57th place at 7-over par overall.
 
For the first time this season, sophomore Jensen Castle's round did not qualify for the team score. With a 4-over-par 76, Castle's perfect streak of rounds counted came to an end at 25. Dating back to last season, the streak reached 38 consecutive rounds.
 
More importantly to this week's task at hand, Castle is tied for 53rd at 5-over par.
 
This week's SEC Championship field features eight teams ranked in the latest Golfstat top 25 and 12 in the top 50.
 
Greystone Golf & Country Club's Legacy Course is once again playing host to the league finale. The Legacy Course is carved naturally from a visually dramatic landscape of placid lakes, meandering streams and the undulation of Alabama's Appalachian foothills. Designed by world-famous architect Rees Jones, each hole is an inviting yet demanding contest. The Zoysia fairways and Bent Grass greens found at Legacy provide golfers with surfaces that are both challenging and rewarding.
 
Kentucky has finished as high as second in the SEC Championship but has never won it. The Wildcats' highest finish in the Borst era is fifth. UK's 885 in in the 2017 tournament was its best 54-hole score in the event's history. UK is well ahead of that pace.
 
For the latest on the Kentucky women's golf team, follow the team on Twitter, Facebook, and Instagram, as well as on the web at UKathletics.com.