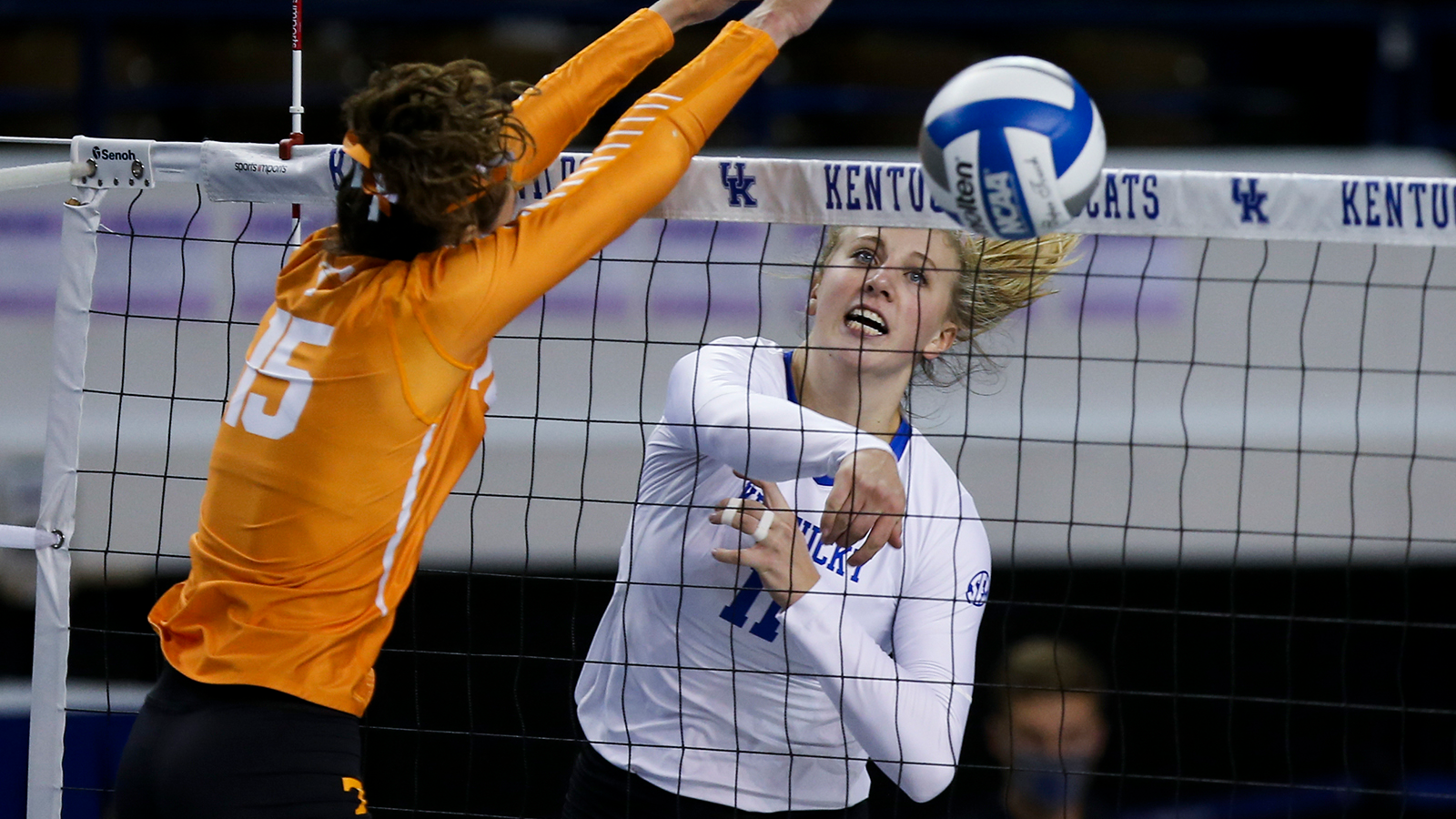 April 15, 2021 - 09:44 PM
Volleyball Freshmen Make Splash in NCAA Tournament Debut
The Kentucky volleyball team began play in the 2021 NCAA Volleyball Tournament on Thursday night in Omaha. As expected, the UK senior class played a huge role as the Cats swept UNLV 25-16, 25-19, 25-18 to advance to the Sweet 16.
What might have been a bit surprising was the play that Kentucky got from its freshmen, who were playing in their first-ever postseason match.
Kentucky (20-1) was led in kills by freshman Madi Skinner and her sister, senior Avery Skinner, who each had 11. Madi's 11 kills came on 15 swings, which included three errors (.533). The younger Skinner also had four block assists in the match, one short of her career high.
Freshman Elise Goetzinger also had a big match for the Cats. Goetzinger had a career-high eight kills with just two errors on 11 swings (.545), while adding a block assist.
Fellow freshman Riah Walker also played a role in the victory. The Sarasota, Florida, native had a pair of service aces for Kentucky, tying her career high.
UK head coach Craig Skinner was impressed with his freshmen on Thursday.
"They were good," Skinner said. "Elise took a few points to get settled in but after that, she was really good, got some good block touches and (was) good offensively. Madi Skinner hits at a different level so it really forces the defenses to defend the whole net. And Riah is one of our best servers and it was good to see her get better and better serving as the match went on."
Madi Skinner admitted that she experienced some nerves but also took comfort in being surrounded by her teammates.
"I think I had a mix of nerves from the beginning, not knowing what to expect, new team, new environment, new court," she said. "But just knowing it's the same teammates, I'm playing with the same girls and that dynamic has been the same, that's been awesome. I just knew I had to play my game and the rest would take care of itself."
Senior setter Madison Lilley knows that this was a moment that the freshmen have been getting ready for all season.
"I think we've been preparing for this since August," Lilley said. "Florida was a really pivotal game, just a way to play under pressure. So, I think everyone's been ready. We're going to see that a lot going forward – certain people having really great nights. I think (the freshmen) just showed what they've been working on, especially the last two weeks, having time to get in the gym and working on connections."
Of course, the UK senior class did its thing in the match. Lilley, who celebrated her birthday on match day, had 44 assists, five digs, two services aces and a kill. In addition to the 11 kills, Avery Skinner had four digs and a block assist. And senior libero Gabby Curry led the team with 10 digs, while adding three assists and a service ace.
Kentucky now advances to Sunday's Sweet 16, where they will meet the winner of the Washington State-Western Kentucky match. And as Kentucky moves forward, having big contributions from the freshman can only help the Cats' cause.