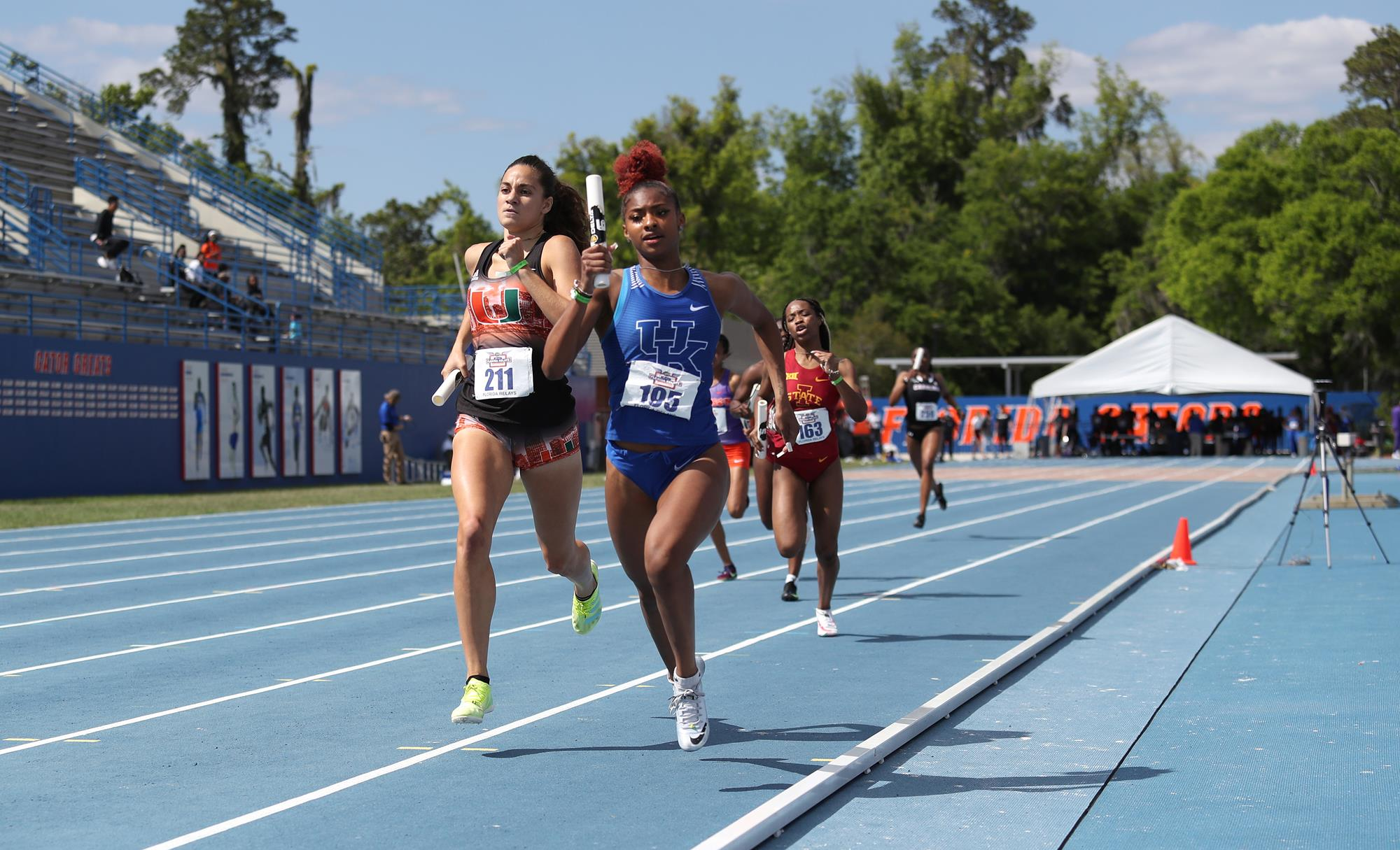 April 15, 2021 - 09:46 PM
Kentucky Track and Field Sends Split Squads to Florida, EKU
GAINESVILLE, Fla. and RICHMOND, Ky. – The nationally ranked University of Kentucky men's and women's track and field teams will split squads for two meets Friday and Saturday, the Tom Jones Memorial Meet at the University of Florida and the Rick Erdmann Twilight Meet at Eastern Kentucky University.
Friday's action on UF's Percy Beard Track at James G. Pressly Stadium begins with field events at 2 p.m. and running events at 6 p.m.  On Saturday, action resumes in the field at 10 a.m. and on the track at noon. 
In addition to Kentucky and host Florida, participating schools include Arkansas, Central Florida, Coastal Carolina, Florida State, Georgia, Jacksonville, Louisville, Miami (Fla.), Mississippi, North Carolina State, North Florida, South Florida and Virginia Commonwealth.  Seven of the 15 women's teams are ranked in the nation's top 25, including No. 22 Kentucky.  Three men's squads are nationally ranked, including the No. 10 Wildcats.  
Sprinters and field event competitors will travel to Gainesville.  The Wildcats hope to return two of their top sprinters, Langston Jackson and Alexis Holmes, who have been sidelined by injury this year.  Abby Steiner, NCAA indoor 200-meter champion, is slated to have her first outdoors action in that event.
Florida meet information:  Schedule | Live Stats |  Day 1 Heat Sheets | Day 2 Heat Sheets
Meanwhile, in Richmond, Kentucky and host EKU will be joined by Furman, Butler, Oklahoma State, Louisville, West Virginia, Northeastern, Eastern Michigan, Grand Valley State, Toledo, Loyola Chicago, Binghamton, Morehead State, Northern Kentucky, Bellarmine, Kennesaw State, Wright State, Miami (Ohio) and Lee (Tenn.).
Wildcats in a variety of events will compete at EKU. Friday's competition at Tom Samuels Track commences with field events at 10:30 a.m. and running at 11 a.m.  Saturday's field events begin at 6 p.m. and running at 6:30 p.m.
Eastern Kentucky meet information: Schedule | Live Stats | Friday heat sheets | Saturday heat sheets
Follow along with the Cats on Facebook, Instagram, Twitter and on the web at UKathletics.com.