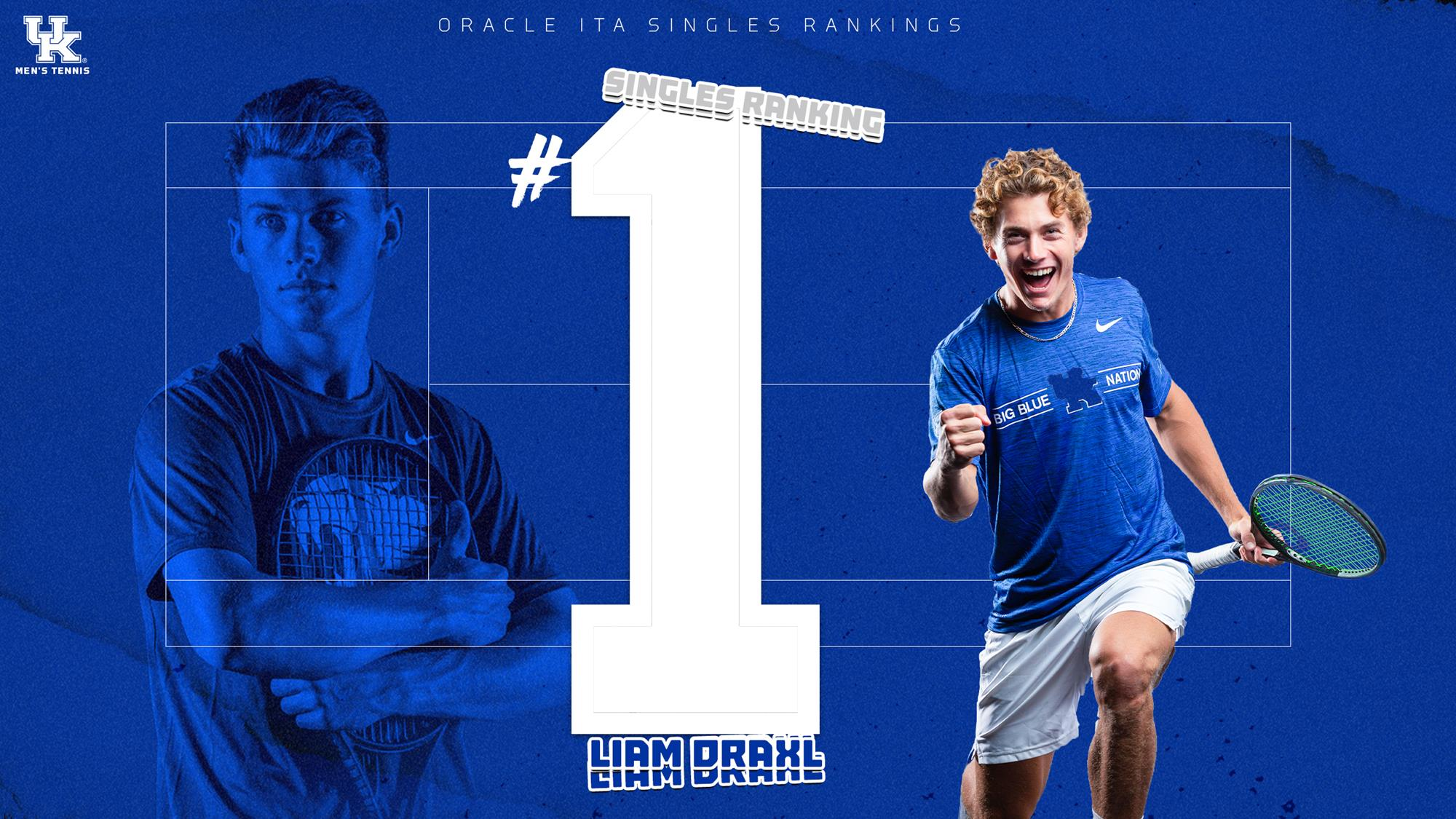 April 14, 2021 - 05:36 PM
Liam Draxl Ranked Top Singles Player in NCAA Division I
LEXINGTON, Ky. – The national spotlight shone bright as ever upon the Kentucky Wildcats men's tennis team on Wednesday afternoon.
 
Upon the release of the latest computerized national rankings by the Intercollegiate Tennis Association, Kentucky sophomore Liam Draxl earned the No. 1 singles ranking in NCAA Division I, while four additional Wildcats combined for five more appearances in the Oracle ITA national rankings. As a team, Kentucky (17-6, 7-5 Southeastern Conference) earned a season-high ranking of No. 14.
 
Just a few hours later, Draxl was named SEC Newcomer of the Week for the second time in three weeks as Joshua Lapadat earned his first SEC Freshman of the Week honor.
 
Draxl captured two ranked singles wins last weekend, totaling nine on the season. The Newmarket, Ontario, native defeated then-No. 11 Finn Reynolds 6-3, 4-6, 6-2 in Kentucky's 5-2 win over No. 12 Ole Miss before beating No. 51 Giovanni Oradini 6-3, 7-6 (7-3) in the Wildcats' 4-0 sweep of No. 16 Mississippi State.
 
Draxl finished the regular season 19-2 overall on the top singles court with a 2-0 mark against the country's top-ranked players at the time, while Kentucky ended the regular season with a perfect 15-0 record at home. Dating back to a 2019-20 season that was cut short by the COVID-19 pandemic, Draxl has never lost a singles match at home.
Gabriel Diallo improved 10 spots to No. 21 in the Oracle ITA singles rankings, followed by a 17-spot jump to No. 43 for Millen Hurrion. César Bourgois made his debut in the singles rankings at No. 97.
 
As a doubles unit, Diallo and Bourgois leaped nine spots further into the top 20 with a season-best ranking of No. 11.
 
Lapadat remained in the national singles rankings at No. 114 after a flawless weekend in both singles and doubles play. The London, Ontario, native defeated Lukas Engelhardt of Ole Miss 6-4, 6-1 before abandoning a match against Carles Hernandez of Mississippi State in which he was up 6-2, 2-2. Lapadat clinched the doubles point alongside Alexandre LeBlanc in both wins for the Cats, defeating Rebels Nikola Slavic and Jakob Cadonau, as well as Bulldogs Oradini and Nicolas Ocana, by scores of 6-2.
 
For the latest on the Kentucky men's tennis team, follow @UKMensTennis on Twitter and Facebook, @kentuckymenstennis on Instagram, and on the web at UKAthletics.com.