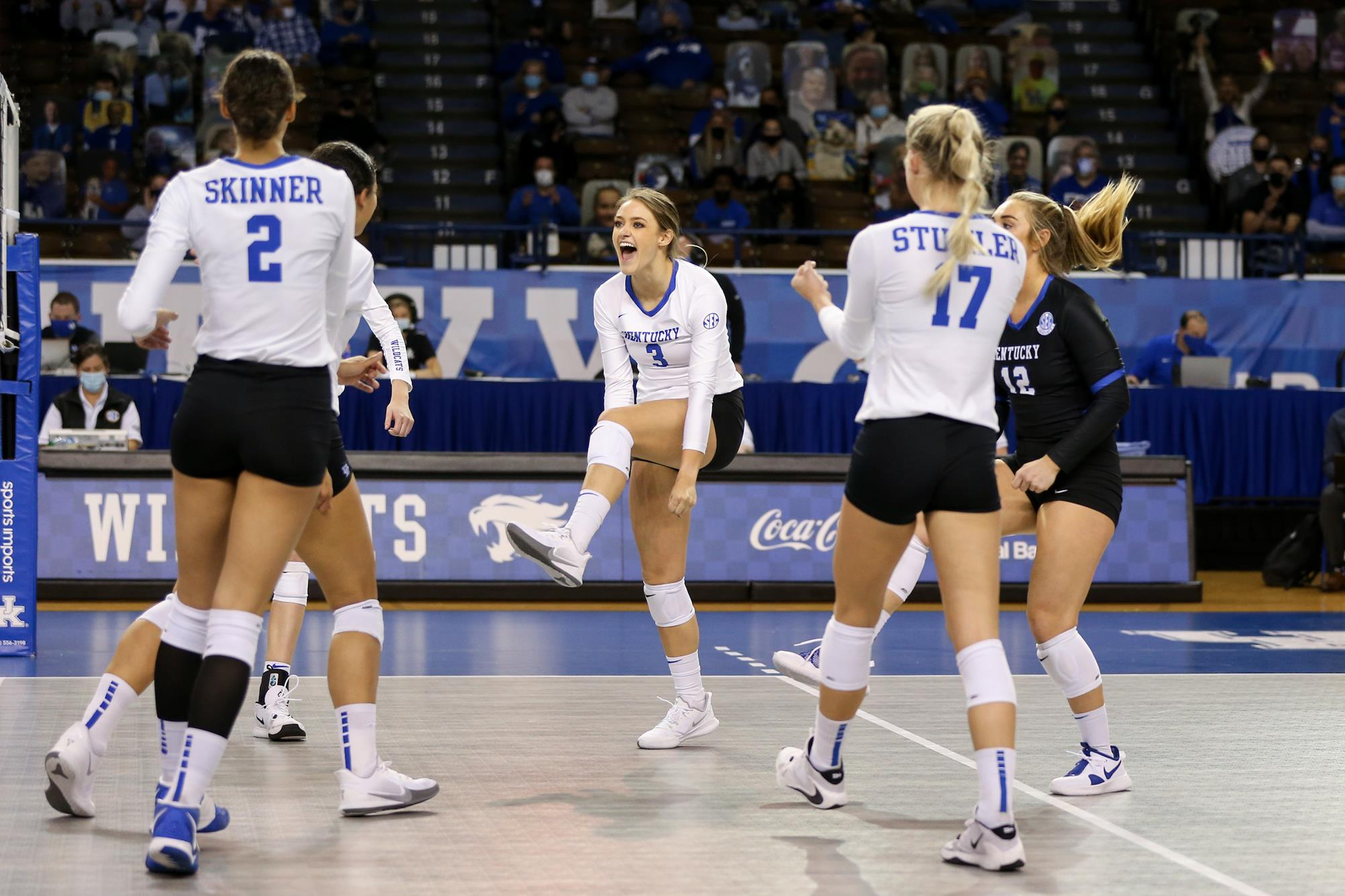 April 13, 2021 - 10:00 AM
Lilley All-Region Player of Year, Skinner Coach, Five Others Honored
LEXINGTON, Ky. – Senior setter Madison Lilley was named the American Volleyball Coaches' Association All-Southeast Region Player of the Year on Tuesday afternoon, and Kentucky head coach Craig Skinner was named the All-Region Head Coach of the Year.
 
Additionally, five other Wildcats were named to the AVCA All-Region Team, setting a new program record for most players on an AVCA All-Region Team, as it surpasses the five that were named All-Region in 2017.
 
Kentucky's Gabby Curry (Buford, Ga.), Alli Stumler (Floyds Knobs, Ind.), Avery Skinner (Katy, Texas), Madi Skinner (Katy, Texas) and Azhani Tealer (Grand Prairie, Texas) were all named to the 14-person All-Region Team in addition to Lilley on Tuesday morning.
 
Tuesday marks Skinner's fourth time being named the AVCA Region Coach of the Year (2011, 2017, 2018) and Lilley's second time being named the AVCA All-Region Player of the Year (2018).
 
By being named to the AVCA All-Region Team, they now become finalists for the prestigious AVCA All-America honors that will be released later this month before the 2020-21 NCAA Volleyball Tournament Final Four.
 
Madison Lilley, AVCA All-Southeast Region Player of the Year
11.9 assists per set
24 service aces
2.32 digs per set
Seven-time SEC Setter of the Week
Five-time SEC Player of the Week
 
Gabby Curry, AVCA All-Southeast Region
Third-straight SEC Libero of the Year title
3.62 digs per set to lead all UK players
Two-time SEC Defensive Player of the Week
 
Alli Stumler, AVCA All-Southeast Region
SEC Offensive Player of the Week in the fall
Led UK with 4.27 kills per set this season
Also had 2.41 digs per set
 
Avery Skinner, AVCA All-Southeast Region
Registered 3.84 kills per set, and 4.04 against teams in the AVCA Top-50
SEC Offensive Player of the Week in the fall
1.71 digs per set, as she played all six rotations
 
Madi Skinner, AVCA All-Southeast Region
Two-time SEC Freshman of the Week
Responsible for 2.52 kills per set
Four matches this season with 10-plus kills
 
Azhani Tealer, AVCA All-Southeast Region
Transitioned to middle blocker this year
SEC Defensive Player of the Week in the fall
Hit a team-high .463 and averaged 1.33 blocks per set, which also led Kentucky.
 
Craig Skinner, AVCA All-Southeast Region Coach of the Year
Fourth-straight SEC Championship
Fourth SEC Coach of the Year award in 2020-21
16th-straight NCAA Tournament appearance by securing the SEC's automatic qualifying spot
 
Kentucky opens the 2020-21 NCAA Tournament on Thursday night at 7 p.m. ET against the winner of Wednesday night's UNLV/Illinois State game. The match will be streamed on ESPN3 and the ESPN app. UK is the No. 2 overall seed in the 2020-21 tournament.
 
Follow along with the Wildcats on Twitter, Facebook and Instagram, and on the web at UKathletics.com.