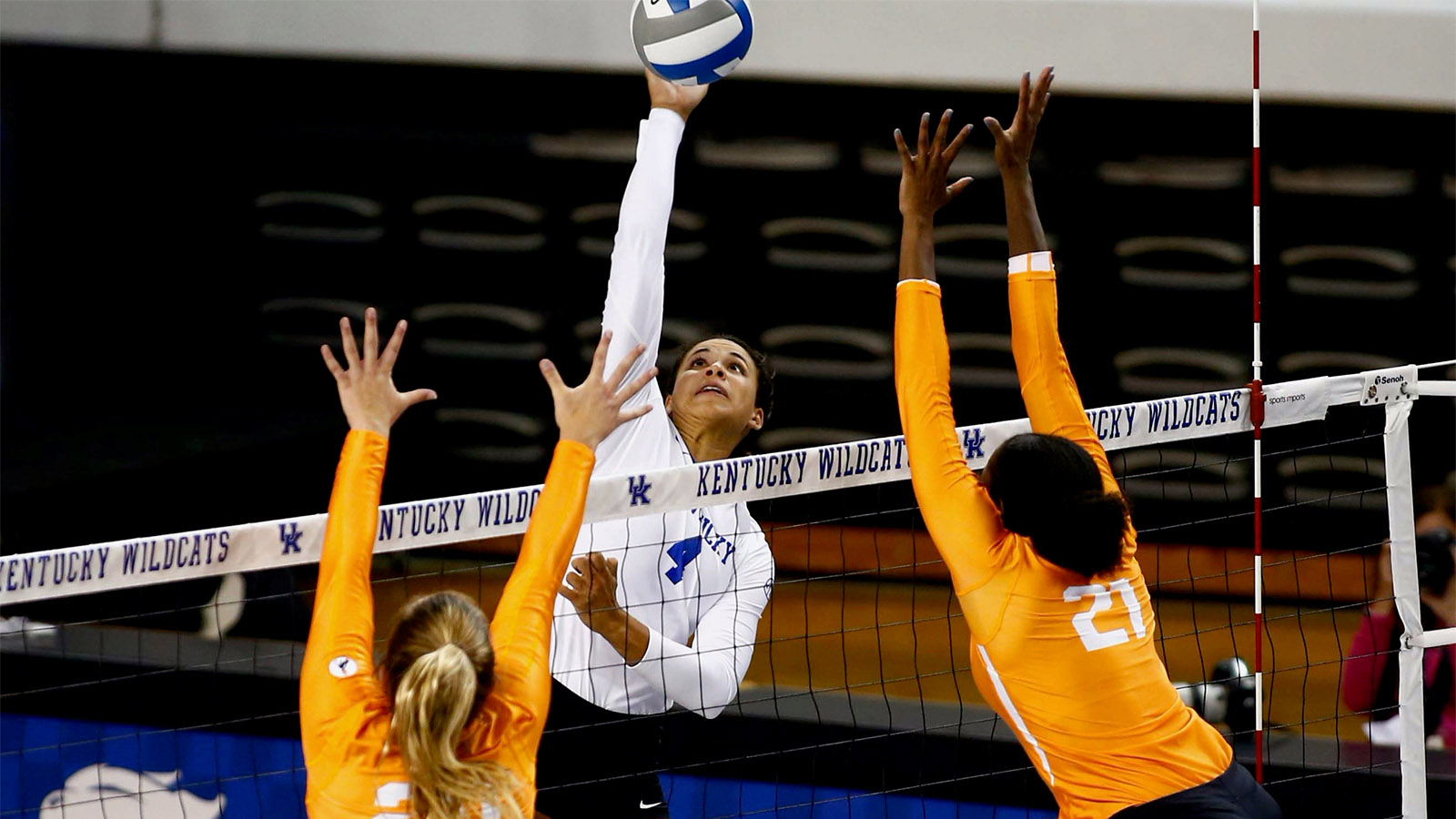 April 13, 2021 - 04:20 PM
Volleyball Cats Will Count on Experience, Skill in NCAA Tournament
As the Kentucky volleyball team prepares to play in the NCAA Tournament on Thursday, there are still many unknowns surrounding the event. There are unknowns about court set-up, locker rooms, atmosphere and a number of other items.
UK head coach Craig Skinner and his team arrived in Omaha on Monday night and the unknown variables are still very much in place.
"For every team here, no one really knows exactly what to expect tomorrow and what to expect when we see the venue," Skinner said. "What's it going to be like? I think there's so many different emotions going on, you're not sure what to focus on."
However, there is one thing that UK head coach Craig Skinner does know, and that's his team. He has seen the experienced Wildcats deal with adversity all season long, beginning in the fall and continuing through the spring.
"I think we have a great upperclass group," Skinner said. "Both the juniors and seniors are very experienced, very skilled volleyball players and I think if we rewind back to April and we knew this was going to be a long a haul with this quarantine thing, one of the things we talked about as a team and a staff is that an advantage that we have is that we have several players that not only are athletic but skilled in how they play the game. So if you're able to limit mistakes and manage mistakes better than your opponent, you have a great chance to be successful. That has been a strength of ours. That gives us an advantage, when we do get into matches, we can rely on our training and the skillset of the people we have. This type of environment is completely new for every team involved. We're going to lean on our seniors and upperclassmen to help lead us through it."
Kentucky (19-1) is coming off of another long layoff, having last played on March 25 against Alabama. Skinner is not concerned about the time between matches.
"I think by the time Thursday rolls around, our team is going to be real fired up to play," Skinner said. "It's been a long time since we competed. I just have to trust that we're in a similar situation that we've been in a couple of times this year. But there's a lot of teams in the same boat."
Kentucky enters the tournament as the number two seed nationally. Skinner thinks that his team can handle any pressure that comes with that seed.
"We haven't really talked a lot about it. If the way we train the way we interact is any indication, it's pretty similar to the year," Skinner said. "I think this group of seniors, even at the beginning of the year when we didn't know if we were going to play or not, had a lot of expectations. So they've been dealing with that for a few years now. It just seems like it's the next chapter. Is there expectation? Is there pressure? Sure. I think that's a privilege our players have wanted and want to be a part of."
Skinner also knows that his team has great chemistry, something he greatly appreciates.
"I'm never going to take that for granted," Skinner said. "The relationships that this team has, we've never had to force chemistry, we've never had to force team bonding. I don't worry about our team not getting along or being able to handle this. That is a strength of ours as well."
As for the second-round opponent, Kentucky will face either Illinois State or UNLV. Skinner has seen both teams on film and has been impressed.
"Illinois State and UNLV, I've had more time to look at them," Skinner said. "Really impressed with the organization and how they play the game. UNLV (has a) third-year coach and she has them athletic and skilled and serving at a high level. Illinois State has perennially been a very good mid-major. Illinois State serves very well, like UNLV, and very balanced. I think they're two teams that are very strong on the left side and very balanced."
As Skinner takes his team into the unknown, he will continue to count on what he does know – his team's experience and volleyball IQ. The head coach hopes that's enough to carry the Cats a long way in the postseason.