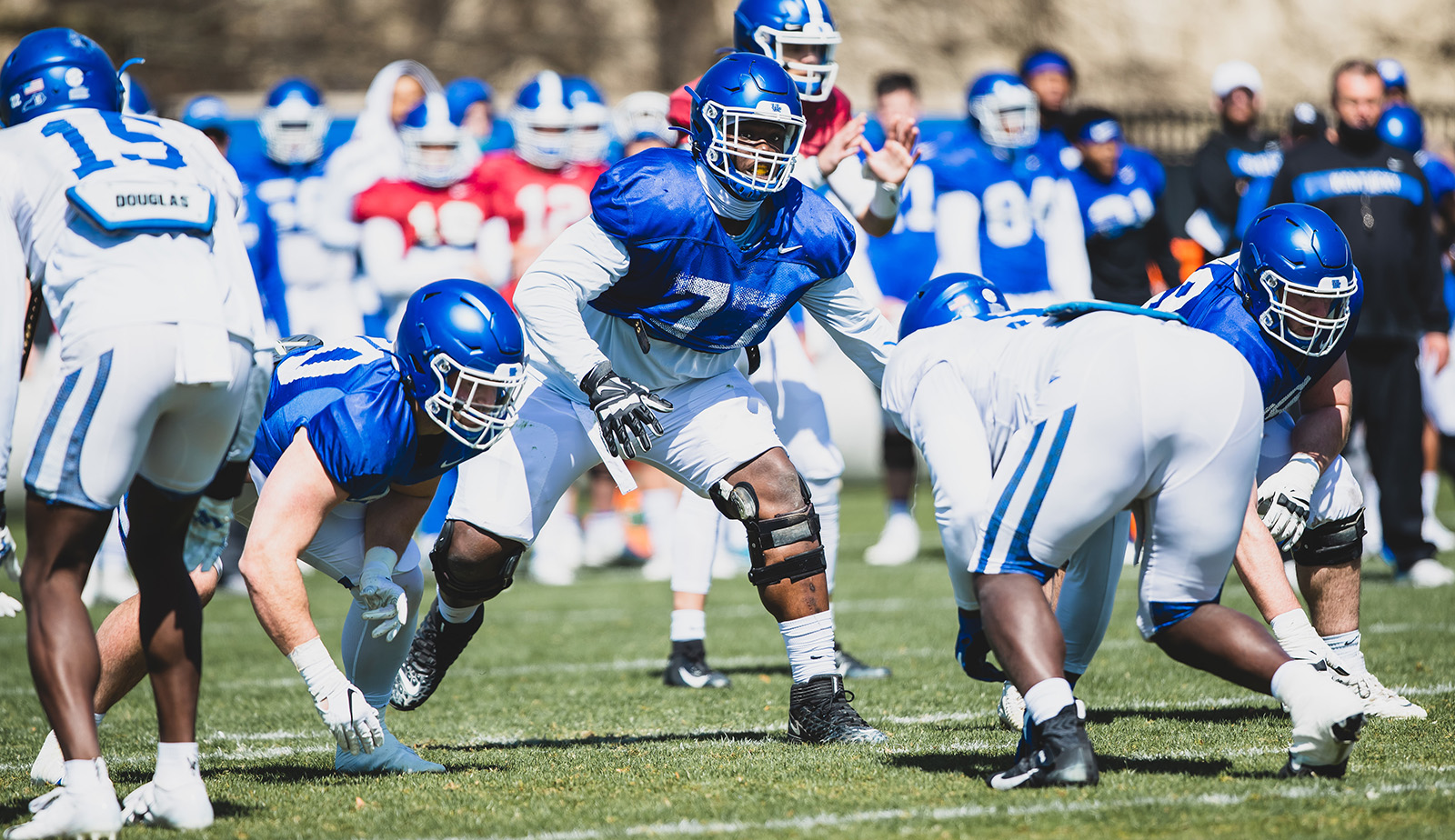 Kentucky sophomore offensive lineman Jeremy Flax may not know where he's going but he definitely knows where he has been.
Coming out of high school, Flax was not a highly-rated prospect. He didn't have a lot of offers so he elected to attend Independence Community College to try to improve his standing. And it worked. Flax picked Kentucky over Auburn and South Carolina. Flax thinks about how far he has come every day.
"I think about those times every morning when I wake up," Flax said. "Just remembering and going back is good because it keeps me humble. It's keeps me wanting to keep going. It keeps me remembering where I started and how far I can keep going."
Playing in junior college helped Flax but getting to a Division I school was a whole new world for Flax.
"The transition from JUCO to D-I really was hard to get used to honestly," Flax said. "Just coming here with a lot of the new equipment and a lot of the stuff we didn't have in JUCO and having to learn it. And then, getting what I want, like getting stuff that I need like the treatment I need, the recovery I need that I didn't get in JUCO because we couldn't afford it. In JUCO, we didn't have any game-ready machines or anything that was extra, equipment-wise."
Flax was able to see action in a couple of games last season, something he believes aided in his development.
"It helped me a lot," Flax said. "It wasn't a lot of plays, but just getting in there and feeling the atmosphere. Even though it wasn't a lot of plays, I was grateful for it."
As he competes for a starting spot on the offensive line this spring, Flax is leaning on, and learning from, the more experienced players on the line.
"It's great. I love it," Flax said. "And not just having Luke (Fortner) on the line, of course guys like (Darian Kinnard) and (Kenneth) Horsey, guys who have been here a couple of years. Playing with them really helps because we make each other better."
It also helps that Kentucky has a number of players from Flax's native Detroit on the roster.
"Coming here, that was honestly a big part in my decision," Flax said. "I wanted to come here and keep the Detroit pipeline going and play with guys I knew and was comfortable around."
As for the new UK offense, Flax thinks it can showcase his skills.
"I think it fits my game pretty well," Flax said. "I like to think about myself as versatile and being able to block any type of run scheme or pass blocking scheme. It's really good."
He knows what he needs to do to keep improving this spring.
"My biggest step is just making sure I'm in my playbook, knowing my plays," Flax said. "Making sure I'm good off the field, grade-wise, keeping my grades up and keeping my weight down so I can move how I want to."
As for the weight, Flax has dropped about 30 pounds this spring.
"Coming into spring, I was weighing around 350," Flax said. "I just recently got down to 320. Probably two to three weeks ago, my confidence really spiked up and I felt comfortable."
And how did he lose the weight?
"Just getting with my coaches and my strength coaches and making sure I'm on a good program," Flax said. "The main problem with me was eating the right food when I had those cravings when I wasn't supposed to eat. Making sure I was getting the right nutrients in, like a little snack when I was still craving food."
Flax has a chance to be a key part of UK's Big Blue Wall this fall. That may be where he's going, and it's a long way from where he's been.