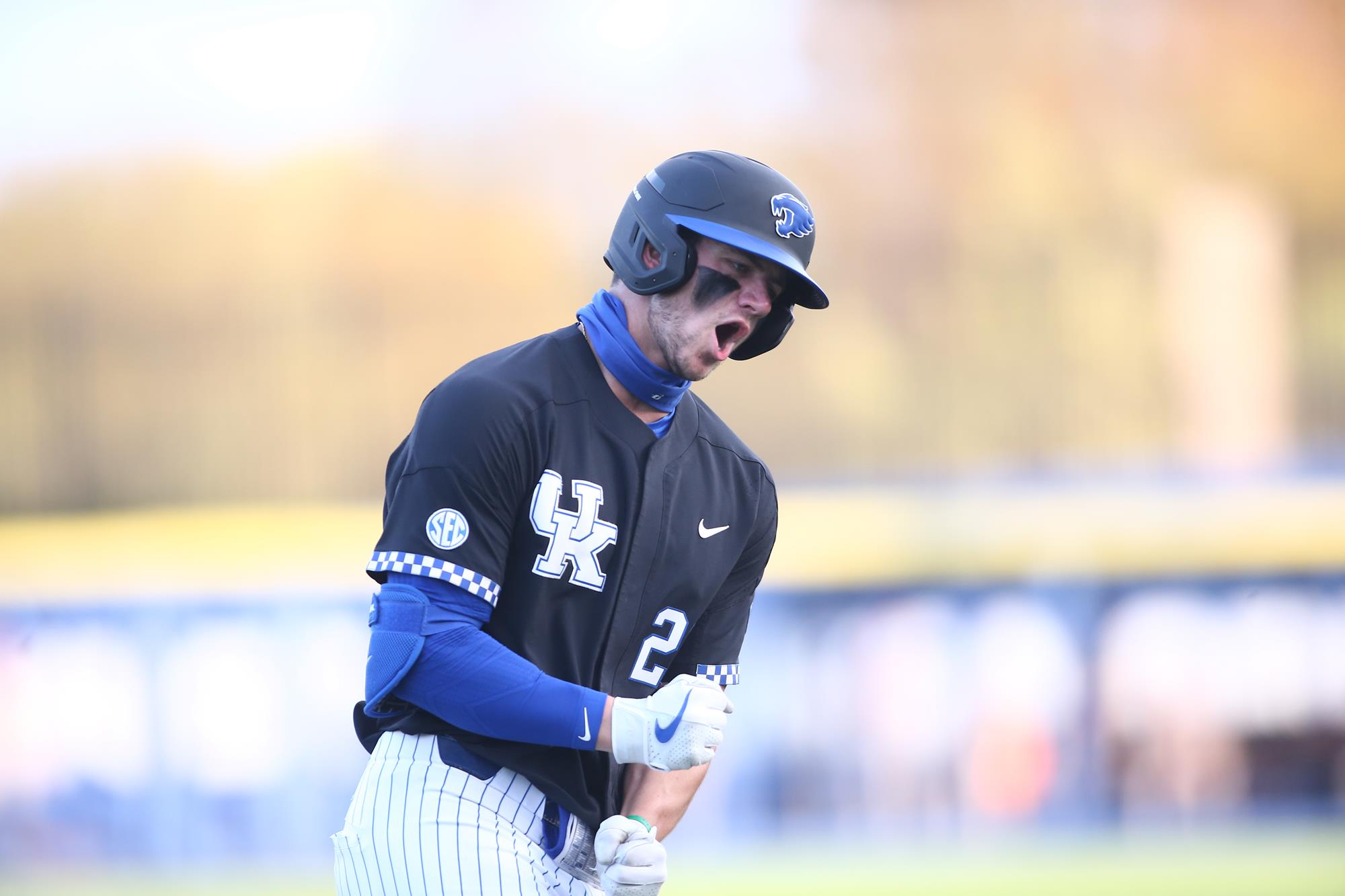 LEXINGTON, Ky. – Jacob Plastiak hit his first career home run and drove in three runs as Kentucky roughed up Bellarmine 12-0 on Tuesday night at Kentucky Proud Park. It was the third shutout of the season for the Wildcats.
 
Plastiak, a junior infielder, blasted a three-run home run to straightaway centerfield to cap a six-run first inning for the Cats (21-9, 6-6 SEC) and put his breakout night into motion. He later laced a double into the right field corner and drew a walk as he made a convincing argument for continued playing time. The Wichita State transfer by way of Wabash Valley Community College drew the start on opening day but had logged just two at-bats over the next 25 games as freshman Reuben Church had a hot bat.
 
"Work while you wait," Plastiak said. "My junior college coach would always tell the young guys (not playing) to work while they waited. What else are you going to do?"
 
The attitude paid off on Tuesday night when Plastiak followed up a solid weekend against LSU with a career effort. He had plenty of support too from leadoff man Austin Schultz, who had hits in each of his first three trips to the plate including his second home run in as many games. Schultz now has two or more hits in exactly half of UK's 30 games this season.
 
On the mound, Zach Kammin set the tone in his first UK start, striking out seven in three innings to earn the win. The senior right-hander allowed just two hits before giving way to freshman Wyatt Hudepohl, who combined with Kammin to record eight straight outs via strikeout. On the night, the Cats struck out 17, the second time this season the pitching staff has had at least that many punch outs in a game.
 
 
GAME SCORING
Bottom 1st – Austin Schultz and T.J. Collett opened the game with singles and John Rhodes walked. Coltyn Kessler reached on an error, Schultz scored. Oraj Anu hit a SAC fly to CF, Collett scored. Chase Estep singled to LF, Rhodes scored, Kessler to second. Jake Plastiak homered to CF, scoring Kessler and Estep. UK 6, Bellarmine 0.
 
Bottom 2nd – Schultz homered to LCF. UK 7, Bellarmine 0.
 
Bottom 6th – Cam Hill walked, stole second and scored on a double to CF by Rhodes. UK 8, Bellarmine 0.
 
Bottom 7th – Anu walked and moved to third on Estep's single to RF, Estep advanced to second. Anu scored on a balk. Plastiak and Ryan Ritter walked to load the bases. Hill reached on a fielder's choice. Jaren Shelby reached on an error, Drew Grace scored after pinch running for Ritter. UK 10, Bellarmine 0.
 
Bottom 8th – Alonzo Rubalcaba walked and scored on Trae Harmon's double to LF. Kirk Liebert rank for Harmon, advanced to third on a groundout and scored on a Grace groundout. UK 12, Bellarmine 0.
 
NOTES
UK is 21-9 overall, 6-6 in SEC play.
The Cats are 17-6 at home this season.
UK is 89-29 vs. non-conference opponents under head coach Nick Mingione.

The Cats are 77-11 vs. non-Power Five conference opponents.
The Cats are 69-12 in non-conference home games.

UK is 46-for-49 on stolen base attempts this season after going 5-for-5 in the game.
This was UK's third shutout of the season.
Junior IF Jake Plastiak went 2-for-4 with a run, three RBI, a walk, a double and a home run.

Plastiak hit his first home run as a Wildcat, delivering a three-run blast to CF.
Plastiak logged his first career multi-hit and multi-RBI game.

Senior C Coltyn Kessler has reached safely in 17 of his past 18 games.

Kessler tied his career highs in runs (2) and RBI (3).

Junior IF/OF Austin Schultz went 3-for-4 with two runs, an RBI and a home run.

Schultz has reached base safely in 83 of 90 career games.
It was his 15th multi-hit game of the season and 30th career.
Schultz homered for the second consecutive game.
Schultz stole a pair of bases and now is 14-of-15 for the season.

Senior RHP Zach Kammin earned the win in his first UK start.

Kammin struck out seven and allowed just two hits in three innings.
 
ON DECK
The Cats travels to No. 20 Georgia this weekend. First pitch on Friday is set for 6 p.m. ET on the SEC Network Plus. The radio call will be on the UK Sports Network.