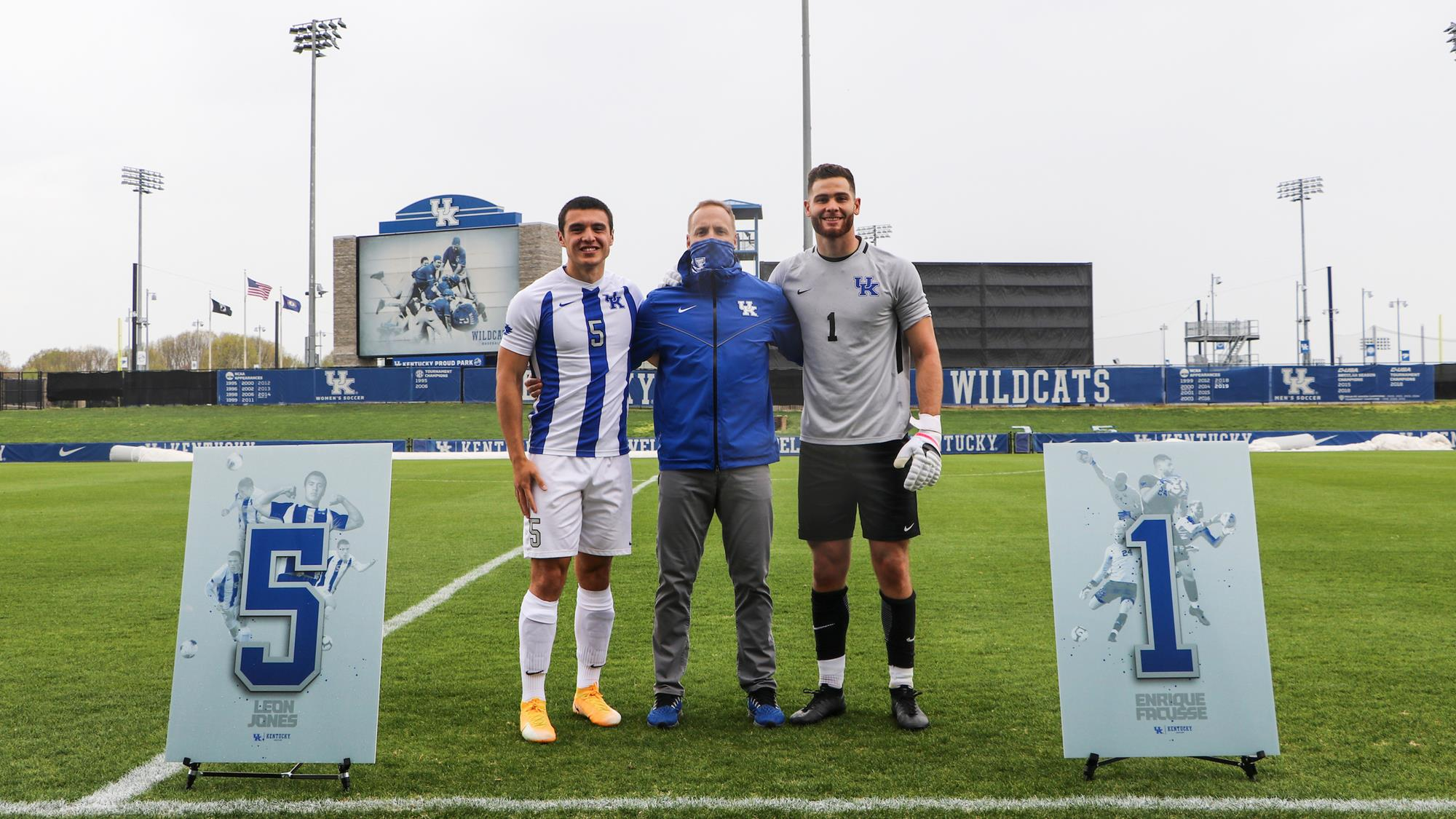 April 10, 2021 - 06:29 PM
UK Men's Soccer Blazes Back to 2-1 Overtime Win Over ODU
LEXINGTON, Ky. – After trailing 1-0 late into the final minutes of regulation, Kentucky (10-4-2, 2-3-1 Conference USA) stormed back with two goals in 13 minutes to defeat Old Dominion (1-3-3, 0-3-3 C-USA) 2-1 in overtime on Saturday at Wendell & Vickie Bell Soccer Complex.
 
With the win, Johan Cedergren surpassed Ian Collins as the fastest head coach to eclipse the 100-win mark at Kentucky.
 
Saturday also served as the spring 2021 edition of senior day, honoring Glasgow, Scotland, native Leon Jones and Tegucigalpa, Honduras, native Enrique Facusse. After a special pre-match ceremony, Jones went on to score the equalizer in the 87th minute before fellow team co-captain Marcel Meinzer notched the golden goal with only seconds to spare in overtime.
 
The first half transpired without a goal from either team, despite the Wildcats outshooting the Monarchs 11-3 in the opening stanza. Momentum flipped shortly after the 55-minute mark when Facusse was called for a foul in the box, setting up a penalty kick that would be converted by ODU sophomore Ruben Pedersen.
 
Old Dominion held its 1-0 lead for the next half-hour, though Kentucky outgunned its opponent once again by an 8-3 second-half margin. With just over three minutes remaining, Jones received a cross delivered by Enzo Mauriz from the left side of the penalty box at the far post, heading the ball out of the air and into the back of the net for his first goal since 2017.
 
Regulation concluded with Kentucky's third consecutive overtime contest and eighth overall this season, leading to 10 minutes of extra time in which the Cats managed eight more shots. The last one was set up by a perfect through ball from Clay Holstad and hammered home by a single touch from Meinzer on the breakaway opportunity, ending the match with just seconds left in the overtime period.
 
Overall, Kentucky outshot Old Dominion 27-7, including 9-3 on target. The Wildcats recorded all 10 of the match's corner kicks, and the Monarchs were called for 13 fouls to Kentucky's nine.
 
Freshman reserve Ben Damge attempted a game-high five shots, while Holstad and Daniel Evans each tried four. Meinzer and Mauriz attempted three shots apiece, followed by two each from Jones, Bailey Rouse and Case Cox, as well as lone attempts from Robert Screen and Brock Lindow.
 
Facusse recorded two saves in his first collegiate match since qualifying for the Summer Olympics with the Honduras national under-23 football team.
 
Kentucky is scheduled to conclude the 2020-21 season on the road at South Carolina (8-6-1, 2-3-1 C-USA) on April 17 at 2 p.m. ET.
 
For the latest on the Kentucky men's soccer team, follow @UKMensSoccer on Twitter, Facebook and Instagram, as well as on the web at UKAthletics.com.