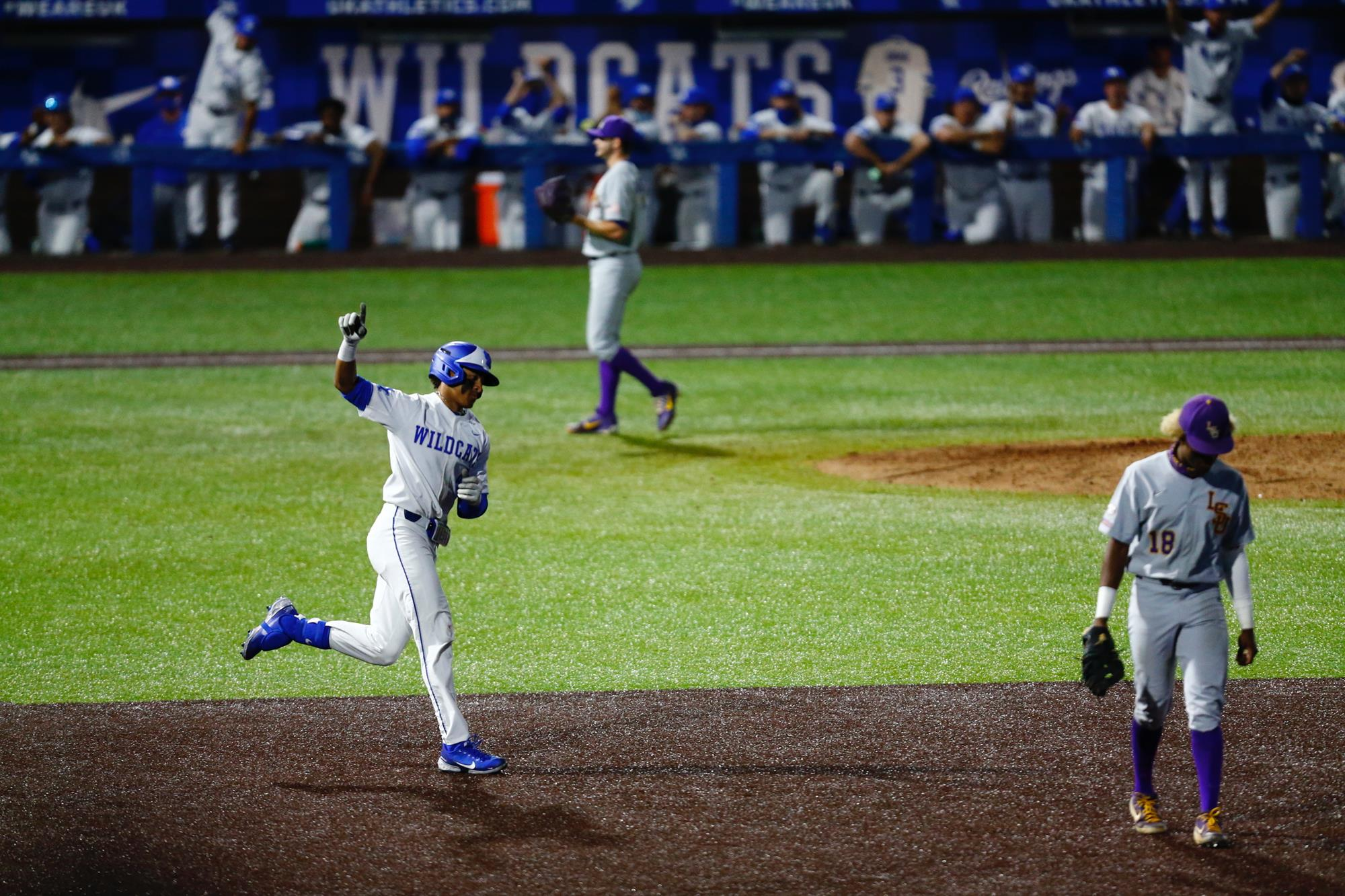 LEXINGTON, Ky. – LSU channeled its glory days of Gorilla Ball, swatting three home runs among 17 hits on the way to a 15-2 victory over Kentucky in Friday night's series opener at Kentucky Proud Park.
 
The Tigers (19-11, 2-8 SEC) were due a breakout after back-to-back sweeps at the hands of a pair of top 10 opponents, including No. 1 Vanderbilt, and took out their frustration on the Cats, who fell to 19-8 overall and 5-5 in conference play. The teams will meet again on Saturday, although inclement weather is being forecast in the Lexington area.
 
UK starter Cole Stupp had been excellent all season but lacked his normal command in the strike zone despite throwing 20 of his first 21 pitches for strikes. The right-hander saw too many pitches catch a bit too much of the plate and LSU made him pay, tagging him for eight runs on 12 hits in five innings. Stupp had allowed only eight earned runs all season entering the game.
 
Meanwhile, the UK bats were unable to string together enough hits to endanger LSU ace Landon Marceaux, who had allowed only one earned run in his first six starts before Vanderbilt got to him last week, until it was too late.
 
One of the bright spots for the Cats continued to be the play of sophomore shortstop Ryan Ritter, who continued his torrid week with an opposite field home run, the first Marceaux had allowed this season. Sophomore infielder Chase Estep added a pair of hits and junior utility man Austin Schultz collected a hit for the 21st time in the past 23 games.
 
 
GAME SCORING
Top 1st – Crews homered to LF. LSU 1, UK 0.
 
Top 4th – Doughty singled to LF and DiGiacomo reached on an infield hit. Both runners advanced on a passed ball. Beloso hit by a pitch to load the bases. Travinski singled to LF, Doughty and DiGiacomo scored. LSU 3, UK 0.
 
Top 5th – Crews reached on a fielder's choice and scored on a Dugas home run to LF. Doughty, DiGiacomo and Thompson all singled. Beloso singled, scoring Doughty and DiGiacomo. Travinski hit a SAC fly, scoring Thompson.  LSU 8, UK 0.
 
Top 6th – Morgan homered to LF. LSU 9, UK 0.
 
Bottom 6th – Reuben Church reached on an error to open the inning and Austin Schultz singled to LF. John Rhodes lined a single to LF, Church scored. LSU 9, UK 1.
 
Bottom 7th – Ryan Ritter homered to RF. LSU 9, UK 2.
 
Top 9th – Dugas singled, DiGiacomo reached on an error and Thompson was hit by a pitch to load the bases. Beloso singled to second, Dugas and DiGiacomo scored, Thompson to third. Travinski singled, Thompson scored. Beloso and Travinski moved up on a wild pitch. Cranford hit by a pitch. Morgan doubled, scoring Beloso and Travinski, Cranford to third. Drost grounded out, Cranford scored. LSU 15, UK 2.
 
 
NOTES
UK is 19-8 overall, 5-5 in SEC play.
The Cats are 15-5 at home this season.
Sophomore IF Ryan Ritter went 1-for-4 with a solo home run.

Ritter now has homered in back-to-back games this week.
It was his third home run of the season.
The homer was the first LSU's Landon Marceaux had allowed in 47 IP this season.

Sophomore IF Chase Estep went 3-for-4 with a double.

It was Estep's sixth multi-hit game of the season and eighth career.
The three hits tied Estep's career-high set earlier this season vs. Georgia State.

Junior IF/OF Austin Schultz went 2-for-4.

Schultz has reached base safely in 80 of 87 career games.
Schultz has a hit in 21 of his last 23 games.
It was the 13th multi-hit game of the season for Schultz and 28th career.
 
ON DECK
The Cats try to even the series on Saturday. First pitch is set for 2 p.m. ET on the SEC Network. The radio call will be on the UK Sports Network.